Key Summary:
Managing contracts in Excel Spreadsheets and templates are easy, handy, and manageable but only when your volume and complexity of contracts are low.

As and when your organization grows and so the volume of your contracts, it calls for the need for an intelligent CLM solution
Managing contracts in Excel Spreadsheets comes with great benefits. It is FREE, incredibly flexible, as well as easy to use and maintain. When it comes to collecting and organizing data, Excel templates are widely used because of their simplicity and ease of use. Almost every modern office worker knows how to use basic Excel. Users can seamlessly curate, sort, and filter information placed in neat columns and rows. So, there is no challenge in managing multiple fields, putting up multiple data, tracking multiple tabs, or creating basic reports based on the input. Also, remote teams can collaborate and maintain real-time contract status.
Are you managing contracts in Excel Spreadsheets? How's it going on? Is it as simple for you as it sounds? Perhaps, No.
Managing Contracts in Excel Spreadsheets - Why?
Managing buy-side or sell-side contracts in excel sheets is not only time-consuming but mismanagement and limitations can also lead to serious errors.
No doubt excel can do wonders if you have minimal data. However, when it comes to managing complex vendor or customer contracts, there's a lot more than they don't do.
For example:
Well, out of sight is out of mind. If you do not have access to confidential information, clear visibility to contract status, chances are high that they remain unnoticed when due for expiration.
Managing Contracts in Excel Spreadsheets vs Managing Contracts using CLM solution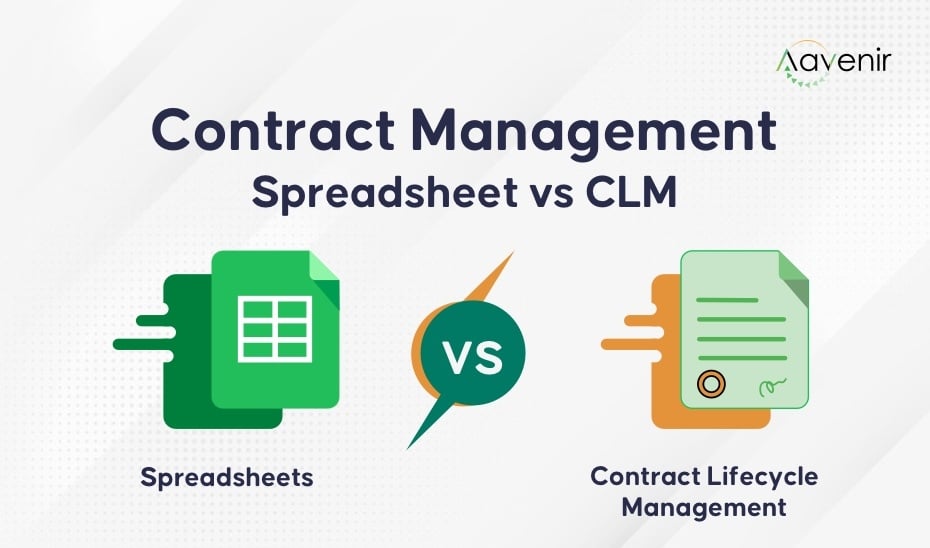 1. Linkage with Pre and Post-contract Stages - Is it possible?
The biggest difference between a Spreadsheet and CLM, or rather a competitive edge of using CLM, is its ability to get linked with all stages involved in a source-to-pay cycle. While managing contracts in Excel Spreadsheets, even though you maintain multiple tabs and link cells here and there, you simply cannot get a holistic view and might end up taking incorrect and irrelevant decisions.
When you use the CLM solution to manage your vendor contracts, you can easily link pre-contract and post-contract stages and automate the workflows. For example, in a source-to-pay suite, the requirements from sourcing to contracting as well as procurement to payments can be taken care of. Top of it, you get intelligent dashboards and contract management analytics which helps you manage your entire source-to-settle cycle and take data-driven decisions at each stage.
2. Get Contracts Signed Digitally - Can it be accelerated?
The time to signature relies upon the speed and efficiency of contract negotiations. Spreadsheets cant send alerts or trigger for approvals. Also, if you are sufficiently proactive and stay on top of your negotiations, you still need to mail, print, scan a contact document and get it signed by another party to make it a valid piece of paper.
On the other hand, a CLM solution can easily get integrated with calendars, reminders, and other systems including eSignature solutions. Automate reminders help you not to miss any key milestone. Electronic signature integration accelerates time to signature and eliminates unnecessary bottlenecks. It enables customers, vendors, and any third party to sign agreements in a secure and timely manner, and send automatic email notifications.
3. Real-time contract analytics - Does it provide actionable insights?
Online users have time to read at most 28% of the words during an average visit, so a quick glance at real-time contract reports is a need of an hour. As and when the rows and columns of your excel sheet grow, it takes more time for a user to read and interpret the data. No doubt, excel is increasingly becoming a prominent player in the world of Big Data BI. Data analysts are trying to keep up with the demands for reporting and dashboarding on larger and more complex data sources. But, when it comes to efficient contract management, does it provide actionable insights with real-time contract analytics? No.
This need can only be fulfilled by an intelligent CLM solution. Contract analytics is the practice of examining and extracting metadata from an organization's contracts in order to improve strategic planning and risk management. When your contractual volume is significantly high, a CLM solution can extract large amounts of data with AI. This extracted metadata provides a 360-degree real-time view of the entire portfolio of contracts. Furthermore, it can provide real-time visibility over the volume of contracts in each contract lifecycle stage (i.e. Active, Draft, In Review, In Approval, In Signature, Renewal, Expired, Terminated, etc) with intuitive dashboards.
4. AI-enabled contract management - Does it address unique challenges?
If you are dealing with vendors and customers on a global scale and managing contract documents across multiple countries, industries, and languages, is your contract template sufficient to cater to all needs and address run-time challenges? Forget about negotiating and complying, it even becomes challenging to manage contract authoring when you manage contracts in Excel.
Thanks to significant breakthroughs in technology, there is a better way called AI-enabled CLM solution. One such example is Aavenir Contractflowwhich solves key challenges like:
With the help of AI and machine learning, Contractflow:
Watch this on-demand webinar to learn how to implement Contract Management on ServiceNow with AI & Digital workflow.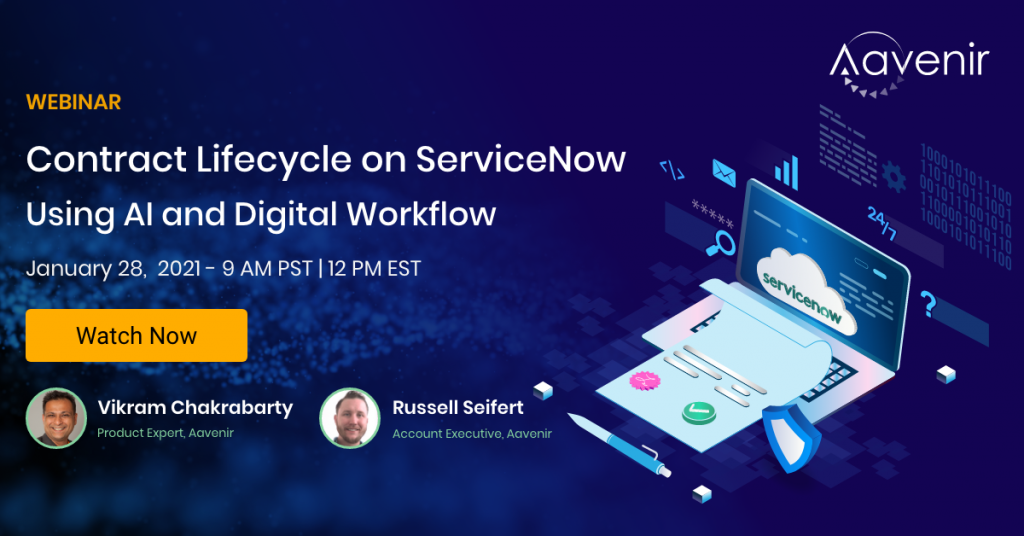 5. Better and Secure Contracts - Is it feasible?
With cybercrime stealing the global economy of nearly $450 billion every year, organizations need to sleeves up to safeguard themselves against security and cyber threats from malicious hackers. Excel sheets can be password protected to restrict access and allow edit/view access to specific people only. However, hackers can easily hack and manipulate.
To remain competitive and increase the cybersecurity of their contract data, businesses need to use a robust enterprise contract management system that leverages cloud-based technologies and virtual private networks (VPN).
6. Simple and Easy Management of Contract Documents and Version Control - Is it trackable?
Contracts are not static documents. They keep getting amended. Usually, whenever a contract gets amended, instead of editing an original piece of contract, an appendix is attached with it to highlight the changes to clauses and terms. With contract metadata management in excel sheets and templates, it is pretty cumbersome to maintain all these in line. Neither there is a provision to attach important documents, the only thing you can do is keep creating tabs, rows, and columns and add notes with relevant dates. The real problem arises when you try to separate amended data from the contract because at that time it becomes a manual and error-prone exercise.
Instead, having a CLM solution enables you to keep track of your contract versions and all amendments. You can even import third-party contracts data from Microsoft word documents and better negotiate contracts using redlining, track changes, and versioning from within Microsoft Word. All changes are properly tracked in a CLM solution along with their versions. Because of proper version control of documents, there is no room for any guess works that who had approved, who signed and what terms have been agreed upon, and on which date. It not only instills confidence in contracting parties but also keeps a track of redlined changes, comments, and discussions about a contract to meet audit and compliance requirements.
The Aftermath of Using Spreadsheets for Contract Management
Though some excel applications contain functions for predicting future trends and outcomes, these methods are often unreliable and inaccurate and do not help in predicting terms and trends of contract management, supplier evaluation, and similar others. In practical situations, with excels, it can be difficult to accurately represent missing information or categorized data. Powerful contract renewal teams cannot make excel data work for them if that data contains errors or lacks clarifications. And, it results in poor contract management which invites revenue leakages and compliance failures.
Even if you are managing contracts in excel spreadsheets, manage them in an organized manner so whenever you wish to switch to the contract lifecycle management system, that spreadsheet data can serve as metadata, and your paper-based contracts can easily be uploaded into the CLM system. In order to help contract managers stay organized and on top of key details, the contract analytics excel worksheet is of immense help. The moment you wish to adopt intelligent solutions like Aavenir Contractflow, the same worksheet will serve as a boon for the errorless transformation of your contractual data.