Microsoft Dynamics GP and Accounts Payable automation go hand in hand. Automated Accounts Payable processes with Microsoft Dynamics Invoice Processing alleviate the time spent entering data and empower employees to focus on more critical tasks. With Microsoft Dynamics and Accounts Payable Automation Solutions in the market, it's essential to maximize the investment and take full advantage of streamlined reporting and analysis, flexibility, and intelligent invoice data capture workflows – without doing double the work.
If you are already using an AI-enabled AP Automation Solution like Invoiceflow, you need not worry about it. We have already covered you with the integration of Invoiceflow with Microsoft Dynamics GP. So let's learn more about its nitty-gritty details.
What is Microsoft Dynamics GP?
Dynamics GP is a mid-market business accounting or enterprise resource planning (ERP) software package that uses Microsoft SQL Server to store data. It's written in the Dexterity programming language.
5 Reasons to Integrate Microsoft Dynamics GP and AP Automation
To best leverage your Microsoft Dynamics GP investment, there are five key areas AP automation should focus on to help collaboration, efficiency, and overall productivity:

Reduce Invoice Processing Time with a compelling Accounts Payable (AP) Automation solution that securely captures, processes, and routes invoices automatically. Invoices can be indexed via workflow rules and matched against Microsoft Dynamics GP vendor, PO, and receipt data. This integration eliminates the need for double or even triple data entry.
Capture Intelligent Invoice Data that can automatically recognize and assign vendor ID, default GL, and other vendors'/invoice information in Invoiceflow. The identical invoice records will also be sent to GP.
Eliminate Demand for Physical Invoice Storage Space– Effective AP processing integration will enable you to store all invoices and support documentation in one database—and access them directly from Microsoft Dynamics GP. Hence, invoices processed and approved in Invoiceflow will be sent to GP through integration; users can see invoices in GP and Invoiceflow. Moreover, invoices are stored according to your business regulations or requirements, ensuring compliance and eliminating the need for costly storage space, printing, and invoice destruction costs.
Access to Critical Invoice Data Instantly – An integrated system makes it easy to immediately locate invoices with supporting documentation to improve operational efficiency and vendor relations. Invoices can be retrieved, viewed, printed, and emailed from any computer.
Track Quick Invoice Audit Trail - With a complete audit trail and instant access to invoices, the AP team can access the invoice data needed to complete their job effectively. Accessing all invoice data from the AP solution means the team can work from multiple devices and remote locations. With user permissions assigned, they also have access to all the information they need—as per the manager's approval, across the globe.
How to Integrate Microsoft Dynamics GP?
There are many connectors and APIs readily available to integrate, but the best approach is to leverage an AP Automation Solution like Invoiceflow which can amplify the AP operations with AI + Digital Workflows.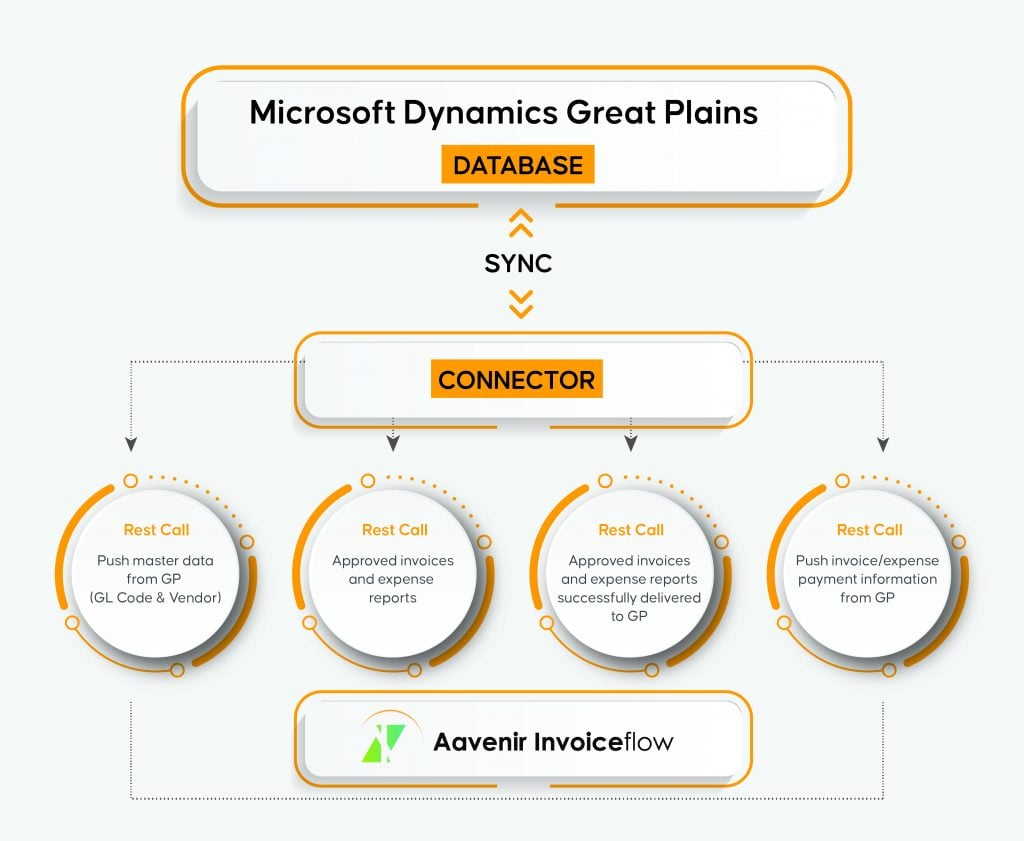 How can Aavenir Invoiceflow Help Extract Key Invoice Insights by Integrating with Microsoft Dynamics GP?
Above is the integration diagram to start with, but below are some of the key areas where Aavenir Invoiceflow can help you with:
Centralized Invoice Processing Repository
Store all your invoice data and documents in one robust, centralized cloud-based repository accessible from anywhere in the world. Remove the probability of manual errors and lost data to trip the AP team up.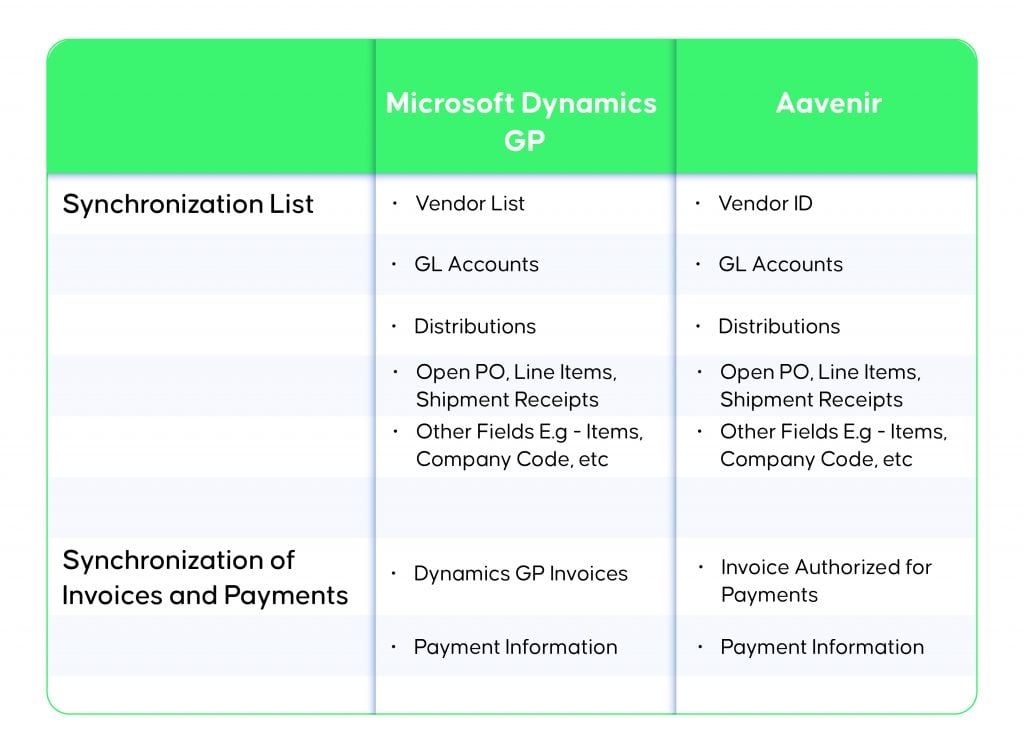 Automate 2-or 3-Way Invoice Matching
Match invoices against purchase orders and delivery receipts to ensure accurate, fast, and effective invoice processing. Only authorized invoices go to Microsoft Great Plains for payment.
Track and Categorize Invoice Spend Easily
The GL Code, projects, departments, users, vendors, and even optional custom fields give all the information the AP team requires. For example, a powerful filterable, exportable, and customizable invoice reporting solution puts all the invoice data at your fingertips with a button click.