Commercial procurement contracts that run smoothly across their lifespan are rare. So much can go wrong, and you just cannot control it. Multiple scenarios can impact your procurement processes, such as uncontrolled price escalations, delivery problems, payment issues, unforeseen fluctuations in the market, miscommunications, or equipment failures. While procurement professionals have difficulty anticipating everything that may go wrong, most of these problems can be attributed to poor procurement contract negotiation practices.
One of the unique pieces of research conducted by IACCM revealed that negotiation performance improvement is being ignored, neglected, or ineffectively addressed in many companies. Companies with no negotiation process suffered an average net income decline of 63.3 percent.
Why negotiate procurement contracts?
Negotiation can occur between a procurement professional and parties within the supply chain for various reasons.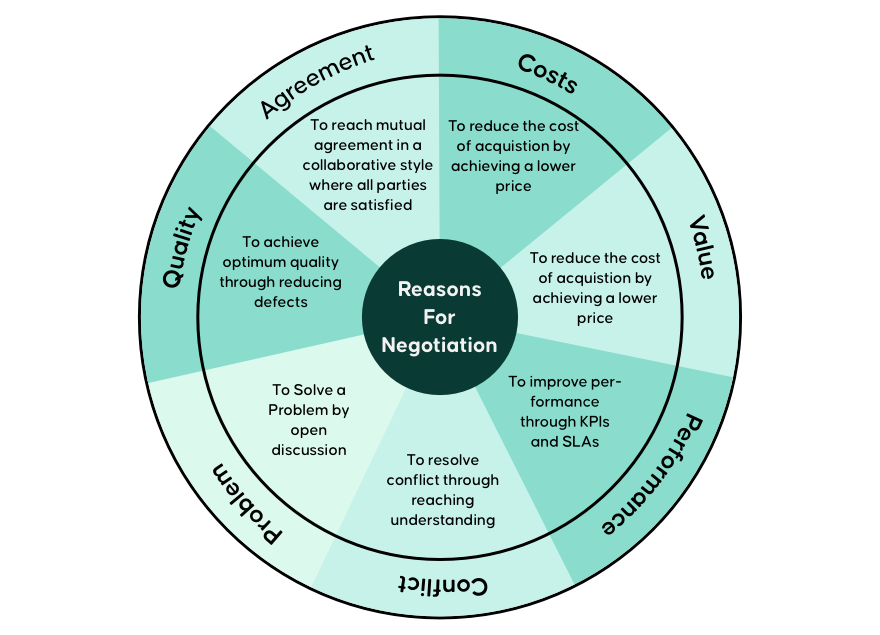 Procurement contract negotiations are commonly used to determine the best price and payment terms, as well as delivery and throughput times, key performance indicators, quality standards, and other factors. Winning procurement negotiations are built on a tactful balance of safeguarding stakeholder information while assembling as much intelligence as possible on vendor priorities, preferences, and positions.
Today, in many industries, the balance of power has shifted from buyers to vendors. This is because vendors have eliminated their competitors by driving down costs or developing disruptive technologies in most cases. In the rest of the cases, the fast-growing demand for inputs has outpaced supply to the point where vendors can charge whatever they want. And hence, negotiating procurement contracts with your vendors requires skill, strategy, and strong vendor relationships.
Can a contract lifecycle management (CLM) solution make your procurement contract negotiation process easier and more efficient? Are there any best practices to adhere to for a better contract negotiation?
The answer to both of these questions is Yes! Let's first understand what those best practices are!
Best Practices for Procurement Contract Negotiation
When it comes to procurement contract negotiation, it is imperative to set clear goals to ensure that both contracting parties are on the same page in order to avoid ambiguity and misunderstandings caused by different interpretations. Ensure that entire terms and conditions, including repayment terms, deadlines, and after-sales assistance, are agreed upon.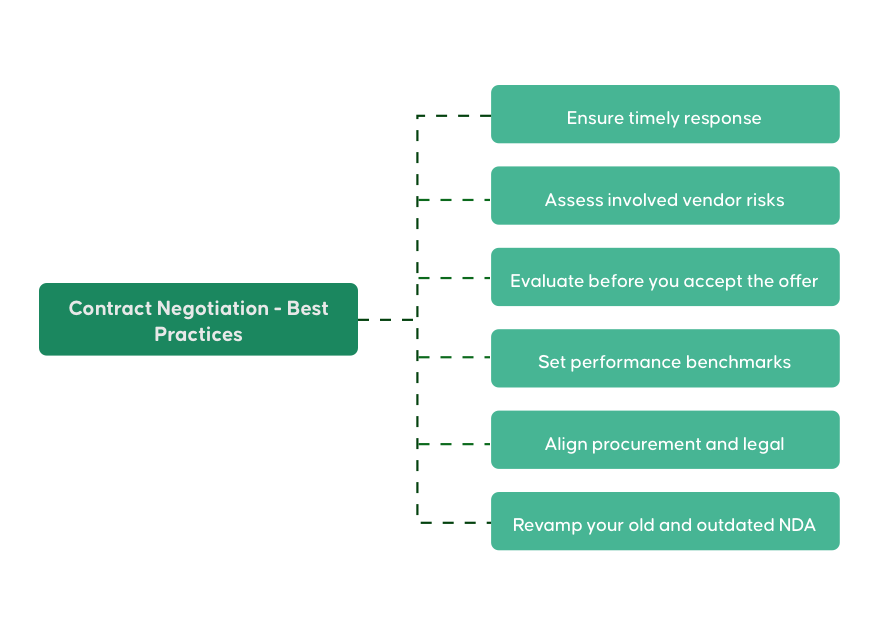 1. Ensure Timely Response During Contract Negotiations
Always ensure a timely response during contract negotiations. In-time responses not only help lower the chances of undesirable situations from occurring but also prevent derailment of talks leading to a sales/agreement. It is crucial to respond promptly in warming conversations and to prevent interested parties from diverting to other alternatives.
2. Practice Assessment Involving Vendor Risks
Standard vendor risks include defaulting on payments, reputation risk by associating with bad performers, etc. Risks may alter based on external circumstances. Hence, procurement teams must keep an eye on contract regulations and requirements to prevent violation of any contract laws and partake in risk-averse activities.
3. Evaluate Before You Accept the Offer
Negotiation 101, a reasonably popular negotiation tactic, is never to accept the first offer. Not accepting the very first offer may give off the impression that the other party may have underpriced their transaction or that they could have gotten more concessions out of you. This may spice things up in the next round of negotiations – in any case, it does not portend well for you and does not leave a lasting impression. This could alter their perceptions of how the deal transpired (often seen as desperate), resulting in a less-than-desirable offer than before.
4. Set Performance Benchmarks
Not only price, but the quality is also of utmost importance. Hence, in order to prevent vendors from compromising on quality to offer you lower prices, implement vendor performance measures to help keep quality in check. The measurements can range from timeliness to productivity, depending on the nature of your business.
5. Align Procurement and Legal Functions
For decades, business stakeholders have shied away from reading and interacting with contracts. "Let's send it to the legal" is a well-known expression in both business and government. Too much back and forth can, at times, slow down the process.
If your organization's legal department slows down the procurement process, they are, in a way, slowing down your business. Typically, buyers will be more knowledgeable about the involved parties than the lawyers. Lawyers are there to facilitate the process, not hamper it. Procurement should better utilize lawyers' time wisely (and sparingly).
Here are two suggestions to accomplish this: 1) Have your attorney create a book of contracts and clauses. 2) Have your legal department meet and train with procurement regularly.
6. Revamp your Old and Outdated NDAs
Control the procurement contract negotiations before it begins by mapping out the negotiation space in your existing NDAs. Procurement professionals could use NDA to begin negotiations prior to the actual negotiations. It is advisable to handpick essential sections from the business contract and place them in the NDA. Updating NDA in line with contracting terms helps procurement speed up the contract process by pre-negotiating the NDA.
Managing Procurement Contract Negotiations with CLM on ServiceNow
Mastering the procurement contract negotiation process is multi-dimensional. The procurement team needs to know how to balance and evaluate the requirements and perspectives of internal stakeholders when negotiating with vendors. Contract negotiation is one of the most important parts of contract management.
For better contract management,  look for a procurement contract negotiation tool that is part of a broader contract management suite, preferably one designed to handle document generation, approval routing, eSignature, document storage, and reporting. With an intelligent CLM solution, you can collaborate better with procurement contract workflows. It is possible to make revisions faster with an AI-powered contract management solution built on the ServiceNow platform. With Aavenir Contractflow, built on Now, you can make contract review easier for you and for your vendors. With ServiceNow workflows, you can easily handle all your contract needs without jumping from software to software and without reading through pages and pages of your contracts. 
Test drive the Contractflow product on the ServiceNow instance to shorten your contract approval time by 85% with streamlined redlining and negotiation.