Sourcing and procurement are often used interchangeably, and both terms are related ideas in supplier management. However, they're not quite the same, and neither are eSourcing vs. eProcurement. But what exactly are the differences?
What is eSourcing?
eSourcing comprises the electronic process of managing the identification and approval of the procurement needs for goods and services. The functions included are:
requesting and soliciting quotes and bid responses from various suppliers
fairly selecting the best suitable supplier
negotiating, and awarding contracts based on predefined selection criteria
focusing on ensuring that the chosen supplier can deliver and meet the requirements at the best price and value
What is eProcurement?
eProcurement, on the other hand, begins with the execution of the actual contract and comprises the electronic process of managing the procurement transaction and compliance, including the requisition, authorization, ordering, receipt, payment, and monitoring of suppliers.
What are Key Differences Between eSourcing and eProcurement?
eProcurement and eSourcing hold many similarities, but we need to understand what makes them different to understand each one. Here are the critical differences between eProcurement and eSourcing.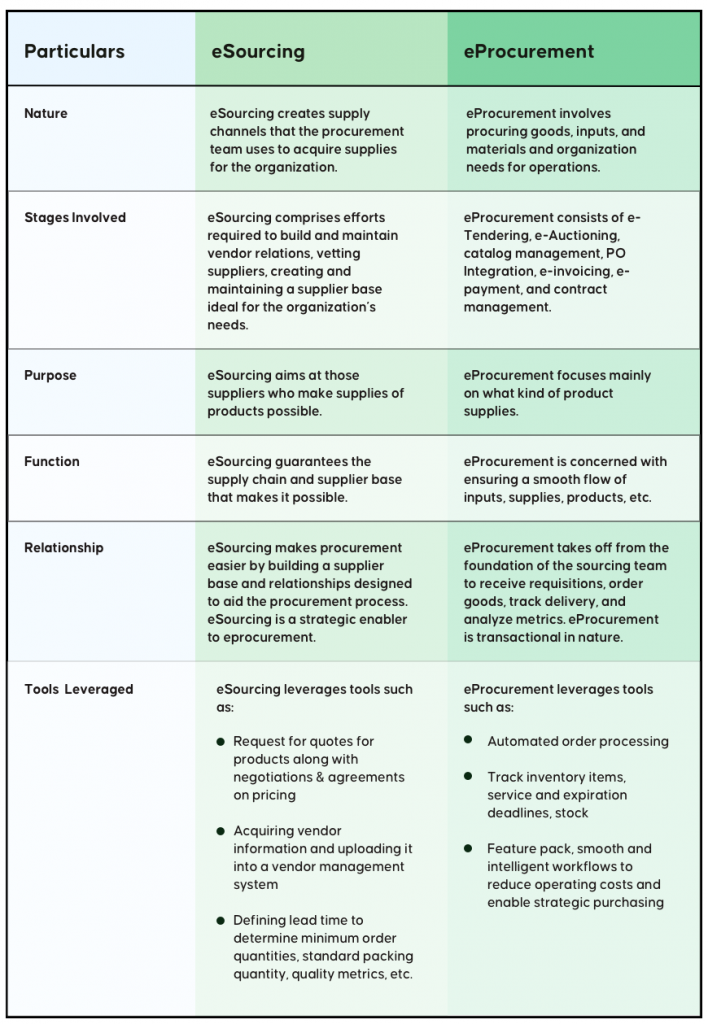 Will a comprehensive procurement solution help with procurement and sourcing functions?
It's hard to ignore that sourcing and procurement need to work in tandem to achieve objectives. For example, the sourcing department generally negotiates contracts with suppliers, including pricing and minimum order quantities. In contrast, the procurement department eventually uses that information to know how much to budget whenever a certain amount of supplies is required. Now, how is the procurement department ever going to do its job perfectly when they don't have real-time access to sourcing information?
On the other hand, how will the sourcing department determine which suppliers and contracts to renew without any record of supplier performance or supplier risk metrics? It's simply impossible for your organization to do its work well when there's no coordination between sourcing and procurement. Put merely, sourcing can't work without procurement, and procurement will be hindered without data from the sourcing department.
A comprehensive procurement software takes the pain out of both the procurement and sourcing processes. A comprehensive procurement software combines both the procurement and sourcing systems in one that offers:
A single source of truth for sourcing and procurement
Digital systems and processes that minimize human error
An easy way to hand off vendors to procurement, and back to sourcing for reviews, etc.
Reduce cycle times because decisions get made faster
Offer greater visibility into your data
Aavenir RFPflow meets all those criteria and more. RFPlow allows anyone to request direct and indirect procurement offers from various vendors and select the best-value vendor regarding skills and budget. With the help of Aavenir RFPflow, your procurement team can easily collaborate with enterprise teams to create a need-focused RFP questionnaire and execute milestone-based supplier response collection processes on ServiceNow.
Looking for a comprehensive procurement and sourcing solution that's simple to adopt, easy to use, and powerful enough to beat your spreadsheets and forms? Take Aavenir RFPflow for a spin here.
Final Thoughts
eSourcing and eProcurement are similar processes that enable each other to succeed. Adopting the right solution can take the complexity of sourcing suppliers and procuring the materials you need to keep your supply chain competitive.
Organizations are adopting eSourcing to streamline their strategic sourcing activities and simplify the complexities that surround it. The size of the organization will analyze which eSourcing strategy will determine outcomes. eSourcing focuses on finding suitable suppliers for the right sourcing need and enables various business units to collaborate on their sourcing activities. Strategic eSouricng is necessary as every department will have its unique set of sourcing requirements. Organizations using eSourcing software enables end-users to source their suppliers within the bounds of essential procurement and compliance rules.
E.g., Shortages of semiconductors have been hurting manufacturers of automobiles, and other products, illustrate the need for companies to ensure that their supply chains are resilient. On top of pandemic-related supply disruptions, these shortages have underscored the value of understanding and mitigating supply chain risks and developing robust eSourcing strategies for weathering the next storm.
The manufacturing industry will need to establish an eSourcing strategy and have all OEMs nearby. But a mid-size organization would be okay with the eProcurement strategy as the focus is on being asset-light. Hence, standard solutions can help navigate via only a few key suppliers.