One of the lasting contributions of Steve Jobs was 'Ecosystem'– create an ecosystem of hardware, software, and services. The initial success of Apple was not from features and functions but it was from the app store on which external developers can create and deliver value. Using the iPhone, one can not only call but also send emails, make financial payments, order groceries, collaborate on social media, or share photos. Online retailers like eBay, Etsy, and Amazon led the way and created their own platform from distribution channels selling products, to engagement platforms co-creating value.
As a consumer, we have been using multiple platforms like Apple and Android, but have we ever considered a platform strategy for our business tools and technologies. Companies such as ServiceNow, Workday, and Salesforce offers ubiquitous enterprise platform-as-a-service (managed package of out-of-box applications, server HW, storage, Networking, Databases, Virtualization, Runtime, Security and Integrations) for businesses to leverage apps from their marketplace or create custom apps ranging from Payments to CRM to IT Helpdesk to Emails.
Key Challenges with Multiple Applications and Multiple Platforms
Businesses are maintaining an average of 284 applications across their organizations, with many firms maintaining over 1,000 apps. With a profusion of multiple applications, organizations struggle to manage inconsistent data, costly maintenance, and complicated infrastructure, mandatory regulatory changes. Most IT professionals in organizations spend their energies on maintaining multiple technologies rather than implementing unique business logic.
IT leaders have established a governance structure to synergize multiple applications. This governance structure considers different organization needs like Single Sign-On, data concurrency, security, regulatory and compliances, etc. Post-COVID, technology teams are spending a huge amount of time not only to enable remote working but to ensure that all IT vendors are using the strictest of the measures across disparate applications.
Organizations are looking for digital transformation that improves collaboration between business functions across geographies to enhance business productivity and serve the evolving needs of business functions. Earlier with the simple business processes, ERP could support the interaction among business functions on a single IT landscape- effectively managing all business operations. Today, the IT team creates and manages the interactions between various business applications via API libraries. Given the remote workforce and current business complexities, organizations need flexible solutions that can easily enable data and work navigation between different applications.
One of the major challenges for IT function is to manage different codebases, different databases, different cloud infrastructures across enterprise applications, and accordingly upskill or hire technical professionals to manage different applications.
In all, IT leaders recognize the need to consolidate the technology landscape and start using a unified platform for catering to functional needs across business divisions such as IT, procurement, sales, finance, and legal services.
How can a unified Platform enhance the IT landscape?
As per Forrester's research report, over 92% of the organizations are interested in consolidating the underlying technology platform for all business applications. Platform consolidation plays a key part in improving application and data security, followed by instant access to data to make real-time decisions and building simplified technology architecture, which is more easily managed. However, organizations are struggling to consolidate multiple complicated technology architectures.
The unified Platform strategy is more than a front-end makeover. For unified platform implementation, IT needs to look at the architectural approach and the concept of bringing best-of-breed applications on a single enterprise-wide platform. It is about creating a well-orchestrated assembly of applications (existing/legacy apps, new apps available in the market, or custom builds) on a single platform to deliver various capabilities such as content management, business intelligence, and other operational applications —to keep up with changing business requirements, and make better business decisions.
A unified platform can enable seamless collaboration between enterprise systems to unlock productivity for the business units in the enterprise. It can provide:
Great Experience: Delivers similar user interface across apps, enables single-sign-on, and provides access to the same real-time data on mobile, web, or conversational apps.
Custom App Development Tools: IT team can use unified platform's API libraries to integrate with an external system, leverage SDKs for developing and maintaining systems within the platform, and use schema builders for managing data models.
Workflow Designer Engine: Using a flexible workflow engine, enterprises can automate the work and document routing within and across departments for creation, review, and approvals.
Centralized Knowledgebase: Stakeholders can build a centralized and secure repository to store all documents on a unified platform. Business users share documents in a central repository between each other using workflow. Some latest platforms like ServiceNow enables users to edit, approve, and manage the business documents even via mobile or virtual agents.
Analytics/AI: All business function can create their unique dashboards to get real-time reports from all systems. Organizations can start building data models or use deep learning algorithms for specific business processes and eventually scale the capabilities.
Enterprise Application Integrations: Some latest platforms like IBM and ServiceNow enable the future of work by providing AI, ML, and RPA functionalities to reduce manual work and enhance productivity.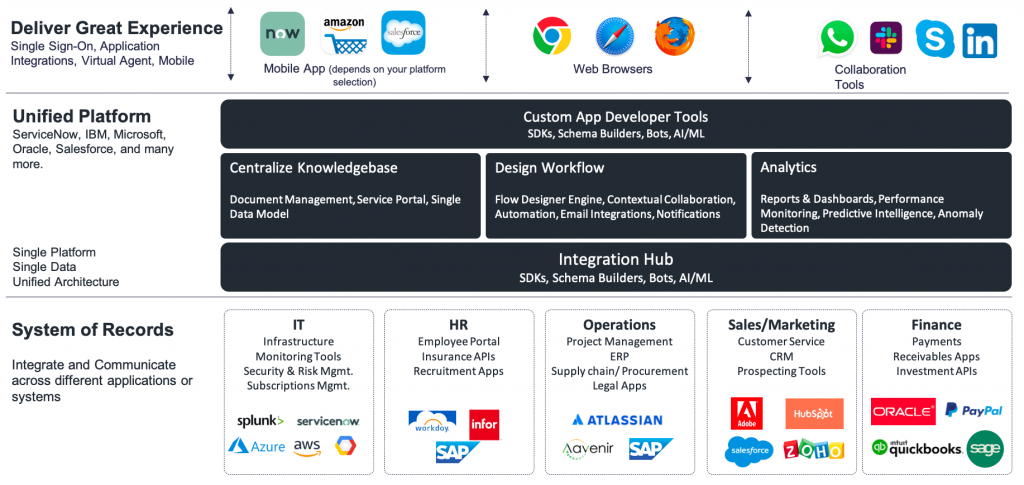 A single digital platform provides cloud-based analytics and business intelligence by consolidating multiple data sources into a single source of information. Moreover, Platforms can empower the enterprise to:
Ensure data security and compliance with growing privacy concerns and emerging data privacy laws, such as the CCPA and GDPR,
Ease IT Administration with No-code/low-code solutions
Scale as the business grows – increase/ decrease in the number of business users or applications
Manage budget with a subscription-based payment method
Easily prepare and deploy Proof-of-concept with vendors
Achieve AI-as-a-Service for different business needs
Achieve Interoperability of applications
Introducing ServiceNow – The Unified Enterprise Workflow Platform
ServiceNow transforms the enterprise with a single cloud platform – called Now Platform. Built on the Now Platform, ServiceNow's product portfolio delivers the IT, employee, and customer workflows that matter—with enterprise solutions to help drive every part of your digital transformation. 6,200+ global enterprise customers including nearly 80% of the Fortune 500 rely on ServiceNow solution – the Now Platform—the intelligent and intuitive cloud platform—for successful digital transformation across industries.
The Now Platform also allows no/low code development by business operation analysts to build their own apps for less complex tasks you may be managing through spreadsheets, email, and legacy tools. An example of one such application is the Aavenir Source-to-Pay suite of applications that are natively built on the Now platform to modernize enterprise sourcing, contract management, procurement, finance, and accounts payable business functions. The customers of ServiceNow can download these apps from the ServiceNow App store to quickly transform these operations.
Next Steps
With remote working, organizations are worried about newer cyber threats and also comply with data regulations. A unified platform can help organizations to respond faster to any threats with a single and coherent administration group for multiple applications. Adopting Platform-as-strategy can make organizations truly agile. A unified IT platform vendor can provide dependable operations, global outreach, cloud experience, and continuous innovation that is needed. Most importantly, IT leaders can choose a platform ecosystem that resolves the complex needs of a dynamic, remote environment.