Procurement teams are trying to maintain the perfect balance between choosing the right supplier to fulfill the needs and achieving the targeted cost savings. To strike this balance, procurement teams must implement stringent procurement processes.
For example, an AP team member spends 4–15 hours weekly ensuring that rigorous processes are followed. In addition, the AP team applies different validations or business rules within organizations, such as Vendor Validation, PO Matching, G/L Account Validation, etc.
2-way/ 3-way Invoice matching is the most common validation applied across organizations.
What is Invoice Matching?
Invoice matching compares invoice information with all purchase documents such as contracts, purchase orders, or goods receipts. Invoice matching ensures accurate vendor payments and journal entries.
In this step, the invoice matching professional collaborates with purchasing contracts and goods receiving departments to create an audit trail that helps to detect fraudulent invoices. In addition, the AP team reads the invoice matching audit trail and approves the invoice payment if there is no exception.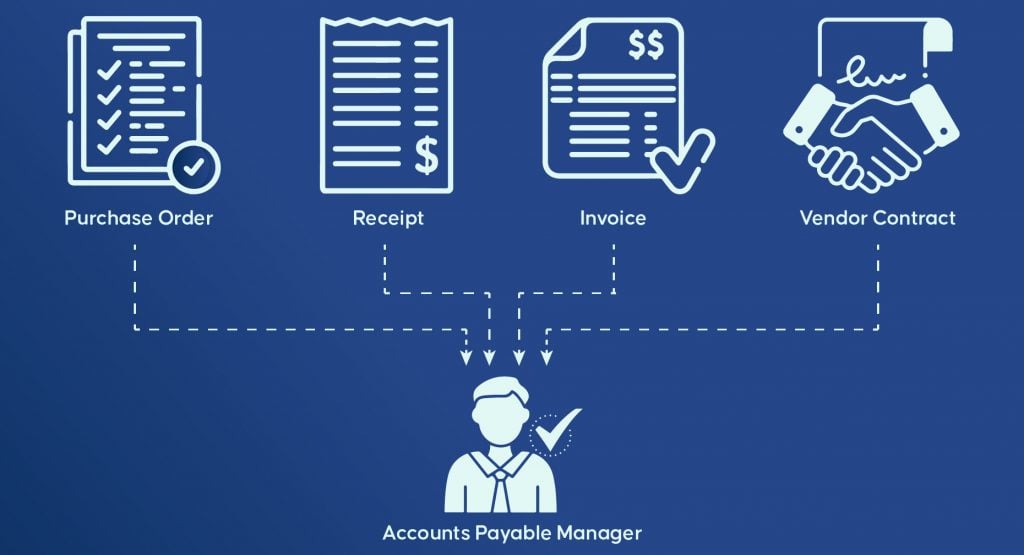 What is 2-way Invoice Matching?
A 2-way invoice match is the most basic comparison of organizational purchases and vendor payments. In a 2-way invoice match, the AP team compares the quantity and amount on the invoice with the corresponding purchase order.
During this step, the accounts payable analyst will verify invoices for the following:
Ensure that the total invoice amount is less than or equal to the PO total amount
The price of each line item on the invoice is less than or equal to the line item values on the purchase order
This process is time-consuming as it involves the comparison of both documents. with those listed in the organization's finance system.
The AP team processes and pays the vendors for the invoices without discrepancy. However, this matching process (without an automated AP solution) besides being time-consuming can leave room for manual errors. In the case of partial invoices or partial orders, organizations may have serious problems to solve.
What is 3-way Invoice Matching?
In the case of 3-way invoice matching, AP teams ensure that a supplier's invoice is valid against both a purchase order and a goods receipt. When the AP team receives an invoice from a supplier, an AP team member verifies the following information:
Standard 2-way matching of price and quantity of invoice with that of purchase order
Comparison of vendor invoices with the Goods Receipt document of the organization
This process is conducted to ensure that the exact quantity of goods ordered has been received. This stringent mechanism helps keep the purchasing, AP, and inventory departments on the same page. Moreover, any quality-related issues (that involve the vendor) can be matched with a 4-way invoice matching with inspection orders.
Challenges of Manual 2-way/ 3-way Invoice Matching
If done manually, this is a time-consuming process as the AP team needs to verify documents across disparate systems. Most organizations prefer automation solutions to complete 2-way/ 3-way matching.
The 2-way/3-way matching depends significantly on the data quality of all documents. The AP team has to ensure a proper audit trail to complete verification.
Employee expense reports cannot be verified as the parameters in most cases fail. Nowadays, organizations have started using artificial intelligence (AI) to analyze expense invoices and understand spending patterns.
Next Steps: Experience Straight-Through Invoice Processing with Aavenir Invoiceflow
Organizations must integrate invoice processing solutions with procurement, contract management, and inventory management systems to implement automated invoice matching. ServiceNow customers choose Aavenir Invoiceflow because it can easily verify invoice data with other systems like vendor management, procurement module, and Aavenir Contractflow on ServiceNow.
With the advent of AI, organizations can automate step-based rules and set up exception workflows. Using AP Automation solutions like Aavenir Invoiceflow, organizations automate the invoice matching rules to identify errors.
Using AI, AP Automation solutions can also analyze large datasets to find discrepancies and apply digital workflows to make course corrections. With improved auditing capabilities and quick error identification, organizations are freeing up AP teams to focus on high-value work in organizations.

Is your organization still relying on manual invoice matching? Get in touch with our experts to know how you can boost efficacy for your AP teams with AP Automation - Built on ServiceNow.