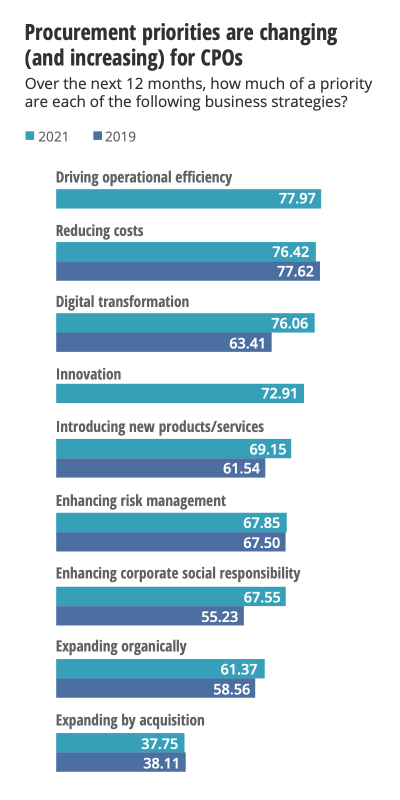 2020 has been in many respects, the "year of the supply chain". All aspects of the sourcing and procurement function have been exposed and challenged. So, how can CPOs keep the organizations nimble and robust?
Knowledge 2021 is a virtual event, where technical experts, business leaders, and stakeholders can gain first-hand experience of the latest digital workflow best practices and solutions. The event will showcase how global organizations are using digital workflows to grow their business, become more resilient, and reshape their industries.
As figure 1 shows CPO's priorities are clearly increasing in almost every category. Compared to priorities in 2019, digital transformation has grown significantly in importance with a 20% jump vs. 2019. (48% of CPOs report this as a strong priority).
The top three benefits of "next-gen" digital technologies as reported by the CPOs are:
Process Efficiency (65%)
Process Effectiveness (50%)
Increased Agility (50%)
This presents an opportunity going forward, but adopting technology is not without its challenges.
Digital Transformation Challenges facing procurement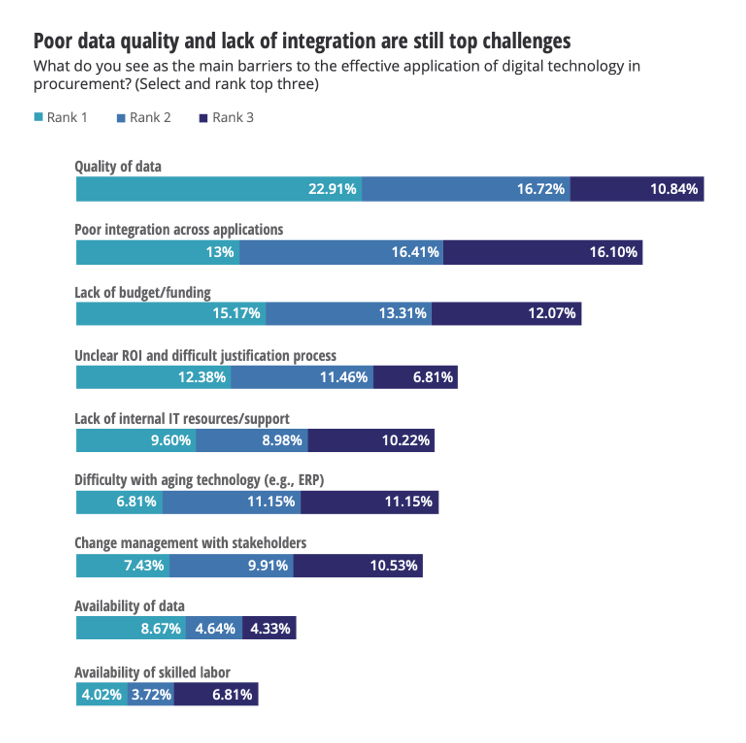 The top three barriers to effective adoption of digital technology in procurement are data quality, poor integration across applications, and lack of funding for initiatives.
We've identified three challenges your current procurement processes might be facing—and offer suggestions for how to automate and streamline procurement to positively impact the bottom line.
Challenge #1 - Managing Single Version of Truth
The volume of data across platforms is growing exponentially. Manual reporting today isn't scalable or efficient. Too often, customers find themselves turning to traditional spreadsheets, outdated slide-decks, and 3rd party BI solutions to report crucial data for stakeholders making organization decisions. In this session, VividCharts will share how reporting slows customers down and how surprisingly easy it is to accelerate with our in-platform visual reporting.
Solution - Centralize Vendor, Contract, Procurement and Invoice Data on ServiceNow
Many ServiceNow customers are managing vendor and purchase data on ServiceNow or other integrated systems. Using Aavenir, source-to-pay applications built natively on ServiceNow, organizations can centralize all RFPs, contracts, and invoices on ServiceNow. Aavenir also offers AI capabilities to capture information from all existing documents – be it contracts or invoices – and automatically onboard data on ServiceNow.
Challenge#2 - Unstructured and Broken Communications across Teams and Vendors
Procurement isn't just one set-in-stone process. From identifying the right supplier to keeping track of vendor contracts, ensuring right order fulfilments to making on-time accurate payments – the whole process is connected. Generally, business teams raising direct or indirect procurement requests are not aware of the operational intricacies associated with the different steps and approvals needed to purchase an item. Business teams often keep wondering why their procurement takes so long to process or why they haven't received any response from procurement?
On the other side, procurement, contract management or accounts payable team have no direct visibility into whether the request is pending due to delay in supplier capabilities assessment, prolonged contract review & negotiation cycle, waiting to be signed or simply sat in a manager's approval queue. It would require manually tracing of email threads to follow up on status. The inability to identify bottlenecks creates transactional work for procurement teams and eats up valuable time that should be dedicated to value-add priorities. Email-based communications, in particular, are not only time-consuming to track but also give business teams an unsatisfying experience whenever they don't hear back from procurement teams in a timely manner.
Solution - Unite Work Teams with a Standardize and Automate Workflow
Ideally, you want a procurement system that not only standardizes and automates tasks needed to process procurement but also provides transparency so that estimates are reasonable and accurate. With such a system, procurement teams could spend less time coordinating work with the various departments, suppliers, and business teams requesting procurement services. Also, all stakeholders would automatically be notified of status changes and kept apprised of each procurement, contract, or payment request.
As an enterprise workflow platform – ServiceNow offers easy role-based access to all employees to request or manage procurement operations. Aavenir Source-to-pay applications enable work teams to perform end-to-end procurement on ServiceNow by eliminating unstructured, manual processes. With intelligent task orchestration, work is automatically routed across requisitions, sourcing, negotiations, purchasing, contracts, receipt, and accounting so nothing gets missed. Aavenir offers automated reminders and real-time status updates to eliminate bottlenecks and accelerate the overall procurement process.
Challenge#3 - Lack of Integration across Procurement Applications
Instead of replacing applications, digital transformation often aims to make better use of what businesses have in place. And in some cases, what they have in place is a lot. Different teams might have different applications where they collaborate. The inevitable result of having various applications is data silos that hamper productivity, cause errors and degrade the procurement experience.
For example, a workflow that requires the procurement team's vendor system to sync information with the contract management software and an invoice record in accounts payable automation software triggering an automated 2-way 3-way matching of invoice data before payment approval.
Solution - Better Together with Existing ServiceNow Applications and Integrated Enterprise Systems
As an enterprise system of engagement, ServiceNow reduces the cost and complexity of integrations to 100s of critical business systems in minutes with out-of-the-box spokes. There's no need for ServiceNow users to rip and replace existing systems and lose the department or domain-specific benefits they deliver. Instead, the Now Platform serves as "the platform of platforms", connecting systems of record and team collaboration and productivity apps into frictionless end-to-end digital workflows.
Procurement applications like Aavenir RFPflow, Contractflow, and Invoiceflow – built natively on ServiceNow – accelerates integration across siloed systems of record with no-code spokes for core systems like Oracle Financial Cloud, Oracle HCM Cloud, SAP ECC, S/4HANA, Ariba, Salesforce CRM, Workday HR and Financials, and DocuSign.
Attend Knowledge 21: Learn How Organizations can Transform Procurement on ServiceNow
If you're experiencing any of these challenges, it's time to consider managing Procurement processes on ServiceNow. Invite all procurement experts and IT application architects to join in for Knowledge 21 and attend keynotes or on-demand sessions by ServiceNow leaders and partners like Aavenir. To know more about how and why organizations should bring procurement operations on ServiceNow, Here are few sessions to watch out for: