There's a rise in procurement today. Companies are fighting for better supplier communication, collaboration, alignment, agility, flexibility, and integration to create the best in Supplier Relationship Management (SRM). As supply chains are growing increasingly complicated, the need to cut prices means margins are getting squeezed like never before. To maintain profitability and drive efficiencies, organizations rely on supplier relationship management as a controlled and systematic approach to source the goods and services needed.
While SRM has picked up steam throughout industries, implementing its strategies, such as a strong, integrated working relationship that fosters an invaluable exchange of ideas, is still emerging. Yet, where companies have tapped into supplier's knowledge, talent, and capabilities, a revolution against stagnation has taken place.
Companies already winning the fight include Toyota, Honda, Brose Fahrzeugteile, and Procter & Gamble. Toyota has a solid reputation for supplier relationship management. The world's biggest automaker has developed long-term, collaborative, and close partnerships with its key Japanese suppliers over several decades. For their key suppliers, they evaluate them (using KPIs), set up regular company-to-company reviews, and help them to manage various types of requests/ concerns from different Toyota divisions – R&D, Quality, Delivery, Manufacturing.
Secret to strong and strategic supplier relationship management
The organization and suppliers are mutually dependent on one another. These relationships usually amplify the capacity to create value and foster supplier quality management. Strong supplier relationships are considered so foundational to a company's overall success. Here we've identified the powerful benefits of strong supplier relationships.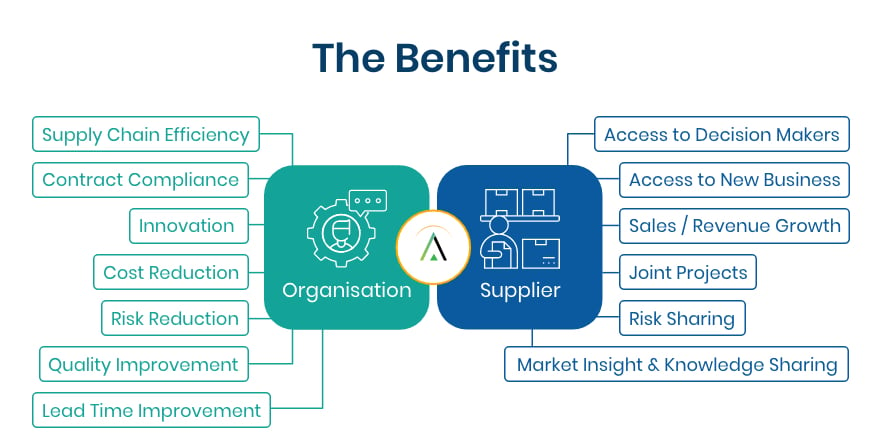 1.Reduce Spend
While negotiating deals with new suppliers, there are several initial costs involved. But a supplier relationship management program can eliminate many of those costs. By establishing a mutually valuable relationship with key suppliers, an organization can achieve long-term cost savings, in the form of reduced issues with availability, quality, and delays in supply.
2.Increased Efficiency and Building Trust
As the relationship with an organization's supplier develops, the communication improves. A level of trust builds between both parties. The supplier starts to understand more about the organization which enables them to increase the efficiency of their service. Issues related to the orders will be reduced, and in the event, even if order issues do arise, a strong relationship between the organization and supplier will make it simpler to solve the issues. With a mutual understanding and trust, eventually, the relationship grows in such a manner that the organization also outsources non-core activities to the supplier, including inventory responsibility and some level of customer service.
3.Improved Supplier Quality
For many companies products procured from suppliers represent 50-80% of the total product cost. With so much investment trusted to suppliers, ensuring consistent quality is vital to a company's success. A collaborative SRM strategy offers significant opportunities to realize improvements in supplier quality. In part, this is a consequence of the investment in regular meetings with preferred suppliers to discuss and strategize all aspects of business performance. Also, by openly sharing data related to product quality, shipping or billing errors, or late deliveries, companies can build a collaborative relationship that works toward continuous quality improvement, benefiting both parties.
Wrap Up
Traditionally, the manufacturer-supplier relationship has been all about cost reduction in the short term. Supplier relationship management has thankfully replaced this practice and looks to garner long-term value from the manufacturer-supplier relationship. By working with suppliers, organizations can create partnerships within their supply chain that yield business benefits far beyond any initial cost savings.