Invoice Automation
'Our invoices are so paper-based and spread out everywhere. How can we streamline? '
'We want the AI to solve all errors and achieve 100% Touchless invoicing. Can I just use AI?'
'Oh. Our invoices are managed so well but managing Invoice exceptions is a mess. How do we manage exceptions?'.
These are some questions that recur in our weekly customer conversations. Most organizations want to digitally transform radically, but don't know how they can embrace technology to solve vital business problems. Invoice processing is a specific critical area for any organization where accuracy with efficiency in processing invoices needs to embrace effectiveness in avoiding invoicing errors.
As per Gartner estimates, businesses will only receive 10.4% of their invoices in electronic forms. With such variability, how can organizations achieve automation? Enterprises need to bring balance among a minimization of paper-based invoices, easier invoice submission for suppliers, and adopt technology for efficient invoice processing. The million $ question is where do organizations start?
At Aavenir, we recommend a 4-phase approach to start your AP automation journey. The 4 transformation phases to ensure success and most organizations can generate the most value with each phase. Let's talk about what each phase entails.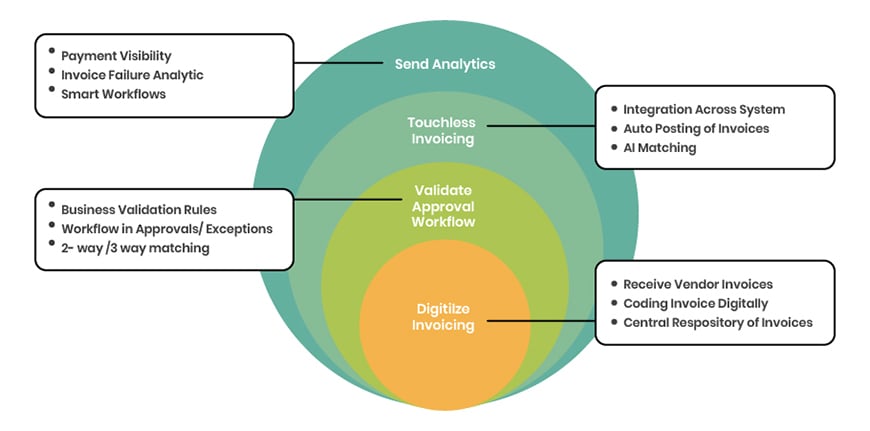 Phase 1: Digitize Invoicing
Most organizations have invoices spread out across organizations across different formats. Some vendors will send invoices with snail mail, some would follow local government regulations and send e-invoices in XML format, some vendors love to send invoices via email-either collating all invoices or send invoices via reminders. With a plethora of choices, AP Teams are juggling across mailboxes and making manual data entries of invoices while managing and analyzing different invoice formats. We always advise customers to collate all invoices in an easy-to-understand format.
As step 1, organizations can start onboarding all invoices into a single repository. This means organizations can use a portal where everyone from the AP team can come and access all invoices for different fiscal years. In the business world, organizations need to have multiple invoice ingestion options for suppliers. Invoice structure guidelines are important, but ultimately, the supplier has control over the content, structure, and format of its invoices. The flexibility in invoice format can help organizations process invoices efficiently.
With disparate mediums of incoming invoices, organizations will struggle to manually verify the invoices. In the invoice onboarding stage, most organizations struggle to identify fraudulent invoices. With a centralized invoice repository, every invoices onboarding is standardized and easily spot something that doesn't quite fit.
Phase 2: Validate Approval Workflow
Getting an invoice in a digital form is just the first step in driving efficiency. Invoice Matching in high percentages autonomously is the next frontier. Invoice exceptions are a major problem for businesses attempting to reduce cost and time from their invoice workflow. Mismatches are driven by multiple factors, some of which are due to supplier billing processes and systems, others are due to the purchasing process itself.
Common Invoice Exceptions every AP deals with:
Invoice quantities that do not match the PO
Missing or incorrect purchase order reference information on the invoice
A missing supplier or tax structure for an invoice
Pricing discrepancies at the line level or for the total invoice
Enterprises can start with establishing business rules for defining different validation. E.g. AP Team can set up rules for vendor validation or material price matching. These autonomous rules can reduce manual verification and get AP to focus on invoice exceptions. Most importantly, most PO matching errors are okayed by AP Team with a limited tolerance range. AP Team can automate this verification with tolerance limits with defined tolerance limits in rules.
Phase 3: Touchless Invoicing
Most organizations want to achieve Touchless Invoicing as Phase- I.
So what is touchless Invoicing?
Touchless Invoicing refers to invoice processing with minimum human intervention and auto-handling of invoice onboarding and invoice validation. Most organizations consider touchless invoicing as Nirvana. AI-based AP automation solutions are driving higher autonomous invoice matching rates. AP automation solutions use machine learning (ML) to train their AI to perform better out of the box than a simple rules-based engine. This AI training gains from both the customer base and deep-dives into specific intricacies of each customer.
In earlier days, This training across customers was impractical when APIA tools on-premise. cloud-based SaaS solutions utilize data from overall customer bases, and eventually maturing the AI. Out-of-the-box (OOTB) AI engines come smart, reducing overall training time. The AI engine also infers information from master data and related data repositories, such as Purchase Orders or contracts. This vast dataset helps AI to understand more scenarios where an automatic population of missing invoice data can solve the exceptions and build workflows to mitigate exceptions.
With the advent of APIs, individual solutions can integrate with disparate systems – ERP, Financial systems to provide a Single Source-of-truth for Invoices. Organizations can efficiently identify errors and effectively resolve issues.
Phase 4: Invoice Analytics and Smart Workflows
Across the earlier stages, organizations have focused on centralizing the invoices, establishing invoice management process, defining exceptions with integration and business rules Now, organizations can reap benefits with Invoice Analytics.
With integrated data, enterprises can understand the spending across business units. Some organizations prefer to implement KPIs such as Invoice processing time, the number of invoices processed per G/L account or how frequently vendor invoices encounter exceptions. Now, organizations can strategically spend the $ and improve efficiencies within the organization.
In some scenarios, organizations push for a no-PO, no-pay policy, some invoices will need an alternative mechanism. E.g. utility invoices do not have Purchase Orders, the invoice processing mechanism will fail. To manage such scenarios, organizations push for smart workflows. AI-based solutions can analyze different contracts and spend categories to learn such nuances and identify these vendors. In this manner, AI can automatically code and assign specific workflows for those invoices. AI-based workflows understand the frequent issues and can determine the right problem-solvers for those issues. For E.g. AI matching engines can learn that item description of Purchase Orders and invoices are similar but would need manual matching. AI can assign the workflow directly to the PO creator without any routing from the AP Team. To summarize, Smart workflows can help organizations to identify errors in invoices and assign the invoices to the right stakeholders for quick turnarounds.
Conclusion
Now, the million-dollar question again comes up "What if organizations skip any phase or try to implement all phases in 1 shot?" Well, any digital transformation is more about the relationship between technology and humans. Most digital transformation depends on the introduction of technology to humans and human's acceptance of technology and establishing the process. Once technology and humans work in tandem, the transformation can leap ahead in technology.
It's a long road ahead but technology is here today to reach the future faster.