In early May 2020, the USA started facing severe meat shortages. The shortage is so dire that consumers are staring at prolonged periods of fluctuating meat supply. In the USA, processed meat comes from only three companies that are facing plant shutdowns. (One plant shutdown causes a deficit of ten million servings of beef per day). The numbers are staggering but the question remains how organizations can work in such unprecedented times. Where does RFP management fit here?
To mitigate supply chain risks in unprecedented times, some organizations have implemented initiatives such as Supply Chain Mapping. Procurement functions, a crucial part of RFP management, can map the Supply Chain from the conversion of goods from raw material to semi-finished conversion to finished goods. Using this map, organizations can indigenously manage suppliers or goods movement and proactively act to transfer risk over a complete supplier base within the ecosystem.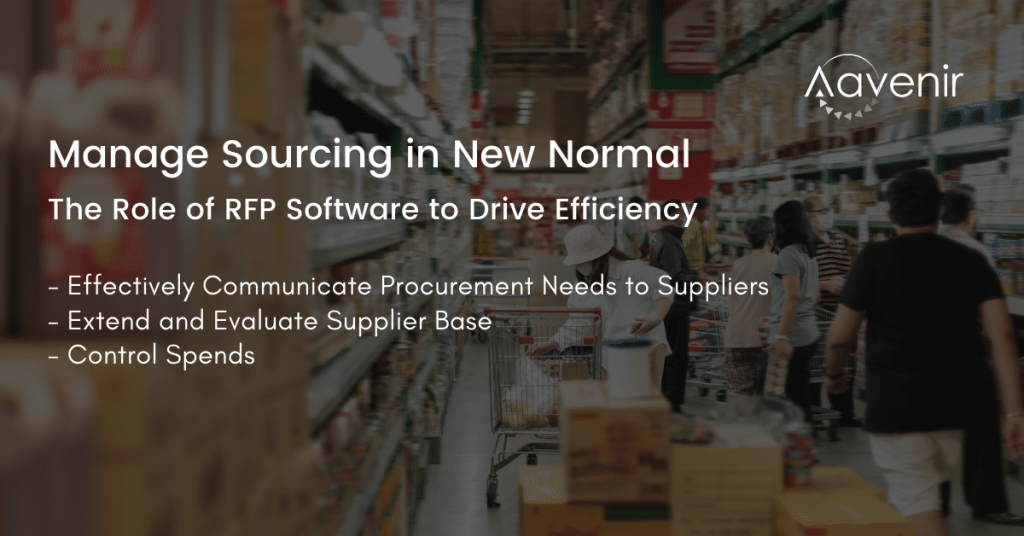 Role of RFP Management in Strategic Sourcing and Procurement in New Normal
With organizations focused on managing spends, building a strong and highly robust supplier base, RFPs have gained prominence in the operating model. Organizations need newer ways to work with internal stakeholders and external partners with proper communication. RFP management software is an effective tool to communicate the internal procurement needs to external suppliers via digital procurement technologies. Organizations are now discovering and engaging with suppliers to identify potential delays or operational risks. Organizations have also started identifying alternate sources of supply existing suppliers fail in any evaluation parameters. Organizations have now started floating RFIs as a market research tool for sourcing in categories and added preference for local suppliers.
COVID-19 pandemic has made organizations improve and streamline collaboration via workflow across the hierarchy. "Collaboration" is the keyword across organizations. With the right collaboration and communication in place, RFPs can be fast-tracked with effective collaboration. The right sourcing needs were already documented and now RFPs can easily collaborate.
Role of RFP Management in Digital Procurement
To sum this up, Digital procurement is an evolving and interesting story. Procurement teams must quickly secure suppliers and are using newer tools to identify sourcing. Organizations use AI-powered sourcing to identify new suppliers and using RFPs to shrink time from scoping to supplier selection with improved cost reduction. Putting in the right requirements and improved collaboration can redefine RFP management and sourcing in the near future. The next disruption era will be defined by the automation of needs and improved collaboration with stakeholders.
The Next Steps
Aavenir RFPflow offers a simplified RFX process management for procurement teams. RFPflow accelerates the RFx-to-award cycle time by creating easily accessible repeatable RFI/RFP/RFQ templates, bringing all stakeholders on a single platform, and standardizing the end-to-end sourcing processes.
Test drive the RFPflow product on ServiceNow instance to get immediate ROI with a negligible implementation timeline and deployment cost. Aavenir Source-to-Pay (S2P) suite streamlines sourcing, contract lifecycle management, procurement, and account payable operations on the NOW platform. Learn more about Aavenir RFPflow, Aavenir Contractflow, and Aavenir Invoiceflow available on the ServiceNow app store to get started.