77% of invoices received by companies are in the form of PDFs, hard copies, fax, or emails.
If you have been a part of the Accounts Payable(AP) team for a while, you would be familiar with the challenges and frustrations of having to monitor mailboxes for every new incoming invoice from suppliers. Having to open each email and reading the invoice manually and then entering that information in an ERP is a time-consuming, slow process, and inefficient. Does this sound like a similar problem? If yes, read further to know how technology can be applied to simplify the process, saving you many hours of time each month.
Big scale businesses have around fifty thousand to one lakh suppliers like the fast-moving consumer goods company Proctor and Gamble states that it has over seventy-five thousand suppliers and retailing giant Walmart counts over one lakh suppliers. AP staff in these large-scale organizations manually identify invoice information from free format invoices, also known as unstructured data extraction. This consumes a large portion of their time, is error-prone, and ultimately a huge cost to the organization. The impact can be delayed payments, resulting in penalties and other liabilities as well as denting the relationship with the supplier.
Are you willing to combat the challenges involved in processing invoice data manually? Read further to know about proven industry solutions for unstructured invoice data extraction to automate the invoice intake and recording process and reduce the time you spent on such routine and mundane tasks.
Extracting Information from Unstructured Invoices
A well-established system using Artificial Intelligence for unstructured invoice data extraction can reduce the turnaround time by five times and increases the overall productivity of the system by 200%.
Artificial Intelligence has come a long way in the field of extracting information from invoices and helping the AP team. Artificial intelligence works in a self-sustainable manner to understand the format of the invoices being scanned and learning and adapting with time.
As there is no particular format followed for the invoices, advanced technology software is designed with the capability to comprehend the invoice data using:
Deep Learning which is a specialized technology that helps in better and more reliable identification of the information in the invoice
Natural Language Representation which helps in better differentiation between similar looking characters, such as the letter "O" and the digit "0" as an example.
Optical Character Recognition to extract the text
Convolutional Neural Networks for identifying various parts of invoices just like humans do .
The process involved in handling these invoices includes converting the unstructured data into a structured format and can be used either to directly fill the customer forms and bills or in the enterprise resource planning systems for payments of the invoices. The automated processing results in error-free and optimized data ready to be used for analysis and payments by the AP team.
In its simplest form, an invoice-centric workflow is one that executes a data extraction process that includes capturing content, extracting unstructured data from the invoice, and taking some action based on that information.

Benefits of Touchless Invoice Data Capture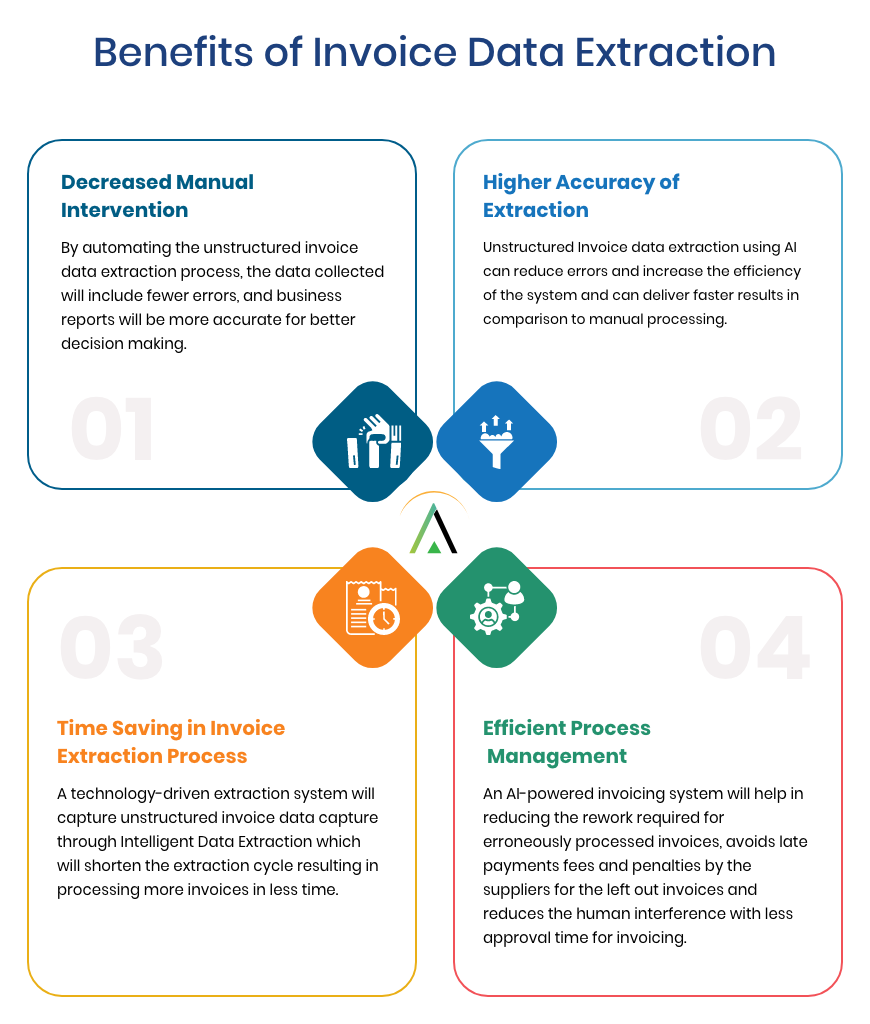 Introducing Aavenir Invoiceflow
Aavenir Invoiceflow offers smart invoice data capture, data onboarding, and cognitive invoice processing capabilities to reduce human intervention by up to 99%.
Built natively on the ServiceNow Platform, Aavenir Invoiceflow enables enterprises to efficiently manage multi-vendor invoices with varied payment terms. Aavenir Invoiceflow captures electronic or physical invoices and automatically extracts invoice information using the most advanced ML engine and automates invoice processing including a 2-way or 3-way match, which is further scheduled for payment based on business rules.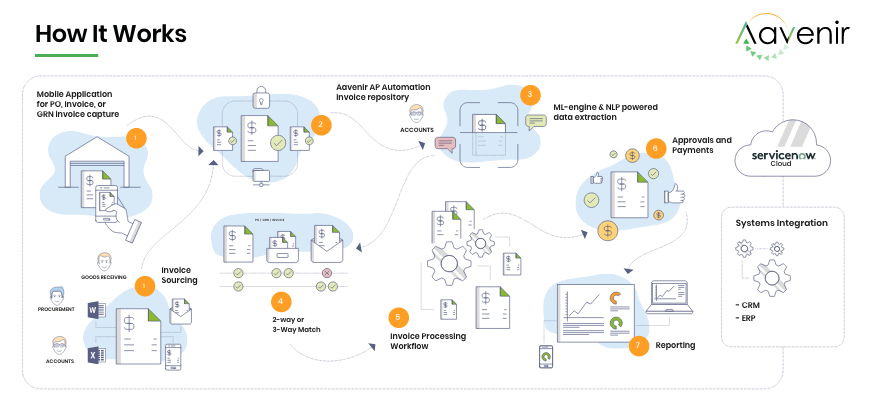 Conclusion
Intelligent data extraction can help businesses like finance, banking, and legal with loads of paperwork and invoices to streamline their processes and save the resources on manual invoicing. Aavenir's artificial intelligence-led solutions are created to solve the challenges of the industry and equip them to undertake a technological leap to upgrade the invoicing data extraction process and reap the benefits of the highly productive system.
Request a Demo
Aavenir to see how you can get the most out of your unstructured invoice data.