SaaS Contract – Meaning
A SaaS (Software-as-a-Service) contract is an agreement between SaaS vendor and their buyers that lays out terms and conditions on how end-users may access and use the software, as well as manage subscription and payment.
Components of a SaaS Contract
SaaS agreements come into the picture when a company chooses to license software instead of buying it. In SaaS agreements, SaaS vendors provide access to software and other technology over a public, private or hybrid cloud, as against the traditional approach where software was sold as a whole to an enterprise and installed on servers within their premise In general, SaaS contracts form a class of contracts that are largely similar in nature, construct and obligations, however, the specific services, SLA's and obligations may vary based on the type of technology or service being offered.
Let's take an example of Adobe; it offers various subscription models. Adobe Cloud Creator provides customers the alternative to buy an individual subscription or a small business license. Companies similar to Adobe might have SaaS contracts that permit customers to pay as they go, only paying for the software when they use it. Many SaaS contracts are nearly static. The subscriber can prefer the service tier they want to access. However, neither the term nor the price is negotiable. Furthermore, Adobe collaborates with prominent institutions such as universities and corporations. These contracts are typically negotiated by determining the number of users and bandwidth that the client will require, as well as the length of the contract and whether or not they will require personalized or custom support teams.
Key Clauses to Understand and Evaluate in Every SaaS Contract
As per WorldCC, the most efficient contract managers handle nearly 70% more contracts than the least efficient.
Software-as-a-Service (SaaS) has earned a notorious reputation of being difficult to track, manage and measure compliance to contractual commitments, obligations, and SLA'S. This often results in reduced vendor compliance causing a direct impact on the business. So how does one manage SaaS contracts better?
Software-as-a-Service contracts serve as a bridge between what the SaaS vendor has control over and what your company expects. It can be challenging to create, manage, negotiate, and maintain an organization's multiple contracts at once, which is why the process should be carried out on purpose by the appropriate decision-makers. An organization must align the IT and finance departments to ensure each SaaS contract serves business goals.
The SaaS agreement plays a significant role in making sure you know precisely what the SaaS provides. The agreement ensures legal accountability by both parties. On the surface, SaaS contracts look like any other contract. But beneath the surface, SaaS agreements have necessary layers that are essential to understand and evaluate, especially if you're the one to sign and manage them.
A typical SaaS contract includes the following sections: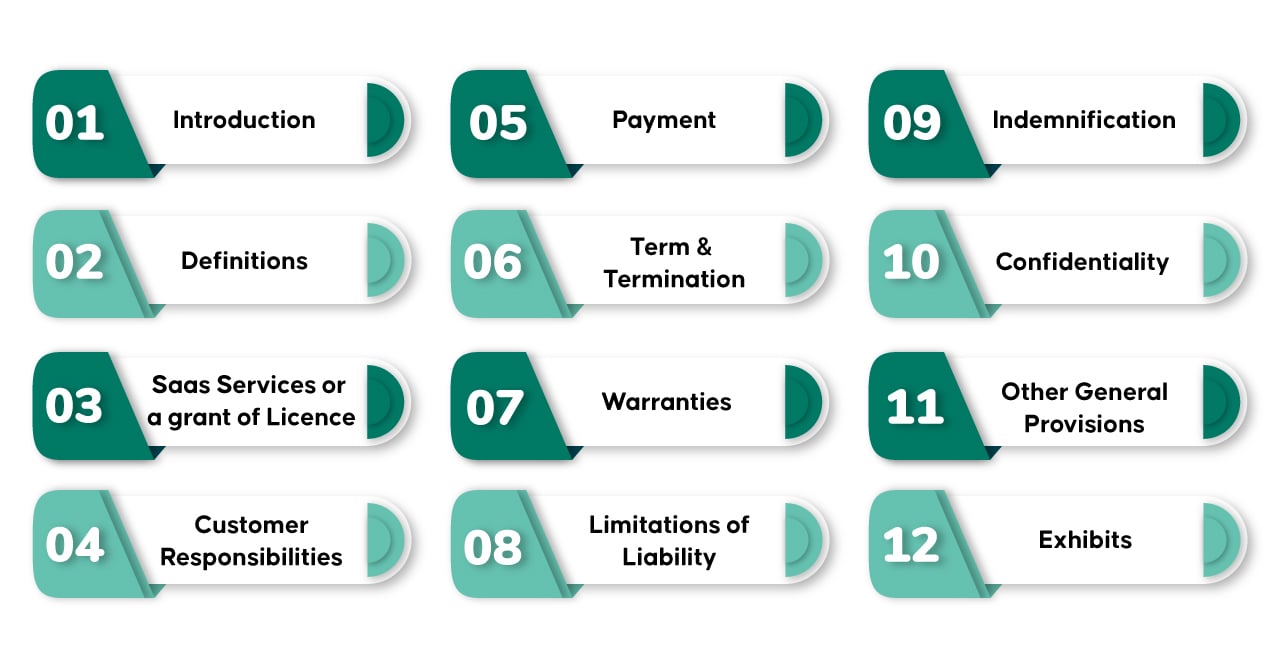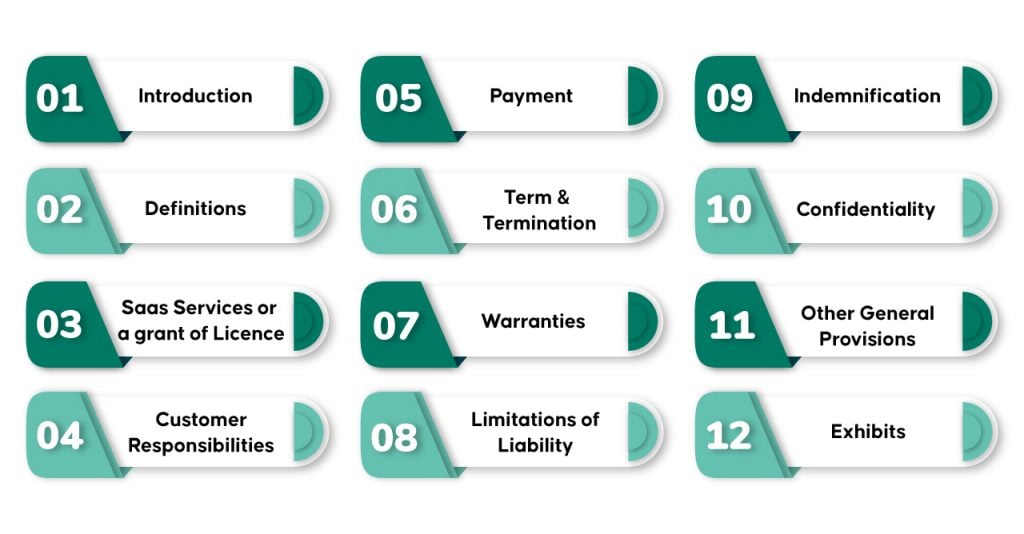 Looks pretty simple to manage all these fields and create contracts easily, correct? But, it isn't when we see it in the practical world. Managing and monitoring SaaS contracts is painful if you do it manually. It is not as simple as it sounds, to ensure compliance and meet obligations from the SaaS vendor. To effectively manage your SaaS contracts with your SaaS providers, you need to deeply understand each clause in the contract.
Important Clauses in a SaaS Contract
As mentioned earlier, each SaaS contract may contain distinct terms and clauses. The specific clauses in an agreement will depend on the following relevant information like the industry you serve, the products you sell, or the services you offer. Nevertheless, all cloud service agreements will share certain terms and agreements. This includes:
1. Scope of license
SaaS agreement authorized use provisions ordinarily include most or all of the following:
The authorized facilities, technologies, and means for accessing and operating the services
The recognized SaaS services that you may use and the extent of licensed access and use
The number of authorized users or other defined extent of permitted access or use
While a SaaS vendor may provide SaaS services exclusively, they are typically offered to many customers in a multi-tenant model of software service distribution.
The provider may restrict the licensed field of use, for example, by limiting use to your specific business sector, market, or industry.
2. Limitation of liability
A Limitation of Liability clause protects SaaS vendors from legal dangers by contractually binding end-user to be unable to seek certain damages from them. For example, if the software doesn't work and your company suffers damages, the limitation of liability will restrict your company's ability to recoup its loss.
How the SaaS vendor drafts their Limitation of Liability (often called, LOL) clause depends on the risks involved with their unique SaaS product. Fortunately (or unfortunately), the forms most vendors use for licensing agreements often include limitations of liability that disproportionately favor the vendor.
Basically, it includes a disclaimer followed by a sentence about capping the total amount of damages a vendor party could, possibly, be liable for under the agreement.

3. Ownership and security of data
When using the software, both the software provider and the users generate a large amount of data. SaaS agreements should clearly outline who owns the data that users enter into the platform. Since SaaS providers are responsible for hosting the customer data, often, data ownership can be a gray area.
It's an advisable practice to look for how information is being stored and transmitted and if there are any security restrictions to access stored data. In addition, SaaS agreements should include a privacy policy that details how the provider is using your data, including the information it collects and shares internally or with third parties. This section also includes information on data encryption, how data is backed up, and the provider's role in the event of a data breach or security issue.
4. Customer service and support
This particular clause should establish how your SaaS vendor will provide support for their services, the response time, and additional guarantees, if any, in terms of expected service.
5. Subscription plan, model, and pricing
Provisions should blueprint what exactly the subscription plan includes and how the SaaS vendor will deliver your services. Regarding pricing, how and when the detailed costs would be charged should be established precisely in the SaaS contract. As SaaS agreements typically practice a subscription model, the usual payment mode could be monthly, quarterly, or annually. In the subscription-based pricing model, customers pay on a regular basis for continued use of a service or product. 
Optimize Your SaaS Contracts! Explore SaaS Pricing Management and Elevate Your RFP Game. Dive into Aavenir RFPflow Datasheet Now>>
SaaS pricing models are, usually:
Flat-rate pricing: avail a single product, a single set of features, and a single price.
Usage-based pricing: pay-as-you-go model
Tiered pricing: avail multiple "packages," with different combinations of the features provided at different price points
Per-user pricing: a single user pays a fixed monthly price; add another user, and that price doubles, and so on
Per-active-user pricing: no matter how many users you pay for, you'll only be charged for those that actually use the software
This is a great area for SaaS contract negotiation because optimizing the SaaS pricing model lowers SaaS vendors' CAC (customer acquisition cost) through better positioning, packaging, and targeting ideal customers, increasing LTV (lifetime value) through higher prices and better retention.

6. SLAs (Service Level Agreement)
The SLA can be a stand-alone document or a component of a more significant SaaS vendor agreement. An SLA is designed to set minimum performance standards, especially concerning service availability. Nowadays, most cloud service providers include a service level agreement, or SLA, within their SaaS agreement. Check the software's uptime percentage; the smaller the percentage, the more significant the impact on your users' productivity.
Though the industry benchmark is 99.9% guaranteed uptime (meaning that the software's downtime is only .1%), most software providers today offer 99.99% uptime.
SLAs are more than just a measure of availability; they're also a tool that, irrespective of the underlying architecture, aids in determining if the service meets your needs.
Typically, SaaS SLA should include:
Response time for time-sensitive issues, general support, and adding requested (additional) functionality
Penalties to be levied against the SaaS provider if guarantees are not met and exclusions for which provider will not be obliged to pay the penalty
Guaranteed software uptime
Billing and pricing structure,
Security and compliance
Performance metrics and KPIs
7. Tenure, renewal, and termination
Talking about tenure, most contracts are annual and many extend to between 3-5 years on the enterprise level.
As per research, Multi-year contracts of around 2.5 years in length or more have an average churn rate of 8.5%.
Ordinarily, a SaaS contract will have evergreen renewal. This means the agreement will be renewed automatically for another term unless you actively terminate the contract before an established date. Automatic renewal clauses are perhaps most prevalent in SaaS and other subscription-based service agreements. The ease of having the contract period automatically extend saves time and money that otherwise would have been spent renegotiating the contract each time it expires.
In most cases, the notification period for opting out of automatic renewal is expressed in days, months, or even years before the end of the current term (or, alternatively, before the commencement of the subsequent renewal term). If you neglect to take advantage of this notice time, you may be stuck into another renewal period. In a SaaS agreement, termination for convenience clauses allows the specified party or parties to terminate for any reason. To terminate for convenience, the parties can negotiate whether notice is required, i.e., ten, sixty, or ninety days.
Software that uses AI to identify and extract automatic renewal clauses (as well as other terms that affect their interpretation) can accelerate the work of finding these provisions and enable a more comprehensive review that can otherwise be done manually.
Get started with SaaS contracts!
Salespeople at SaaS companies are the leading creators of SaaS agreements – or at least, they should be. Although SaaS agreements involve numerous stakeholders, the binding obligations that these contracts create are usually defined and controlled by legal. A SaaS agreement might incorporate an order form with an appended MSA, bespoke license agreement, or enterprise package. SaaS agreements create recurring obligations for both SaaS vendors and end-users that obligations could persist for years and with wide-ranging consequences. For this reason, a company's in-house legal team will usually retain approval rights – mainly if there are deviations from standard terms. Other stakeholders who might want approval rights over SaaS agreements include customer success teams and product and engineering teams.
Worried about understanding, evaluating, managing, and monitoring SaaS contracts for your organization? Try AI-enabled contract management solutions that take away all your worries and provide intelligent outcomes. Try Aavenir solutions to manage SaaS contracts for their entire lifecycle, leveraging any negotiated clauses, monitoring for compliance, and then reviewing for renewal or amendments. Book a demo!
Learn how to manage all contractual obligations for SaaS contracts, and move towards the maturity of building your own KYO – Know Your Obligations system.