Excel is one of the most accessible and comprehensive pieces of software in the world and is clearly ideal for recording the types of data captured in contracts. In this article, we'll give you practical tips for creating and managing vendor and supplier contracts via spreadsheets. As a starting point, we've also developed FREE Excel contract management templates to help you manage your vendor contracts using excel spreadsheets in a straightforward way.
Why Manage Contracts Using Excel Spreadsheets?
90% of businesses still use excel spreadsheets to track the number of contracts, calculate costs per contracts that are easy to edit, store, and share.
You need consistent, accurate, and thorough access to critical information stored within each contract to efficiently manage them using Excel. Instead of copying and pasting data from one sheet (or email, Drive, etc.) to another, which increases the chance of human mistakes, use our excel template to easily manage and monitor your contracts.
Spreadsheets also simplify the data entry/population process with VBA, including other benefits like:
Single Version of Truth


It is very common for contracts to be stored in a scattered fashion across email accounts or perhaps hard copies in filing cabinets. With our excel template, you can create a dedicated centralized contract repository. It serves as a single source of all contracts wherein you can monitor expiry dates and stay on top of key dates like expirations, renewals, important milestones, tasks, approvals, etc.

Easy Export/Import of Data


Excel can export as well as import data from external data sources including other files, databases, or web pages. Whether you need to import excel data into JIRA, import data from excel to PDF, export outlook emails to excel, or import .txt or CSV files into excel – all this is possible. So, you can put all your contract-related critical information in one place.
Custom-built Contract Dashboards
Excel offers handy features to create reports and dashboards. You can use pivot tables, VLookup, HLookup to slice and dice the contract metadata. Also, to keep a track of important contract metadata, you can also display them as charts to visualize your data. The purpose of reports and visual dashboards is to help you make quick, calculated contract management decisions based on raw data.

Categorize and Identify Contracts


In the real world, it's already difficult enough remembering where you left your keys. Managing voluminous contracts isn't easy and it's not always possible for you to remember the next number/code in the sequence especially as the number of different types of contracts begins to climb. You can automate contract number generation in Excel using Visual Basic for Applications. So, all your contracts can fall under the right category whether it's for the sales team, legal team, IT, or any other concerned parties.

Better Collaboration Across Remote Teams


For remote contracting teams, the key strength of using Spreadsheets is its collaborative functionality. You'll not need to contact stakeholders working in different time zones, different locations to double-check details because the data is updated in real-time. Whatever changes they make become available to view in seconds so you can basically work on a project in real-time from two different locations. There is no need for sending status updates via email and you can still streamline, simplify and automate contract tracking.
Custom Reports in Excel Spreadsheets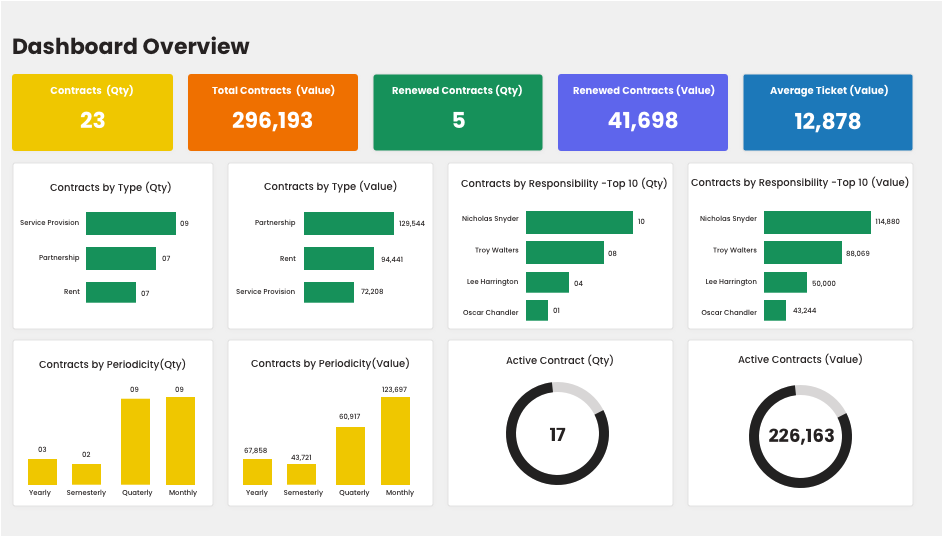 Start first with a contract management template that accomplishes all the above features. The workbook for each contract can include datasheets for each contract that list all relevant dates associated with the contract, parties, vendors, terms, and special clauses. To achieve complete end-to-end lifecycle management, additional pages will be needed for workflow management and reporting. One downside to using Excel is data corruption, especially when used by multiple stakeholders. The solution to this problem is to have data available in a read-only format unless someone that knows what they're doing is editing it.
Best Practices for Managing Contracts using Excel Spreadsheets
Excel allows you to create as many relational tables as required, and you can link each to the appropriate contract. You can individually review each contract, and tag critical terms, clauses, dates, and other relevant data.
However, the Contract management excel template is sufficient when you have less complex contracts to manage. As your business grows and your contract repository increases, you may need a cloud-based contract repository to track your contracts in a better way. With time, as you start having more contracts with more suppliers, you may at one point realise that Excel is no longer an efficient way to manage your contracts, but that you need something that's more advanced, such as Aavenir's Contract Management Solution that's powered by Artificial Intelligence, helping you gain better visibility into the terms and conditions within your contracts.

Want to test a CLM solution for your organization? – Start your free trial
Next Steps
Are you planning to manage contracts using Excel spreadsheets, without any dedicated software? Indeed, your contract management needs solely depend on the size of the organization. The type, volume, and complexity of the contracts you handle are the key determinants in deciding the format of managing contracts. An automated or dedicated contract management software might not be the right fit for your organization. In that case, create a contract database and repository to keep your documents under control and track all necessary key fields.