Duplicate invoice payments occur more frequently than organizations realize. Studies reveal that, on average, around 0.1% to 0.05% of the invoices paid are duplicate payments, costing a massive deal for medium-sized businesses after a certain period.
With too many invoices to process (manually) in a month, organizations risk a higher probability of errors, further accelerating a business's spending. Then how do we avoid duplicate invoices while keeping up with seamless ongoing invoice payments? This article discusses duplicate invoices, problems, and possible solutions.
What are Duplicate Invoices?
A duplicate invoice is when a business creates multiple copies of the same invoice, usually for billing purposes. It can include authorizing excessive spending or charging customers for services they haven't received. In addition, it leads to inaccurate records, increased administrative costs, and even unhappy customers.
What are the Causes of Duplicate Invoice Payments?
The causes for duplicate invoices vary significantly. Although there is trust between suppliers and partners, some of the common reasons for duplicate invoices include the following:
Supplier Duplicates: Multiple suppliers in the ERP system can often lead to the generation of duplicate invoices.
Sending invoices via different methods: The duplicate invoice can occur when organizations send the same invoice across other channels or formats.
Data entry errors: When employees create invoices manually, the chances of data entry mistakes are high. Misreading information or typos will eventually cause a huge loss.
Travel and expenses reimbursement: In some cases, the staff may make a claim twice, especially regarding accidents or fraudulent activities. However, in such cases, monitoring the expenses and their claims can be challenging, especially when the amount is small.
Lack of Purchase Order number: Duplicate payments will likely be offered if the supplier does not provide a PO. When any invoice lacks PO, they will probably submit a copy of the same invoice. As a result, it may cause trouble even when the amount hasn't been paid.
Common Duplicate Invoice Problems
Duplicate Vendor
In many cases, the vendor may work with more than one department of your company. As a result, they may raise an invoice separately. However, sending multiple invoices to the same department rather than one can lead to duplication problems.
The accounts payable department must maintain a copy of the master vendor file. The company must understand the vendors they are working with and consolidate the invoices. In some situations, the accounts team and accounts payable department will be in trouble.
Not resolving the invoice dispute
There may be times when the buyer or vendor will have issues regarding the amount quoted and other fields of the invoice. If you fail to sort it within time, the client may choose to send the same invoice again. As a result, it will create the space for double invoicing, leading to double payment.
In case of discrepancies in invoices, it is essential to mark them as pending and immediately notify the vendor and accounts payable department. However, when the respective teams aren't notified, you will find the invoices added to the pending invoices pile. As a result, you may pay them twice when the client provides you with a corrected invoice.
Canceled or adjusted invoice
Sometimes, a vendor may cancel the invoice they have sent, make corrections and resend them. As the next step, the accounts team will receive a new invoice via another email. In such a scenario, if the account team fails to document the invoice carefully, the chances of double invoicing increase. In addition, there will be chances of alterations in data fields across an updated invoice. Furthermore, there are chances of missing the same, especially during the auditing process of duplicate payments.
How to Avoid Duplicate Invoice Payments?
We know how extra careful the accounts team is, but to err is human. Here are some of the everyday things that you can take care of to prevent duplicate invoice payments:
Get all the invoices in one location
Storing invoices of different departments in different locations and sheets is like dealing with a tricky puzzle each time. So, it would help if you kept them all in the same place. For example, it allows cross-checking and comparing invoices, leaving no scope for missing or mixing data. So there are various modern functionalities that you can implement if you have an automated invoice processing system.
Automate the manual data entry
You can automate the entire process of manual data entry to prevent any mishap. However, when you enter the wrong details, duplicate invoicing increases, which can be detrimental for your business.
Over to You
Duplicate invoicing is a problem faced by businesses of all sizes. By understanding the different causes of duplicate invoicing and the steps you can take to avoid it, you can safeguard your business against potential financial losses.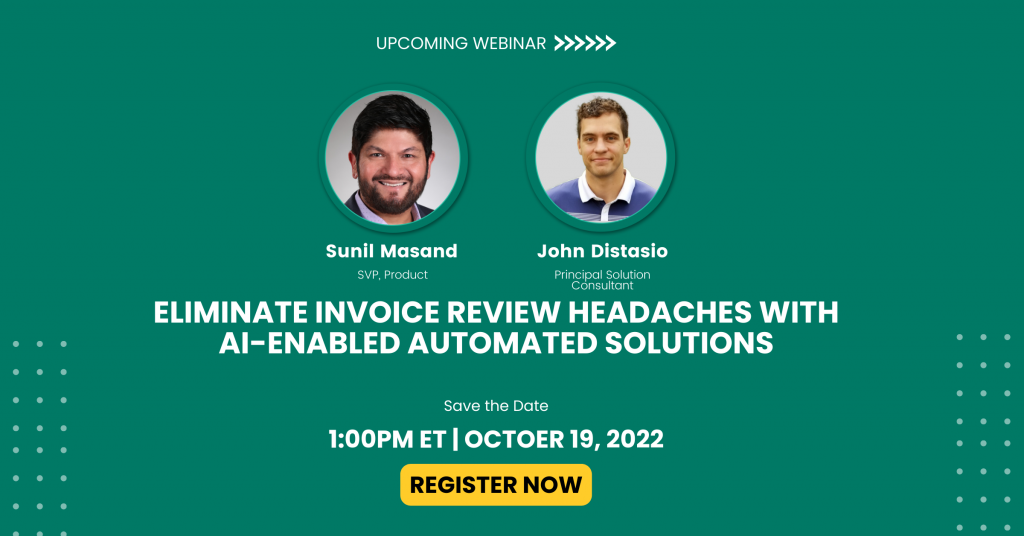 Make sure to attend the webinar and switch to a better invoice solution to detect duplicate invoices and prevent them from impacting your business.