« Back to Glossary Index
What is Lean Procurement?
Lean is a methodology or mindset that aims to enhance customer value by eliminating waste.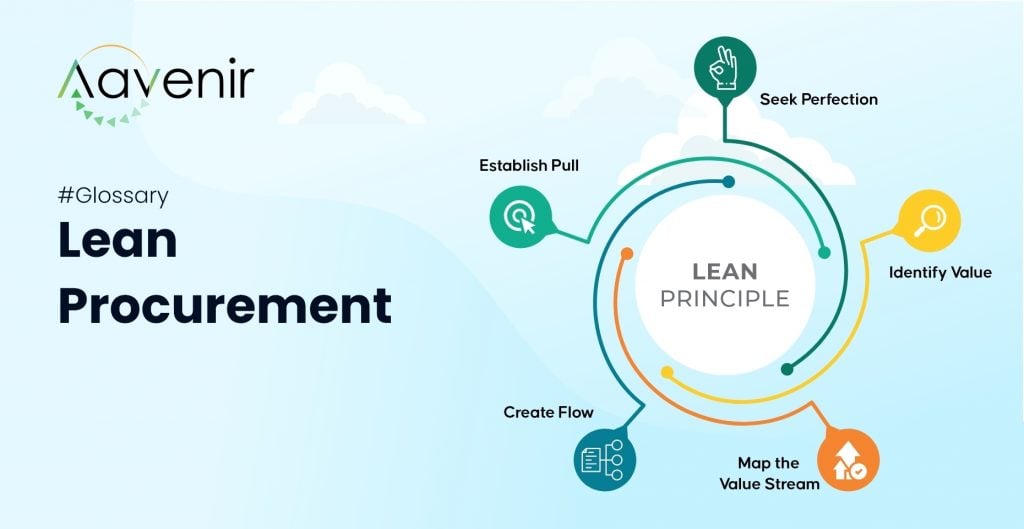 You may be familiar with lean project management or lean software development. Lean concepts are prevalent in manufacturing and benefit procurement teams because they focus on reducing waste, saving time, and getting things done the first time correctly.
There are various definitions of lean procurement. The following are the top five:
Getting more done with less
Running a procurement function with a small team or only one person
Running a procurement function on a tight budget
Eliminating waste in procurement
Applying the principles of the lean work methodology to procurement
Historically, corporations saw the opportunity for applying lean to procurement functions as relatively limited. While automation is an excellent approach to increasing procurement value, it is not the only way to implement lean thinking in procurement.
Lean procurement typically refers to automating repetitive procure-to-pay (P2P) procedures.
How to Apply Lean in Procurement?
The general lean strategy — minimizing waste while boosting quality — can be applied to procurement in several ways.
Lean procurement, in broad terms, tries to reduce waste caused by inefficient procurement procedures. Lean procurement can assist businesses in:
Gaining visibility into their supply chain
Localizing waste
Balancing "necessary waste" with things like maverick spending
Lean principles can significantly impact an organization's cash flow and profit margins. It relies on e-procurement and sourcing solutions for automating and streamlining labor-intensive operations. Similarly, lean procurement's just-in-time inventory approach eliminates balance-sheet drag and optimizes the supply chain.
Making a few minor changes to adhere to the lean procurement process might impact significantly. However, there is more to lean procurement management than just going beyond the basics.
Gain an understanding of the organization's needs: Evaluate the procurement function related to the organization's internal teams and the organization's end customers.
Simplify, automate, and streamline processes: Design a procurement function that uses technology to meet those needs in the most efficient way possible.
Build the skills of your procurement team: Split the procurement responsibilities clearly between strategic and operational priorities, and ensure structures and training are in place to help meet those priorities.
Measure performance: Use indicators and metrics explicitly related to value-creation ("the function's overall cash and profit-and-loss contributions").
Create a culture of continuous improvement: Change the mindset of those in the organization toward meeting consumer needs and eliminating waste.
What are The Benefits of Lean Procurement?
Lean principles aim to maximize customer value while reducing the number of company resources used. It strives toward the ideal mix of quality and efficiency, which translates into optimizing inventory controls, streamlining procurement, and lowering indirect spending in procurement.
The following are some of the advantages of having lean procurement processes:
Reduce time-to-source. By substituting complex RFP processes with one-day design-style workshops, sourcing approaches can reduce months-long RFP processes to less than a week. 
Reduce waste. Lean procurement requires practitioners to seek out and eliminate waste aggressively. In lean methodology, the definition of waste refers to any action that does not bring value to the end customer.  
Establish a strategic focus. Running a lean operation implies that you will not be able to accomplish everything. When developing lean procurement strategies, lean procurement teams select their goals and targets with care, concentrating on attainable and high-impact actions such as eliminating tail spend. 
Jumpstart procurement on a tight budget. Budgets are frequently constrained for small to medium-sized firms starting a new procurement operation. However, it allows organizations to get started while keeping the costs minimal.

« Back to Glossary Index