The contract and procurement manager's scope of work involves extensive planning, ensuring that sourcing gaps are minimized, cost efficiencies are maximized, and subcontractor capabilities are considered. Contracts are very important as they help prepare procurement strategies, including a breakdown into individual work packages, identification of potential subcontractors, procurement methods, and timing.
Have you ever missed a contract renewal or failed to comply with a reporting or payment obligation? Yes?
Okay, let's move on to the next two questions:
How are you assessing commercial and contractual risks?
How can you identify and implement appropriate controls and escalate actual or potential issues to Top Management?
How confident are you in your risk assessment and contract management processes? How much time does the team spend on contract negotiations?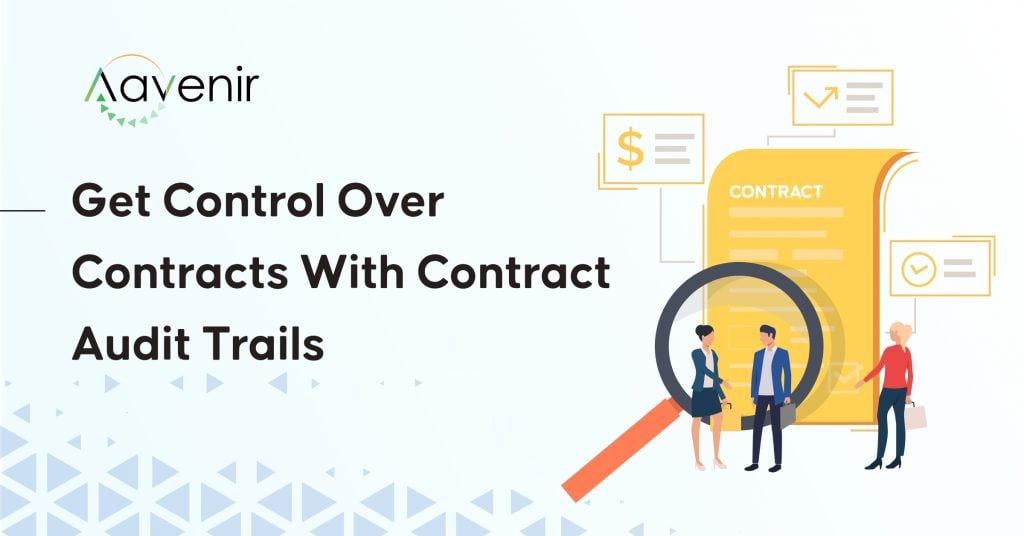 You need to take control of your contracts with the visibility provided by contract audit trails. 
According to research compiled by PwC, most organizations maintain 20,000 to 40,000 contracts—with such a high volume, mistakes and bottlenecks are bound to occur. 
Why are Contract Audit Trails needed?
The goal of any organization is to preemptively identify risks and mitigate them before they happen. This is where contract management audits fit in. Do you have visibility through audit trails for your contract management process? An audit trail is a collection of records that document and validate activity within your organization. In general terms, these records answer three questions:
What? – A clear explanation of the activity or an event
When? – An accurate timestamp showing the date and time of the activity or event
Who? – The identity of the person that created the incident or event, and all who partook
Regular audits of your contract management process can help you spot the issues that quickly lead to larger problems down the line - such as lost files, wasted hours, longer contract lifecycles, and legal risk.
What all elements need to be audited?
Implementing an annual contract management audit process can help you ensure that your organization:
Is compliant across all contracts
Identifies revenue leaks
Knows where and when to shorten (or extend) sales cycle times
Retains strong, consistent customer relationships
However, it's important to know what to look for, in contract lifecycle management, what all should be audited?
Storage: Can our contracts be easily accessed by staff who need them in an online repository?
Generation: Are we maintaining up-to-date templates for recurring contracts/contract types? What additional templates should we create for new types of contracts that have been appearing more frequently?
Negotiation: What is the chain of command for a contract negotiation? Has any staff left the organization or changed departments and left a hole in the process?
Execution: Where do we house relevant documents related to each contract? If the data in these documents is not machine-readable, how can we make that switch?
Reporting: What issues have the last quarter seen in internal and external reporting? Could these reports be automated? Do new reports need to be created/old reports updated to meet new needs or standards?
Compliance: In the past quarter, what contract compliance issues have come up? Have we failed to comply with any performance or payment-related obligations?
Review: What contracts are we maintaining that are no longer useful in our organization?
Optimization: What new systems can we implement to avoid the issues identified during this audit?
Why does consistency matter in contract audit trails?
It is vital to stick to the regularity and consistency of contract audit trails for the following reasons:
Risk Management: The audit trails in every branch give the information you need to evaluate risk – in terms of finances, compliances, and data security – and this means you have the opportunity to modify decision pathways accordingly and promptly.
Increased data security and compliance: This reduces your efforts in the prevention of data breaches and helps with a faster comeback in the event of a data safety incident.
Fraud detection and prevention: Audit trails deliver a vital tool for  fraud detection. The close monitoring of movement in your business, and financial and data trades with external parties, means that any deceitful activity can be caught and handled at an early stage. 
Evidentiary documentation: Evidentiary documentation is significant in terms of providing information to current and potential investors.
Increased accuracy: Regular inspection of data collected through audit trails provides the opportunity, to further improve precision throughout your organization. It is possible to identify areas of operation more prone to errors so that positive adjustments can be made.
What next? Take control of your contracts by creating actionable audit trails
When you integrate browser-based Contract Management Software with the auditing methods used in your company, you acquire the capability to design and customize digital audit trails. Since contracts intersect with every area of your business, from sales, procurement, sourcing to human resources, the uses of this can be seen throughout your organization, with a vast record of actionable data. Browser-based Contract Management software platforms use permission-based access, which shows that all activity connecting to user access and the modification of data is recorded. It allows for improved data security and adherence to all rules and legislation. More precisely, it guarantees accountability throughout your industry.
Conclusion
Switch from legacy systems to an advanced CLM solution and not only do you gain all of the benefits that come with tighter control of your contract documentation, but you also have the opportunity to learn about the efficiencies of your administrative processes and make the necessary adjustments to improve the way your business operates.
Ready for the transition or still in double minds? Download this checklist to assess your readiness for the CLM solutions.