While procurement contract negotiation and redlining, you and your vendor might want an agreement about not only price, but also delivery SLAs, services, financing, possible future business deals, performance bonuses, and so on. When multiple issues are on the negotiation table, you gain the ability to brainstorm mutually beneficial tradeoffs with your vendor. Is there a smarter way to let both the parties focus on creating value at the bargaining table and get on the path to a mutually beneficial agreement?
Most contract managers use Microsoft Word to redline, compare versions, and highlight the important contract language while the contract negotiation phase. However, ineffective contract management costs businesses up to 9.2% of revenue.
So, what are the most common contract negotiation and redlining challenges?
Most contract negotiations processes are entirely offline and manual which cause elongated contract cycle times.
Employees generally author and store contracts locally which leads to lack of visibility with contracts lying in discrete repositories.
No version control system creates rework and errors which affects the efficiency of high skilled employees who spend most time on administrative tasks.
Adding new language into contracts also adds approval steps which increases time and exposure to risk.
Difficulty in enforcing standards results in maverick contracts, noncompliance and significant legal risk.
Pressure to close deals becomes an unintentional incentive to compromise on contracting standards, resulting in damaged reputation.
Can we solve these challenges without leaving our favourite Microsoft Word?
Definitely, yes.!! An advanced CLM solution integrated Microsoft Word plugin can improve collaboration while contract negotiation so that both parties can focus on maximizing the value of your deals.
Furthermore, the MS word plugin integrated with the contract management solution offers many benefits that can help in creating and managing contracts as per the organization's business policies and procedures.
Centralization: Stores all contracts in a cloud-based centralized, secure, and searchable repository
Process standardization: Configure a workflow that drives the contract authoring, internal review, and negotiation process, while continuing to use the tools you are already using.
Automated data extraction: Automatically extract the key information from a contract in a MS Word document.
Versioning: Automatically store and manage contract document versions from MS Word to Aavenir Contractflow.
Enhanced user experience: Offers same offline editing experience for end users resulting in faster adoption.
Reduce review and approval cycle time: Use MS-word review, track changes and smart suggestions from Aavenir Contractflow.
Microsoft Word Plugin integrated with Aavenir Contract Management Software
Aavenir Contractflow enables enterprises to create and manage enterprise-wide contracts for customers, vendors, employees, or any other types of contracts. The solution manages the end-to-end contract lifecycle including contract requests, authoring, negotiations, approvals, renewals, amendments, electronic signatures, and status monitoring.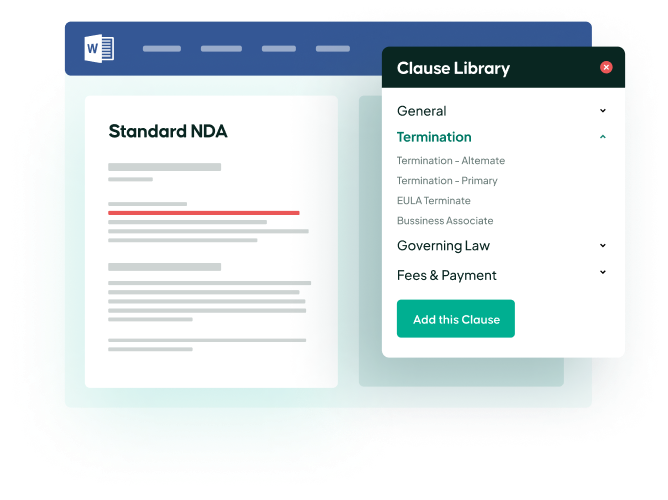 Aavenir Contractflow's Microsoft word plugin allows users to bring data from Word (contracts) into the ServiceNow Platform, resulting in secure collaboration, data sharing, and boosted productivity across the enterprise. Contract Managers can leverage a full range of contract management solution features from within the Microsoft Word application. Procurement contract managers can achieve a competitive advantage with the following capabilities:
Draft contracts using pre-approved latest version of clause and template library accessible from Microsoft word plugin
Create contract requests with a single click—without leaving Microsoft word.
Import third-party contracts data from microsoft word document
Negotiate contracts using redlining, track changes and versioning from within Microsoft Word.
Get access to an intelligent rules engine to manage contract authoring, workflow, milestones and approvals.
Translate commercial terms such as products, pricing and deal information, into contractual data that's easy to search and easy to measure.
Eliminate errors and duplication by automatically populating key attributes from the word document into the ServiceNow platform
Avoid mismatches or delays with the ability to seamlessly transfer and synchronize data between the contract and the ServiceNow platform
Integration with Contractflow allows users to streamline contract processing and perform contract analytics from their familiar Microsoft-based working environment.
Conclusion
Not only during Negotiation but throughout the life of the contract, the organization can use the Microsoft Word plugin to collaborate with the contract stakeholders (i.e. purchasing buyer, legal office, supplier). Contract documents can be accessed on multiple devices and shared with relevant parties. The Microsoft plugin with CLM system integration brings all the stakeholders together on a single page for discussions with an audit-ready record of all conversions that improve transparency (i.e. no more searching through emails).
The Aavenir Contractflow solution has much to offer for managing an organization's contracts and is a great way to start a journey to managing contracts. Using contractflow, all required individuals can be quickly contacted to address issues or resolve problems, and additional individuals can be easily added to a conversation and can see a complete history of the entire conversation. Plus, real-time notifications can be provided when key conversations are updated. This collaboration makes it easy to manage interactions and to keep a complete history for future reference. Talk about a game-changer!