Aavenir Contractflow, an AI-enabled CLM solution built on the NOW platform, solves complex contracting challenges and helps its users experience seamless contract management. It not only promises but has been drastically changing the lives of contract managers - worldwide. It offers all those features you need to reach your contract management goals by improving productivity, processing, and compliance speeds.
Without further ado,- let's go through each crucial contract lifecycle management stage and see how Aavenir Contractflow has been significantly making a difference for Contract Managers!
Pre-execution Contract Stage - Aavenir Contractflow Quick-wins
James works as a CPO in his organization. One day he sends a vendor contract for internal review. Benjamin and William each commented on the contract renewal clause in separate documents. James reviews and addresses the entire comments given by William; however, he completely overlooks/misses the comments provided by Benjamin. The contract, while being pushed to the next stage of review, has lost Benjamin's crucial remarks.
More importantly, the crucial 'missed' comments go unnoticed until someone notices the omission, required to execute the contract to the signature stage.
Such situations result in a re-review (and re-negotiation) of specific contract clauses and deal points, substantially slowing down the entire transaction process - leading to a waste of time and effort.
Check out how, in the pre-signature stage, an AI-enabled contract lifecycle management solution, Aavenir Contractflow can make a significant difference. Take a look!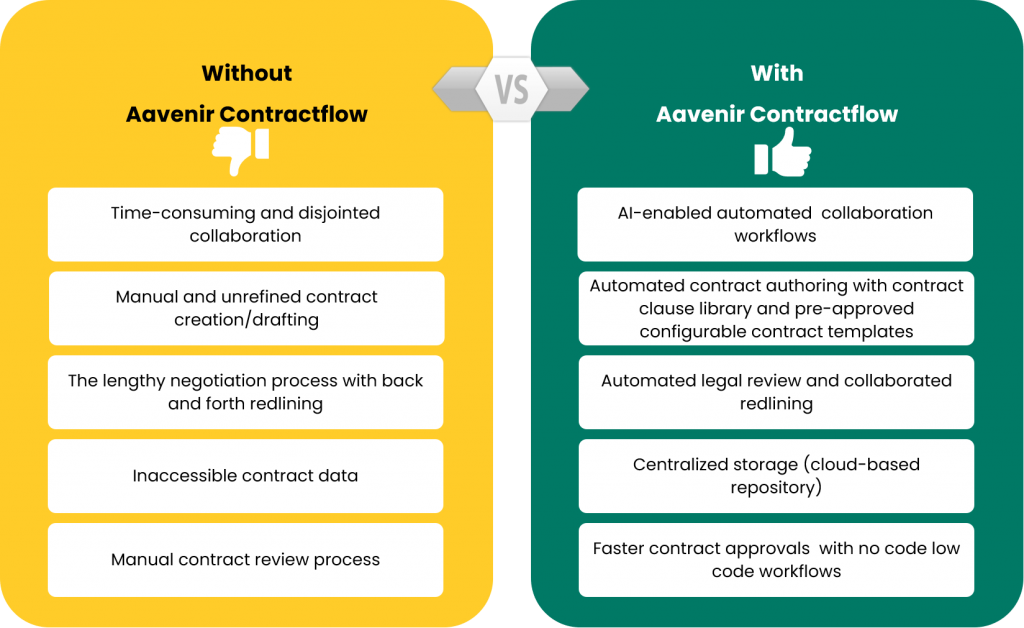 How Aavenir Contractflow improves the life of a contract manager in the pre-execution stage?
Enables threshold-based auto-approvals for simple contracts and offers conditional workflows for complex contracts
Standardized and pre-approved templates that offer self-serve contract creation
Enables automated review and approval workflows, lets you assign roles and permissions to your teams to see the contract status at all times
Serves as a single source of truth for all contracting data, including related documents, comments, and communication from the negotiation phase
Offers comprehensive integrations to streamline review and negotiation processes

Execution Stage - Aavenir Contractflow Quick-Wins
Contract execution stands for signing the contract and putting it to work, a specific stage of the contract administration process. Although it sounds simple, this phase can be the most tricky if left ignored.
Jeanie works in the legal department, and her role involves managing voluminous procurement contracts, in close coordination with the Procurement Manager. Most of their contracts are 3rd party paper contracts, which are difficult to manage. They spend significant time and resources finding contracts and reviewing the contractual terms and amendments. As a result, the contract approval process is one of their biggest bottlenecks.
Contract execution is crucial for any organization since the executed agreement creates a contractual relationship between two or more parties. Therefore, each must now fulfill the legal obligations they agreed upon in the written contract.
Here's how an AI-enabled contract lifecycle management solution, Aavenir Contractflow, makes a significant difference at the contract execution stage. Take a look!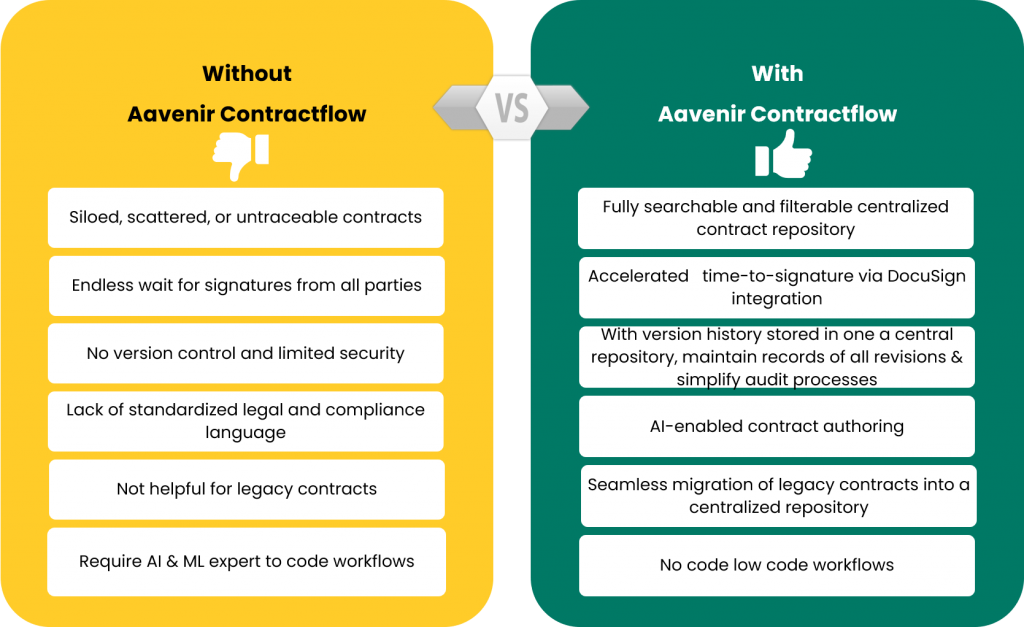 How Aavenir Contractflow improves the life of a contract manager in the execution stage?
Help you quickly find the information you need to boost revenue and reduce risks
Help get contracts signed in days, even minutes in some cases, instead of weeks and months
Without version control, changes become permanent; but with version control, the software always lets you know and allows you to work from the latest version while still being able to reference previous versions
Offers the ability to read, understand and interpret legal and compliance language and rapidly locate documents, clauses, and contracts that give your organization a productive edge
Feature-rich capabilities, including migration and metadata extraction, serve as a single source of truth for your contract portfolio
Provide easy-to-use coding solutions, allowing less-technically trained users to work within a platform, using pre-built templates and drag-and-drop elements
Post-execution Stage - Aavenir Contractflow Quick-Wins
Contract management, for many organizations, is just about getting to the signature stage. However, the phase that begins after execution is where contractual value is won or lost. Contractual obligations, reporting, auditing, amendments, renewals, etc., occur in the post-execution phase.
Company A entered a vendor contract with Company B. Company B has a decent contract management system. It manages the contract lifecycle from drafting to renewals but lacks the tracking of SLAs committed by themselves.
As per the contract signed with Company A, on missing a commitment (such as raw materials not being delivered on time), they are obliged to pay a penalty of USD 150 per hour. The amount may sound negligible when the purchase order (PO) is in thousands or lakhs. However, assuming several missed obligations remain unnoticed to the COO of Company B, the penalty amount associated with this vendor contract can easily bump up in thousands and lakhs!
On top of it, it can shake the organization's financial planning when it is due to Company A's payment. Apart from financial loss, there are reputation damage risks when this vendor contract will be due for expiration. Company A will think twice before going into renewals with the same supplier.
In the contract post-execution stage, take a look into how an AI-enabled contract lifecycle management solution, Aavenir Contractflow, makes a significant difference!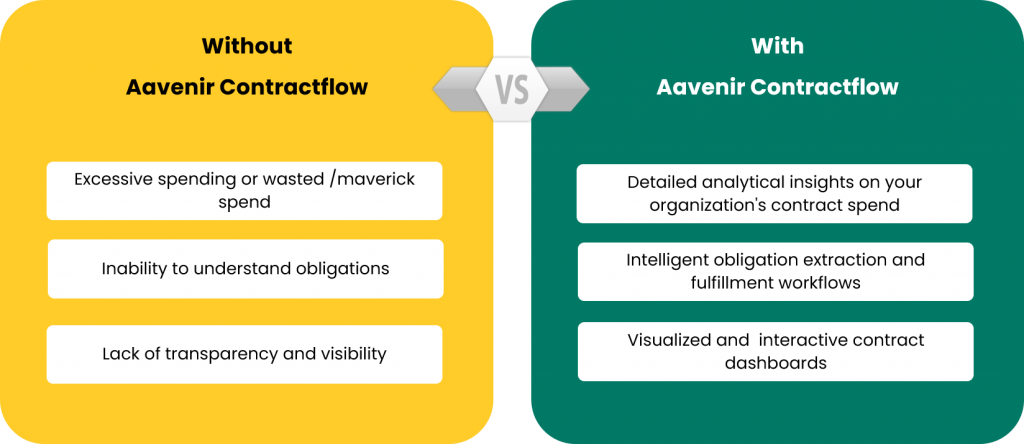 How Aavenir Contractflow improves the life of a contract manager in the post-execution stage?
Spend linked directly to your contract data provide detailed analytical insights on your organization's contract coverage and utilization.
AI-enabled workflows analyze contracts, extract key clauses, identify obligations and assign tasks for fulfillment
Help discover insights and trends to gain a competitive edge during contract negotiations

How You can Stay Ahead of the Game with Aavenir Contractflow
Enterprises nowadays have recognized and realized the need for contract lifecycle management solutions. Are you looking for a CLM solution that works with your business but feels that contract management software takes months to implement and needs a lot of post-implementation training?
This would not be the case when you choose Aavenir Contractflow. In fact, it has emerged as one of the fastest, most accessible contract management software to set up and use. Thanks to its simple user interface, intelligent AI-powered features, super simple, swift, and flexible implementation, and unlimited training and support.
We've helped countless organizations build a better CLM process with a foundation in strategy and a powerful AI-backed contract management platform. In addition, we provide an end-to-end solution for automating and centralizing contract, agreement, committal/obligation management lifecycles, and vendor management processes.
Request a Demo today to see how Aavenir Contractflow can make your job easier and more enjoyable.
Quick Links