Every organization wants to implement efficient internal business processes to achieve a competitive advantage and improve the bottom-line gains. Organizations are not only just rethinking business processes but also redesigning the entire process workflows to improve productivity. Fortunately, some powerful workflow platforms can efficiently coordinate work between all stakeholders, orchestrate a sequence of activities and automate repetitive human tasks to help companies achieve better business outcomes. No wonder, one such platform, ServiceNow is being used by 5400+ enterprises and growing at 33% YoY..!!
Using ServiceNow, many successful organizations are on the path to implementing consolidated and intelligent digital workspace for previously manual or disconnected processes in front-line functions like customer services, operations, marketing & sales, logistics, or value-adding activities like human resources, IT, infrastructure and procurement.
One of such processes is managing procurement or sales deal cycles (buy-side and sell-side) on a unified platform. What if a powerful workflow platform like ServiceNow offers the best-of-the-breed contracts lifecycle management solution? This can empower the employees and allow them to self-serve their own contracts under the watchful eyes of the legal department!
Employees can create their own contracts, send them for appropriate approvals and even send them to other parties for electronic signatures. There is no need for valuable legal resources to get involved in all mundane activities; however, the legal team is always in control as the contracts will be created using pre-approved clauses and pre-approved contract templates library. This is a classic opportunity for employee empowerment with tight organizational control.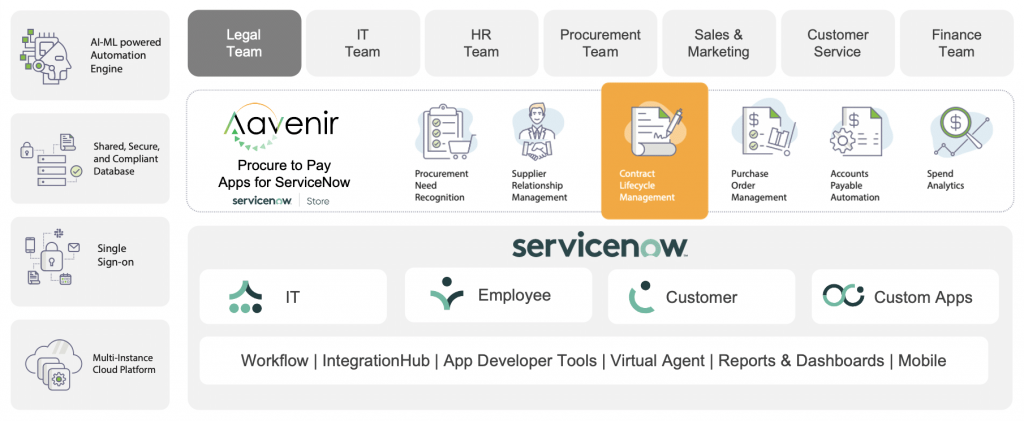 Aavenir Contract Management on ServiceNow
Aavenir Contract Lifecycle Management (CLM) solution, built natively on ServiceNow, digitizes and automates end-to-end contract lifecycle for both buy-side and sell-side contracts across all industries. It helps enterprises to create and manage bilateral contracts for procurement, sales, legal, NDA, HR, or other types of internal or external functions.
From contract authoring to delivering executable contracts to multiple vendors with a single tap, the solution works as a self-service kiosk to manage the end-to-end contracting process including approvals, renewals, amendments, and contract execution with electronic signatures. Legal teams can take immediate action on contracts that have been uploaded into the software, by easily using powerful index-based search (aka Google-like search).