About Company
Based in Texas, US, and  Ahmedabad, India, Aavenir delivers the future of work with its industry-agnostic AI-driven Source-to-Pay solutions, built on the NOW platform. With a vision to solve the complex Source-to-Pay challenges across various industries, Aavenir's next-gen Source-to-Pay suite revolutionizes age-old procurement processes by using the latest Machine Learning and Natural Language Processing technologies to reduce cycle time while offering insightful best practices suggestions based on historical data. Aavenir's customer base is spread across the globe; to name a few, The State-of-Utah, Express Professionals, T.D.Williamson.
Why Aavenir Invoiceflow for Aavenir?
It's all about putting ourselves in our customer's shoes to use and experience our own solutions and workflows. With the active usage of Invoiceflow in our day-to-day operations, we can see exactly what it's like to harness the power of ServiceNow workflows and Invoiceflow features the way our users do. We are able to realize the value it brings to the table.
At Aavenir, we believe that Invoicelfow is the only and one of the most unique AP automation solutions built on the NOW platform. It can have a lot of potential users and use cases. For example, Invoiceflow can solve day-to-day challenges for AP Managers, CFOs, Vendor Managers, Contract Managers, and many others. Whether one is responsible for creating invoices, approving invoices, matching with PO, or processing the payment on time with zero errors, Invoiceflow has the capability to do so.
Invoice Management Use Cases
Multiple Vendor Invoices Processing
At Aavenir, the team is globally distributed and works remotely. As the Aavenir has grown so has the number of PDF and paper invoices it receives. There are invoices coming from consultants, vendors, contractors, and others.  Top of it, most of the invoices are non-PO-based. 
Deciding how to route non-PO invoices can be extremely challenging, especially since these invoices frequently fail to include information vital to routing. They typically undergo a tedious review and approval process – which is almost manual and lengthy. 
This all called for a dire need to automate invoice approval workflows. Aavenir Invoiceflow lets teams collaborate and quickly resolve exceptions and approvals while gaining greater transparency into how invoicing processes are executed. 
Multi-Currency Approvals and Payments
Aavenir's team is globally distributed. The payments are done in USD as well as INR. Multi-currency processing involves a complex setup of different billing currencies. 
For real-time invoice tracking and visibility, there was a need for a system that lets the enterprise transact business in any number of global currencies while maintaining core financial records in a single, functional currency.
"We have been providing best-in-class accounting & finance outsourcing services to more than 100 companies worldwide. However, using Aavenir Invoiceflow for Aavenir to process payments has literally made our AP team's life easier than ever. The ease of use, accurate AI extraction, and multi-currency processing has definitely saved more than it costs to us."

–   Tushar Shah, CA, Co-Founder & Partner, Khandar Mehta & Shah.
The Solution: Aavenir Accounts Payable Automation Solution for SaaS Industry
Aavenir Invoiceflow is already solving complex invoice management challenges for the organizations like The State of Utah, Schonfeld, T.D. Williamson and many others. In its own case too, Aavenir decided to use its own robust AP automation solution as its 'first choice' to automate and streamline invoice processing on ServiceNow. 
Accelerated Invoice Processing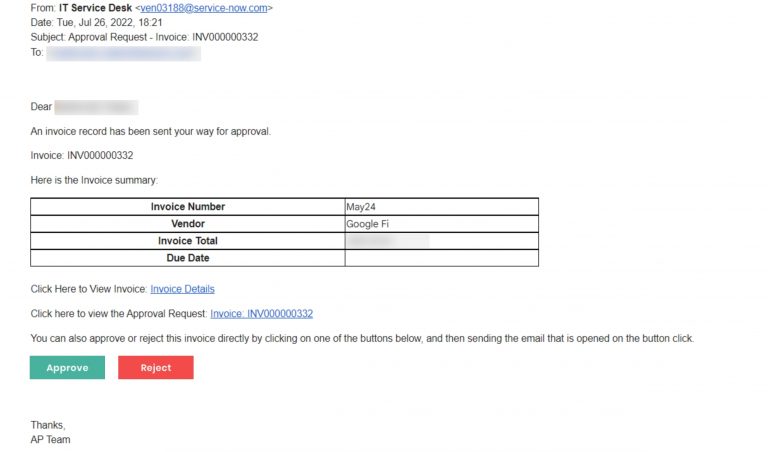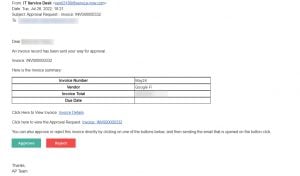 Invoiceflow accurately processes multi-format invoices received from multiple sources. Consultants, contractors, freelancers, and others raise invoices in the Aavenir Invoiceflow and an automated email is sent directly to the approver. There is no need for an Accounts Executive to get involved at this stage, unlike in the case of manual processes. This Vendor to Department Head mapping availability brings seamless experience in straight-through processing of invoices. 
The approver gets an alert in their email to validate the invoice and approve/reject the due payment. Once the invoice (PO based as well as non-PO based) is approved and digitally signed, the accounts department gets notified and they process the payment –  the entire process is based on one-click approval, which has accelerated invoice processing by 60%.
Multi-Currency Compliant
Invoices are usually raised by the consultants, partners, and other team members spread across the globe. Aavenir Invoiceflow supports one-off invoicing, respecting specific national and international rules and currencies, and fully automates recurring payment workflows. It supports delivering tax invoices in more than 10 currencies so you can display customers' native currency. Furthermore, AI-powered accuracy and efficiency allow users to raise invoices per their base location's currency and provide you with two primary payment methods to choose from for domestic and international payments.
Tax Compliant
Aavenir AI engine uses its basic tax calculation engine (including IGST, CGST, SGST) or external tax provider and applies the correct tax rate to every invoice item – displays the right tax amount and is fully compliant. It automatically allocates multiple tax rates at the Line Level and seamlessly interacts with 3rd Party Tax engines or ERP updates.
Intuitive Invoice Management Dashboards
Get to see pending, approved, and paid invoices and identify bottlenecks in invoice processing and help stakeholders get real-time insights into their total invoice volume, and prioritize critical invoices with Intuitive and personalized invoice dashboards. 
Key Results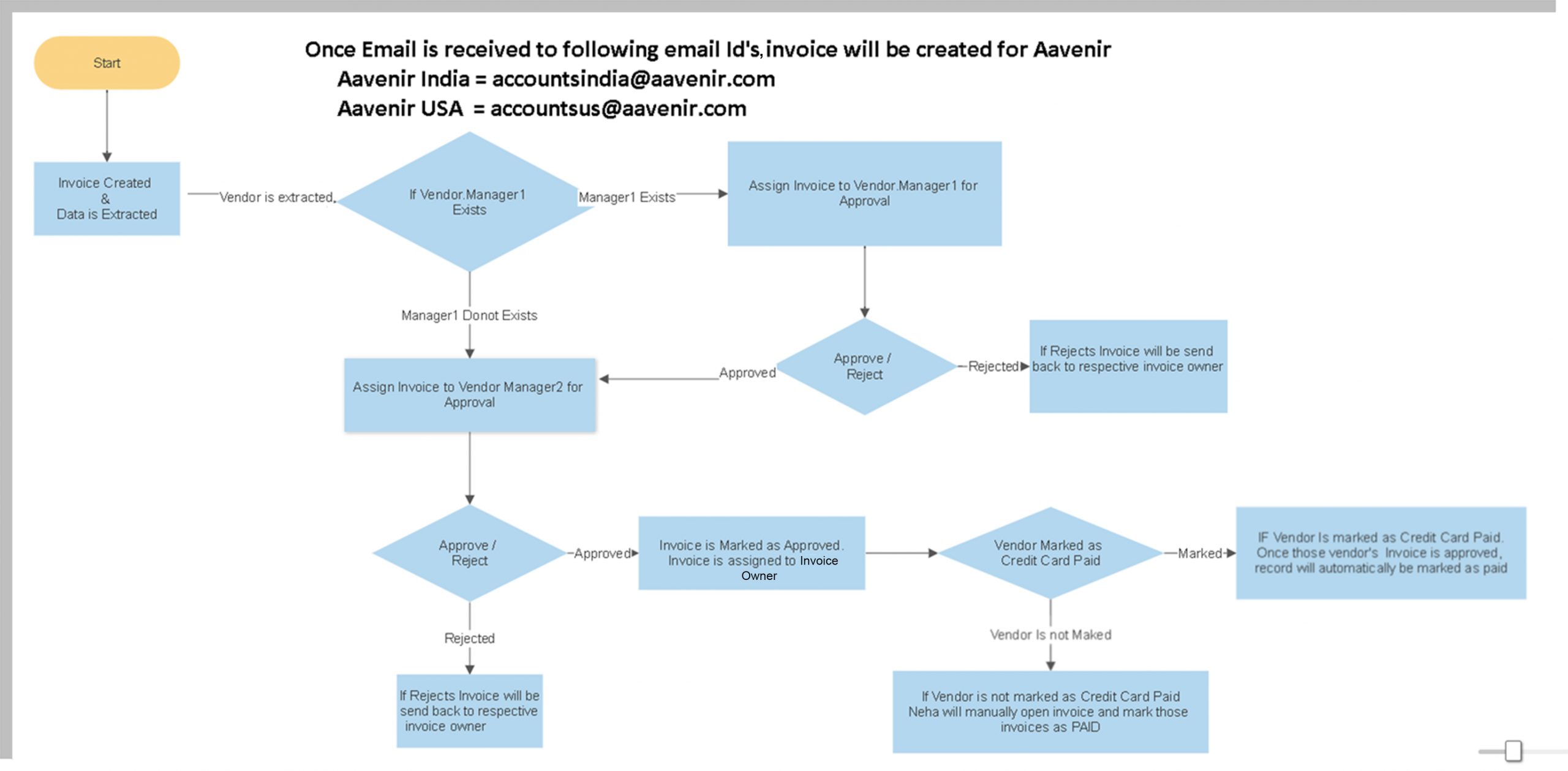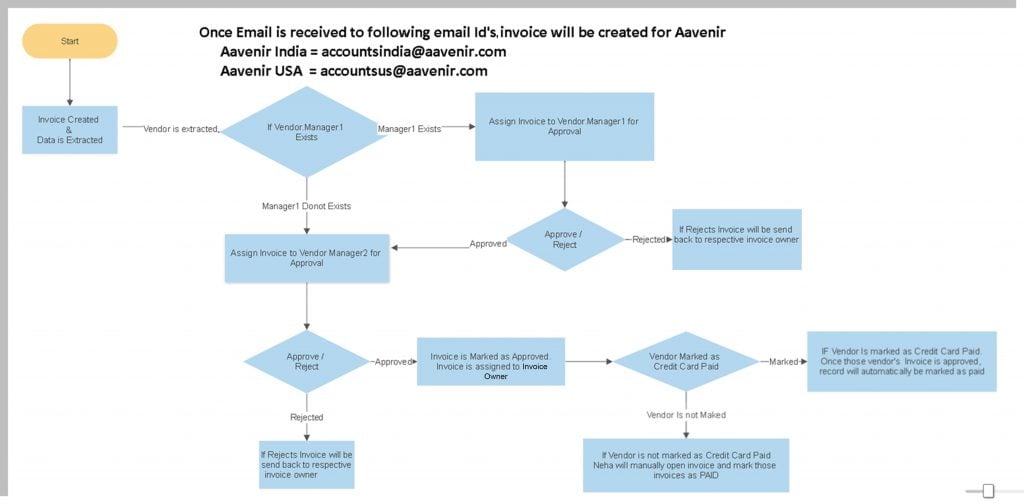 After digitizing the AP process with Aavenir, our consolidated end-to-end invoice processing on ServiceNow has resulted in key benefits such as:
60% time savings in invoice approvals
92% STP achieved
We at Aavenir have made our Accounts Payable process seamless with Aavenir Invoiceflow. If you wish to maximize efficiency for your AP team, Book a Demo to know how Aavenir AP Automation Solution can help overcome your business's unique AP challenges.