The construction industry is the most volatile considering the daily price fluctuations of raw materials depending on supply and demand factors. This leads to a lot of competition among the vendors to negotiate the best prices and win the contract.
Amidst all these business transactions, invoicing is one of the most critical and time-consuming tasks in the sourcing process. Vendors expect to be paid quickly, and organizations want to be sure they pay the right amount.
Organizations have been historically employing accounting professionals for processing orders and invoices manually. However, sans an efficient process, the workload can quickly become overwhelming - leading to errors or unhappy vendor relationships.
Such back-and-forth documentation or communication between the vendor and the organization, from an operational standpoint, creates a headache for the finance team.
CFOs are slowly embracing Accounts Payable Automation, a helpful alternative to handling manual invoice processing operations. They believe it will reduce errors, minimize time, create a stronger relationship between the vendor and the organization, and add efficiencies in accounts payable (AP).

Discover the Top 3 Misconceptions to Avoid Before Implementing AP Automation
Why would CFOs of recent times ignore an automation concept that makes their AP team strategic? The answer lies with the misconceptions surrounding Accounts Payable Automation Solution.
This blog draws your attention to the misconceptions surrounding Accounts Payable Automation Solution. We believe that clarifying these misconceptions will make you think differently, be better informed, and be positioned to steer your business and the accounts payable (AP) team to the next level.
If you're hesitant to take advantage of an accounts payable automation solution, it is high time you change your perspective. Here's a list of 3 common misconceptions to avoid before choosing an AP Automation Solution that has unfortunately prevented many businesses from progressing.
Misconception #1: AP Automation is too expensive.
Most CFOs believe that funding an Accounts Payable Automation Solution will considerably impact their bottom line. But in reality, the cost of manually processing invoices is far greater than the cost of automation. Manually processing invoices creates a massive window for errors in terms of duplicate vendor payments, failed invoice audits, missed vendor discounts, late payment fees, and strangled vendor relationships.
Furthermore, an Accounts Payable Automation Solution is an investment that yields returns in the long run. It is a cloud-based solution that handles vendor invoices, tracks vendor payment status, follows up for early vendor discounts, verifies and reconciles the invoices, and processes the payment.
With cutting-edge technology like Machine Learning (ML) and Artificial Intelligence (AI), the Accounts Payable Automation Solution builds smart invoice workflows and automates 2-way and 3-way validation for vendor invoices.
CFOs should think of saving costs before selecting an automated invoice workflow solution, which opens many doors to streamline the invoicing process.
Misconception #2: Our organization is too small or big for AP Automation.
If CFOs consider their organization too small or big for automation, they should rethink because the organization's size does not determine if automation is necessary or not. Therefore, the efficiency of your employees and the volume of your invoices are criteria for purchasing an Accounts Payable Automation Solution.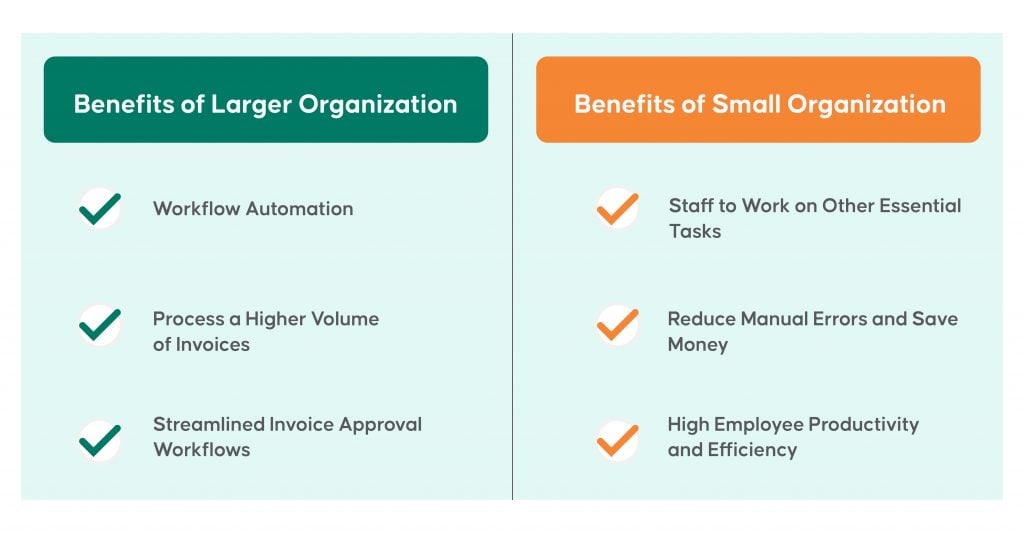 CFOs should conduct an opportunity cost analysis to know the number of productive hours wasted by employees in manually processing invoices when they could be working on high-priority tasks.
Misconception #3: With the AP Automation solution, there is low visibility & control over invoice processes.
You are mistaken if you think that CFOs will lose invoice visibility and control over the Accounts Payable Automation Solution workflow post-implementation. The Accounts Payable Automation Solution always ensures greater visibility and control.
With the digital input of an invoice made into the system courtesy of AI and ML, it is easy to set its workflow rules according to your AP team's needs. Besides, you can alter protocols between processes without stopping workflow, determine the access rights, and more.
In short, you have the ultimate control over every process and can make any necessary adjustments wherever required.
Likewise, managing visibility is an easy task. You can smoothly view an invoice's status, track employees' workload, and even retrieve and review past documents from the Invoice Dashboard.
Invoices will no longer be lost or forgotten under an employee's desk, resulting in late vendor payments. Employees will be held accountable for their role in the invoice process, and management will be able to drive efficiency and analyze reports more easily.

Experience Aavenir Invoiceflow: Make the Move!
77% of CFOs are heading up efforts to improve efficiency by adopting digital technology, according to a recent Accenture study.
CFOs are building a solid case for automation to reduce costs, minimize manual errors, and improve the quality of their accounts payable workflow. However, the urgency for the adoption of accounts payable automation keeps increasing.
The operational and manual challenges have forced many AP teams to redesign and streamline their payment processes. As a result, organizations with little to no accounts payable automation are subsequently missing these key benefits: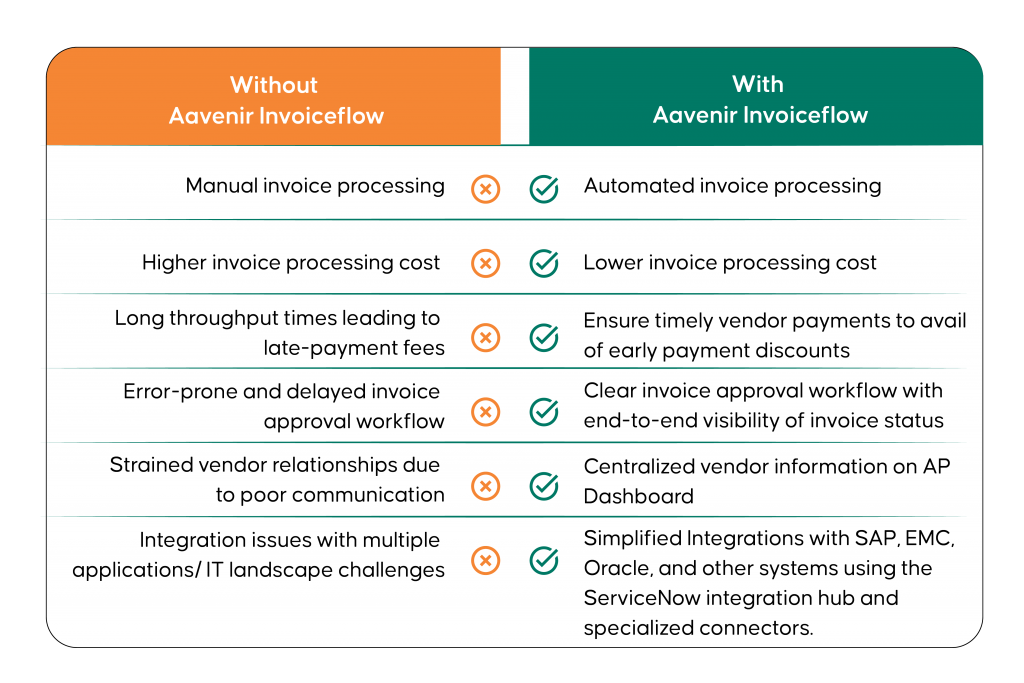 Experience Aavenir Invoiceflow - the global solution for complete accounts payable automation that offers ease of use, administration, and deployment to ensure accurate and on-time vendor payments.