For IT teams and increasingly multiple other business functions, the ServiceNow platform is becoming a one-stop platform for addressing their business needs. In that list of business functions, the procurement team needs to modernize and adopt newer platforms to make on-time and accurate vendor payments. Their needs are primarily defined by touchless invoice processing, intelligent 2/3-way match, and improved collaboration between procurement and accounts payable teams for faster approval.
Specifically, extracting data from thousands of invoices across thousands of vendors is challenging and semi-automatic, at best. The majority of the organizations use manual, outsourced BPO services to extract invoice data. However, all manual data extraction is plagued with manual errors and delays.
Touchless invoice processing Workflow on ServiceNow using Aavenir Accounts Payable Automation Solution
Aavenir's latest AP Automation is focused on providing complete AP Automation, including the most advanced Invoice Extraction, using AI and the NOW platform. Here is a quick reference workflow to show how it works: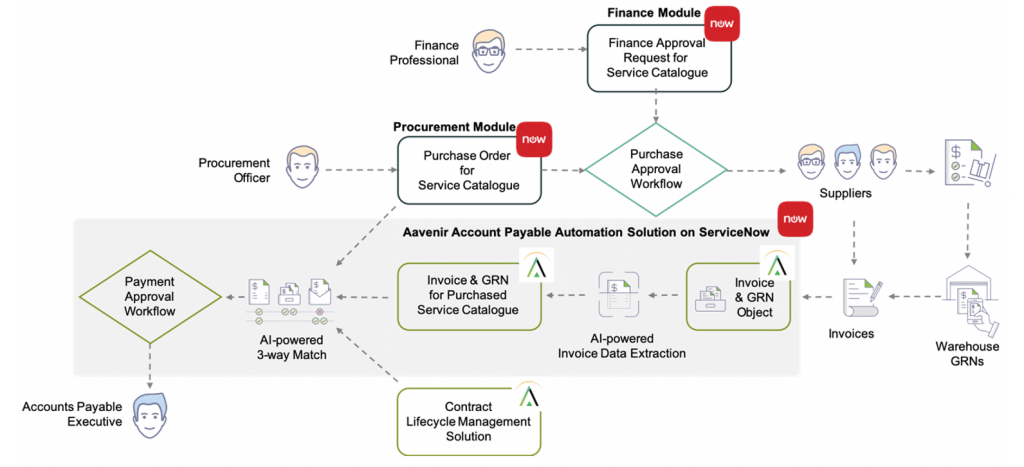 With the combined strength of the ServiceNow platform and AI-powered Aavenir Invoiceflow, the AP Automation solution reduces time and effort spent on invoice approval workflow and overall processing by 50%. The efficiency is achieved using touchless invoice processing use cases such as:
1. Cognitive Invoice Data Capture
Aavenir AP Automation solution offers AI-enabled zero-touch invoice data capture capabilities.
The process is very simple:
Let your suppliers send invoices – in ANY format with any of the following methods –
Soft copy of the invoice, to a designated email address
Hard copy of the invoice, and let your store workforce take a picture of invoice with the Aavenir Mobile App
Gather all your historic invoices in a single secure repository for periodic processing
Any of these methods can invoke Aavenir's AP Automation Solution that auto-magically extracts all relevant data from invoices and creates a ServiceNow Invoice object. This proprietary Machine Learning algorithm learns invoice data patterns over the period and extracts invoice data elements (e.g. invoice number, product code, product name, quantity, amounts, company names, etc..) without telling the system which fields appear in which location in the given invoice.
This fascinating innovation using Machine Learning, all the manual steps to capture invoice data get eliminated. Also, there is no need to define any invoice formats as well. The smart Aavenir system knows it all or learns it pretty quickly. Post extraction, the information is ingested into the ServiceNow invoice object and designated data fields of the invoice object.
2. Intelligent Data Validation for 2-way and 3-way Match:
Traditionally, the AP team had to manually identify exceptions among invoices, POs, and GRNs. The Aavenir AP solution uses an advanced ML engine to perform 2-way, 3-way matching of invoice data and derive insights from the extracted information using:
ServiceNow purchase order requests
Goods receivable notes captured via Aavenir AP Mobile app (same as invoice capture)
Contract information captured using Aavenir CLM solution
AI engine resolves all exceptions to enable intelligent decisions for invoice data validation. In case of exceptions, a workflow is triggered for human intervention and then the updated data is integrated back into the ServiceNow Invoice object workflow.
3. Invoice Payment Approval Workflow on ServiceNow
Aavenir AP Automation application not only optimizes invoice and GRN data capture and validation processes but also improves existing manual payment approvals to automated workflow. Aavenir AP automation application enables collaboration among accounts payable executives, procurement teams, finance professionals, and the broader workforce. Additionally, innovative ServiceNow workflow features like mobile experience, chatbots, machine learning, natural-language voice commands, and predictive analytics will all enhance and expedite accounts payable workflow automation.