Healthcare is transforming industry, and so is managing healthcare contracts. In today's volatile healthcare climate, every dollar counts. Government and private organizations like hospitals and clinics deal with multiple agreements to keep their business functioning. To prevent litigation, non-compliance, and disruptive mistakes, contract management for healthcare needs transformation from manual solutions.
As technology progresses, the usage of paper documents has been phasing out gradually. This is mainly because piling stacks of contractual documents not just can take up more physical space but also create confusion resulting from the loss and misplacements. Contracts, when it comes to paperwork, can have the highest status, as they play a critical role between the involved parties.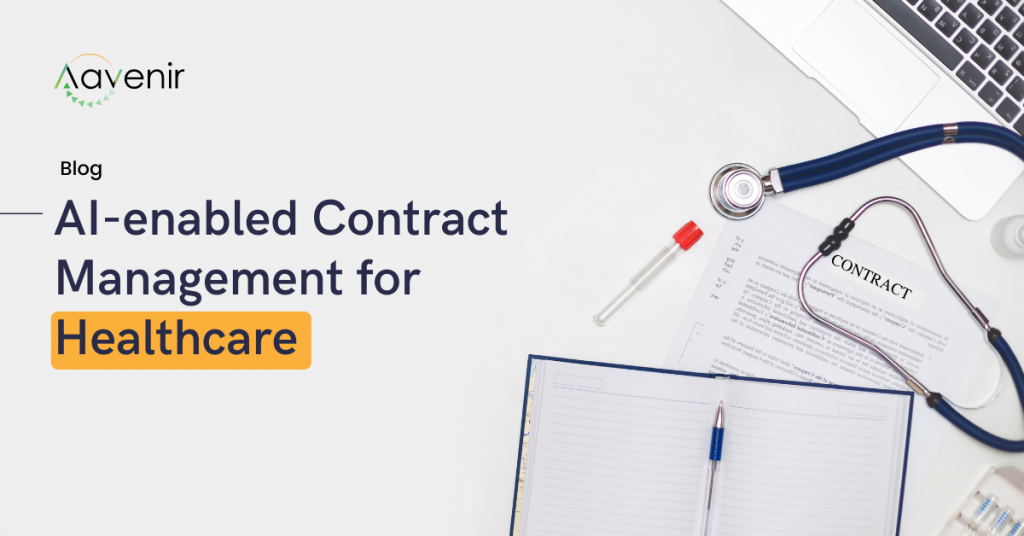 Contract Management for Healthcare - A Strategic Priority using AI-enabled CLM Software
When your healthcare contract management process is more or less manual, it poses a risk and threat of increasing cost and liability as well as decreasing revenue and profit margins. At times your outdated strategies can result in negative patient experiences, which is a big NO for any healthcare organization. In order to make the optimal utilization of resources and time, it is imperative to invest in a seamless contract management system that takes care of compliance at each stage. Furthermore, the COVID-19 pandemic has thrown new levels of challenges across the globe. It has brought pre-existing process inefficiencies into the limelight. It has urged a need of having unified and secured documents wherein you can efficiently and accurately manage data, in real-time. This invites having a proper and future-minded healthcare contract lifecycle management system in the action. Value-based, sophisticated contractual models and reimbursement mechanisms have replaced fee-for-service contracting paradigms. With a proper contract management system in place, you can manage large volumes of complex contracts with ease. So do not rely on manual approaches anymore and embrace the digital transformation.
AI-Enabled Contract Management Solutions for The Healthcare Industry
Healthcare leaders and professionals like you are faced with evolving compliance requirements that are time-consuming and difficult to meet. Because of the shorter time and exhausting process of negotiating numerous physician and service contracts, as well as regulatory compliance requirements, enterprises are striving for healthcare contract management software that can automate and streamline the contract lifecycle management (CLM) process.
Let's see how AI-enabled contract management software, like Aavenir ContractFlow, built on ServiceNow, can ensure security, streamlined process, best practices, and less risk.
Centralize Contracts in an Accessible Repository


Organize different files in an efficient manner and at a central place to gain instant access. This includes adding custom tags, editing certain viewpoints for further clarity, having advanced search/filter options for locating specific folders and files, etc. eliminating the risk of contract details being reliant on a single individual.

Setup Contract Negotiation and Approval Workflows


Easily set up and streamline the entire healthcare contract management process like contract creation, negotiation, e-signature, renewals, redlining, approvals, obligation management, and data analysis of legal contracts at scale from one unified workspace.

Security and Compliance



Healthcare contract management software fulfills legal and compliance requirements such as HIPAA and other federal and provincial regulations to ensure that your business stays on track regarding contract compliance and security.

Flexible Configurations


One of the biggest problems with traditional contract management solutions is that they are not flexible enough, and require time-consuming and costly re-configurations. Contract management for healthcare can easily manage healthcare contracts, claims, and payments.

Track Obligations and its Compliances


Find and extract key information from any contract in seconds. Whether you're managing lease agreements, physician agreements, or vendor agreements, extract obligations (like payment terms, legal conditions, etc.) and keep complete track of obligation fulfillment.

Reduce Contract Turnaround Time


A user-friendly interface, business intelligence analysis, and seamless integration with various mission-critical applications Google Drive, CRM, or other platforms for uniform data, approvals, signatures, etc. overall reduced your contract turnaround time.

Ensure Security and Governance


Manage payer and provider agreements in a secure, cloud-based HIPAA compliance repository. Avoid multiple back and forth by granting access to documents with permission-based user roles and maintaining activity logs for added security.

Full-Text Search, Reports, and Dashboards


Analyze contract repository data to gain actionable insights with standard reports and dashboards. Also, users can create their own custom reports and save formats by slicing and dicing data which helps them to keep a track of the entire healthcare contract lifecycle.

Manage Profitable Compliance with Payment Terms


Healthcare contract management software monitors the variance between actual payments versus expected to maximize revenue. It also allows you to track and monitor each payer's payment output against contract terms using actual claims to determine the patient population's estimated payments.

Efficient Claim Denial Analysis


Enhance the revenue cycle process and shorten time to payment by identifying and solving the root causes of denials. Quickly resolve denied (rejected) claims and boost productivity in patient accounting by leveraging workflow management tools to concentrate follow-up efforts on the highest value claims.
Over and above, AI-enabled healthcare contract management software offers numerous benefits, like:
Minimize Risks
You can gain complete visibility into contracts, key clauses, and contract status to reduce risks. It helps to keep you on track and in front of key dates and details to avoid the loss of revenue reduction.
Automatic Reminders
At each necessary stage, the software sends automatic alerts and reminders to keep you updated with contract lifecycle management, whether it's pertaining to renewals, negotiations, compliance or any other factor that impacts the health of contract lifecycle management.
e-Signatures
the software offers the option of e-signatures to various stakeholders involved in the healthcare contracts to make approvals faster, minimize costs, and maximize customer satisfaction.
What's Next?
All in all, AI helps digitize and future-proof your paper-based legacy and third-party contracts. AI-enabled healthcare contract management software helps organizations predict and manage payments, using a data-driven approach for improved payer negotiations. It also aids to estimate net revenue by the patient and better-managed contracts, claims, and payments. The entire healthcare supply chain including healthcare networks, insurance providers, and payers can manage complex contracts with confidence. Book a demo today to see how effectively our intuitive, user-friendly contract management system can help your healthcare organization!