Aavenir, the global AI-enabled Source-to-Pay solutions leader, announces the Winter Release of its Accounts Payable Automation solution, Aavenir Invoiceflow. This key product release aims to streamline supplier relationships and quicken invoice approvals with improved user experience through more competent feature additions and enhancements in invoice processing.
Aavenir is a leading source-to-pay SaaS solutions provider and ServiceNow Elite Partner, empowering organizations worldwide to streamline their sourcing, procurement, contracting, and accounts payable processes with AI-enabled Digital Workflows. Recently, Aavenir announced the latest product release of their Accounts Payable (AP) Automation software Aavenir Invoiceflow.
"This Winter Release is a game-changer for AP Teams as it will drastically improve the user experience and efficiency for organizations. In this release, we have introduced self-service supplier portals, which will accelerate invoice processing and allow invoice processing, allowing AP teams to coordinate with suppliers with improved collaboration over invoice submission and payments. We had built the core portal framework without Onboardingflow release and now continuing without collaboration journey we have extended the framework to include invoice collaboration across suppliers.", quoted Jesal Mehta, Founder and CEO, Aavenir. The new release also introduces zero-touch invoice processing and bulk action accelerators for speedy and streamlined invoice processing with complete visibility across review and approval processes – leading to shortened Accounts Payable cycles.
Aavenir Invoiceflow Winter Release 2022-23 – At a glance
Split Invoice Processing
The intelligent AI here enables the differentiation of multiple invoices in a single PDF. Furthermore, the automatic split based on page numbers allows the AP team to process invoices individually without spending time in manual splits.
Zero-touch Processing
Touchless rule-based invoice processing with automated extraction, mapping, and approvals without manual intervention
Improved Invoice Search Experience
This release brings forth a revamped feature-rich Invoiceflow interface. The invoice list can be viewed by customizing the data filter in the following ways - sort ascending, sort descending, hide a column, group, and more.
New Dashboard Reports
This overcomes the issue of limited actionable information in single-dimensional reports and a need for more visibility on aggregate spending. In addition, the new report feature allows the segmentation of invoice spending based on vendor, status, and PO/Non-PO. Further, the breakup of overdue invoices by days and quality helps the invoice manager to prioritize and clear backlogs.
Bulk Actions
This feature involves reassigning and rejecting invoices in bulk. While the former allows users to reassign multiple invoices to another user in a single go, the latter enables users to trigger a bulk rejection of invoices with a standard comment
"Duplicate and Reviewed" status
The status "duplicate and reviewed" allows the AP team to review the invoice and confirm if it is duplicated by setting the mentioned status. In addition, it enables the team to filter invoices that have already been verified and marking them with the said status prevents them from appearing in the invoice list.
Invoice Extraction Flag
It is now possible to update mapping without re-running the invoice extraction process. Also, the default checkbox selection can be easily configured in the system property.
Self-service Supplier Portal
This centralized platform for suppliers improves collaboration, allows invoice submission, and simplifies payment inquiries. Moreover, it will reduce errors, eliminate exceptions, and process payments faster.
In addition to the new features, the invoice processing automation solution has vital usability enhancements to offer, too, including
'Invoices' interface upgraded with enhanced search capabilities
Editable fields for the approver
Retention of the correct vendor's name mapped by the user with AI extraction.
Businesses looking to accelerate their invoice processing cycle and streamline vendor relationships can experience it with the Demo.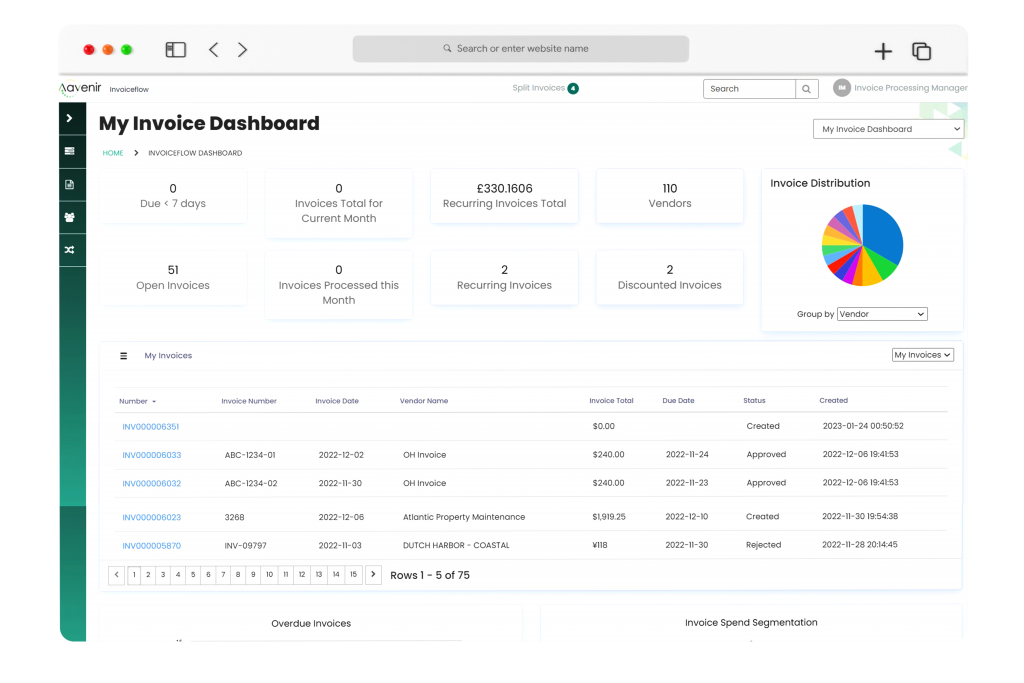 About Aavenir
Aavenir is a next-generation SaaS company that delivers the 'future of work' with AI/ML-powered Source-to-Pay solutions on ServiceNow. Led by enterprise tech experts with 25+ years of domain experience, it aims to enhance the competitive edge for your businesses while driving operational efficiency.
Enterprises worldwide can maximize their ServiceNow investments using Aavenir Source-to-Pay apps and automated digital workflows. It comprises Contract Lifecycle Management, Contract Obligation Management, Sourcing Management, Vendor Onboarding Management, Supplier Information Management, Collaboration portals, and Accounts Payable Automation, built on the ServiceNow platform.
Visit the website: aavenir.com
Originally Published on: BusinessWire