"The world is moving so fast these days that the man who says it can't be done is generally interrupted by someone doing it. …" - Elbert Hubbard
The world is changing faster than ever witnessed before forcing enterprise leaders to constantly reassess their digital transformation strategy to stay ahead of the competition and stay relevant. Continuous innovation is the secret key. In the face of the ever-changing legal service management, Legal operations today need to deliver faster than ever before while at the same time, manage enterprise risk.
So, what's wrong with current legal service management?
In many enterprises, the in-house Legal team often tends to become bottlenecks leading to efficiency taking a plunge. Legal challenges that every enterprise can easily relate to are:
Excessive back and forth collaboration with legal, leading to a lot of wasted time
Email, phone, and spreadsheets remain the primary way to work, leading to a lack of visibility and decreased productivity
Legal often end up spending more time on trivial requests thus reducing the time they have to spend on more important matters such as respond to legal notice for example
Immature and undefined processes make work more cumbersome and inefficient
To address these challenges, every law department executive must be a superb collaborative team member (promoting harmony within the department, clients, outside counsel, external vendors, and co-venturists) and at the same time must have complete visibility across enterprise-wide contracts.
True law department leaders are thinking about how to leverage legal technology that will define their careers and re-invent the way that law is both practiced and delivered.
Is there a better way to solve these above challenges?
With ServiceNow introducing Legal Service Delivery in its Paris release, enterprise legal teams can now expect to scale up production. Your employees can now raise a legal service request for any kind of assistance from legal. This is very similar to raising an IT request. For example, someone may raise a legal service management request to help file a patent application, to review an NDA, or draft a new contract. This brings in benefits such as visibility and tracking, heightened productivity, and greater collaboration between legal and other teams. However, without an enterprise-grade Contract Lifecycle Management (CLM) tool, organizations would still find themselves grappling in the dark when it comes to anything that relates to contracts.
With Contract Lifecycle Management added to the Legal Service Delivery, the combined stack becomes a very potent game-changer for legal operations and a huge step towards legal tech transformation. Imagine a request coming into legal for drafting a new contract. Such requests would be routed through the Legal Service Delivery ticket mechanism. Legal ops or the Contract Management team, upon receiving the ticket, could respond to the request by creating the appropriate contract in the CLM tool.
Similarly, if a new business unit is being set up in the European region, a business user may request a review of all contracts with the parent organization for compliance with GDPR norms. Once again, businesses would submit the request through the Legal Service delivery application while the appropriate legal team members would search and review contracts from CLM. As the diagram is shown below, Legal service management covers all types of legal service requests, but in the cases of a request to create or manage a contract, Legal Service Delivery performs the appropriate routing and then hands over the contract request to the CLM tool to perform the complete lifecycle for the contract management delivery.
Can Legal Service Delivery & Contract Lifecycle Management co-exist?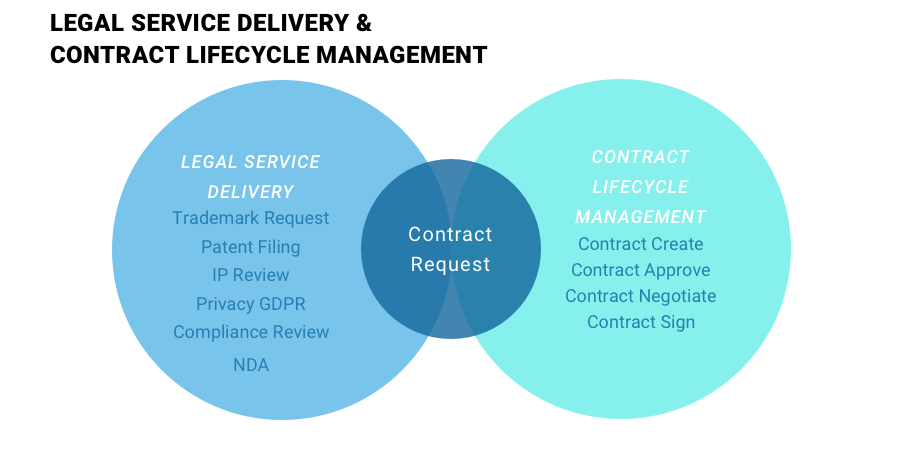 Let us understand Legal service management with respect to Contract Lifecycle Management. This gives us a chance to explore the best of both worlds. Legal Service Delivery concentrates on providing legal services to the organization on activities like trademark requests, patent filing, IP review, and other regulations with a touch of digitization. On the other hand, Contract Lifecycle Management focuses on making sure that the requests of these providers are assisted by drafting and standardization of contract templates, tracking workflow, simplifying approvals and execution, and analyzing performance, often under a centralized, intuitive user interface.
Aavenir Contract Lifecycle Management is built natively on ServiceNow. The data is always stored in ServiceNow and in the same Contract table, provided by the NOW platform. This allows the contracts to be consumed seamlessly by the downstream applications for risk assessment, SLA tracking, IT asset management, etc.
Imagine a vendor or a customer has filed a lawsuit against your organization and you need to respond urgently with all the facts of the contract that governed the relationship between your organization and the vendor or customer. You can immediately get this to your legal's attention by submitting a legal service request. However, legal would need access to the contracts in order to ascertain the facts of the case. Without a CLM tool, you would end up spending days, frantically searching through your shared drive just to lay your hands on the relevant contracts. With an enterprise-grade CLM tool, you could search out the contract in seconds, with fast and deep search capabilities, including context searches. So with Legal Service Delivery, you could quickly engage the services of your legal, with the contract lifecycle management tool, access to relevant contracts became faster and easier.
Also, imagine a situation where a federal government agency has requested information on government funding contracts that use the LIBOR standard and they now want to restate all such contracts with the SOFR standard. The sheer volume of restating all such contracts, that include, re-drafting, negotiations, approvals, etc is onerous and requires very strong collaboration back and forth between legal and business. In this case, as well, Legal Service Delivery brings very strong collaboration capabilities, that are ticket-based and are fully tracked. Both sides can collaborate back and forth on the ticket thus bringing a lot of visibility to the process. At the same time, legal can use a contract lifecycle management tool to search all contracts that use the LIBOR standard and then redraft, negotiate and approve the contracts based on the new standards, all from within the CLM tool.
These examples show how Legal Service Delivery and Contract Lifecycle Management can together be a potent game-changer for organizations that are in the quest for legal digital transformation.
Key Benefits: ServiceNow Legal Service Management + Aavenir Contract Lifecycle Management
As in-house lawyers and legal operations teams find themselves increasingly buried in work, the need for better legal services solutions and contract lifecycle management workflows has become more pronounced.
ServiceNow's Legal Service Delivery & Aavenir's Contract Lifecycle Management would help the team replace archaic processes using emails and phone calls with automated workflows.
With Aavenir Contractflow stacked with ServiceNow Legal Service Delivery, you can now drive seamless collaboration and access to enterprise-wide contracts' information that is needed for an efficient legal services function. The combined stack enables seamless fewer workflows and with all information stored within your ServiceNow instance, information security becomes the least of your concerns.
Legal Service Delivery and Contract Lifecycle Management boosts productivity and increases legal response velocity by improving the workflow through:
Frictionless workflows across Legal practice areas and Standardized Contract lifecycle management
All the data is stored on ServiceNow and talk to each other seamlessly
Increase collaboration between cross-functional parties with modern CLM systems
Improve Visibility of the Contract requests and their resulting contract documents
Reduce Contractual Risks