Procurement teams are constantly juggling between phone calls, emails, and endless documents. Moreover, scrutinizing vendor offers consumes most of the productive time. Unfortunately, these loopholes exaggerate your procurement process and hit the ROI.
But, when rightly done, the procurement process fuels business growth in the following ways
Fetches cheerful discounts on bulk orders
Improves supplier relationships
Reduces collaboration issues, including review, approval, etc.
Avoids situations of lack of essential goods in the inventory
Helps evaluate the best supplier to award
Demystifying the Best Practices for Seamless Procurement Process
Ditch the Manual Work with Technology
To err is to human, and to rectify it is technology 😊. From documentation to creating queries to vendor selection and evaluation, the long process leaves many cracks for mistakes to slip through. Manual working impacts the bottom line from the loss of orders to endless errors. Vouch for a solution that supports AI vendor recommendations and automates mundane tasks to save time and cost. Let the technology analyze what's best for your business.
The procurement sector has transformed drastically over the years, and there is a need for a unified solution such as Aavenir RFPflow. As a ServiceNow-based RFP management solution, it helps streamline sourcing and find an apt supplier. Besides, it helps streamline workflows, allows you to set milestones, and create data-driven decisions. Not to forget, RFPflow comes loaded with industry-specific Request for Proposal templates and questionnaires.
Workflow Collaborations
Procurement automation redefines the theory of simplified collaboration with workflows. This key phase intends to connect with the supplier and streamline the order management process. In addition, it cuts short the oscillation of documents between you and the supplier, enabling management of all functions over the portal in real-time.
Automation comes with the significant benefit of
Growth in revenue with higher sales and, better conversation
Improved productivity in a short period.
Unified Workspace
A centralized data system with seamless integration works as a booster in simplifying the procurement process. A unified procurement management tool offers an intuitive workspace with all functions viewable and accessible in a single interface without toggling tabs and losing communication context.
From setting milestones to sharing queries to collecting responses and evaluation, all should be possible over one tool, such as Aavenir RFPflow. The solution allows you to monitor the sourcing lifecycle over a single visual dashboard. It offers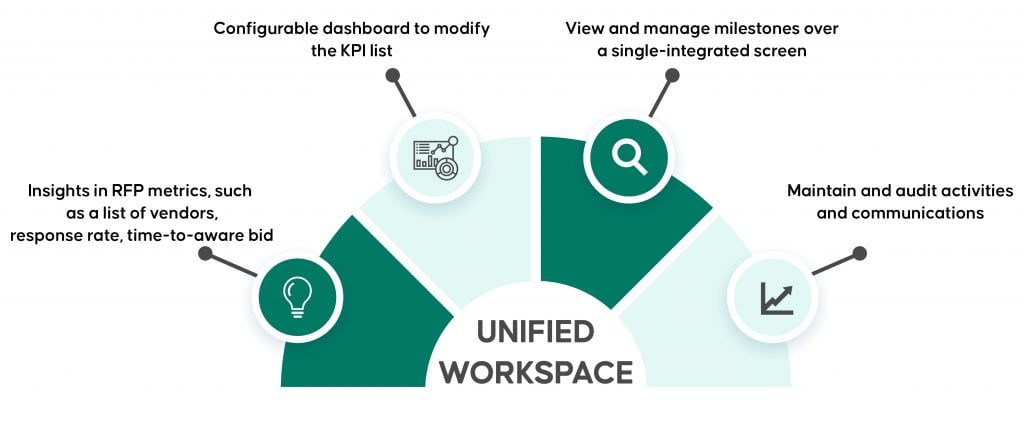 It is the best means to optimize performance and revenue instead of being stuck in managing email threads, calls, or paper communications that can get lost any day.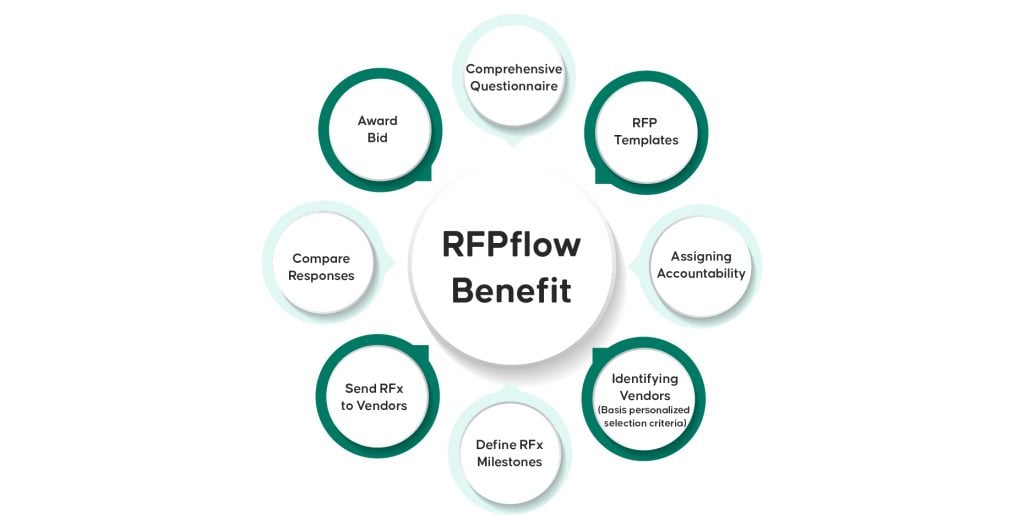 Switch to a Tailored Procurement Solution
Bid adieu to the one-size-fits-all concept. Select a procurement model that seamlessly fits into your business requirement. A personalized, result-oriented solution improves efficiency and enables you to close the deals at the earliest. It has a direct influence on procurement controls across boundaries and decision-making. It allows you to
Spend more time with suppliers to make strategic decisions
Assign roles to the apt employee basis skill set instead of involving them in random responsibilities.
Data Rules
Strategic sourcing is never complete without RFx analytics. Accurate evaluation of the request for proposal management or your long-term procurement process is possible with the numbers on the analytic sheet. So, what can be analyzed?

Educate your workforce
Any tool can be an asset for your organization if your procurement workforce can use it optimally and make the best use of it. Educate and develop a team to achieve total growth and benefit with great deals to make the organization grow. Automate their tasks, make them aware of spend management, free them from cumbersome roles and highlight the need for a standardized procurement process.
Assign roles, set milestones in the RFP management process, cap the amounts, and skip micro-management with approvals. For the proper management of your contingent workforce, there needs to be a proper acquisition, transparency, and visibility of work with strategic sourcing in place. It enables your workforce to identify the best suppliers and have stable relationships with them.

Over to You
Complicated processes with too many heads will never offer the best deals. It's high time you upgrade your systems with digital workflows that transform the end-to-end sourcing process, which starts with the preparation of RFP and ends with awarding bids to the best vendor.
Have questions about how to implement it for your business? Talk to one of our RFP experts today. Also, stay tuned for more RFP updates.