Sourcing management is a complex cycle that focuses on reducing risk and maximizing value. Strategic sourcing transforms buyer-supplier relationships with benefits like spend analysis, supplier selection, vendor engagement, and more. Here is a real-world scenario to better understand how crucial sourcing is for organizations.
Automotive manufacturers sit at the center of a complex, highly integrated, heavily outsourced supply chain for semiconductors. While the auto industry has faced shortages of microchips before, the disruption this time turned out to be more significant due to the volume of chips required and the concentration of the supply chain.
The shortage of semiconductors affected manufacturers such as Toyota, Ford, Volkswagen, and Honda forcing them to halt production at several plants around the world temporarily. This led to the automotive industry overhauling its semiconductor sourcing processes quickly.
To return the supply and demand equation to equilibrium and to build a medium to long-term strategy, companies need to:
Reduce the monopoly on a few concentrated suppliers and work with industry bodies, government agencies and key suppliers to attract new entrants into the auto sector
Move away from the current short-term sourcing cycle for semiconductors and lock in capacity via longer-term contracts
Develop cooperative arrangements with key suppliers to pool demand and collectively seek more attention from the big chip manufacturers
Here are five reasons to improve the RFP creation process, so it can help to enable the right vendors and achieve supplier base rationalization.
5 Reasons RFP Creation Process is Critical to Your Organization
Here are five key reasons to improve the RFP creation process, so it can help to enable the right vendors and achieve supplier base rationalization.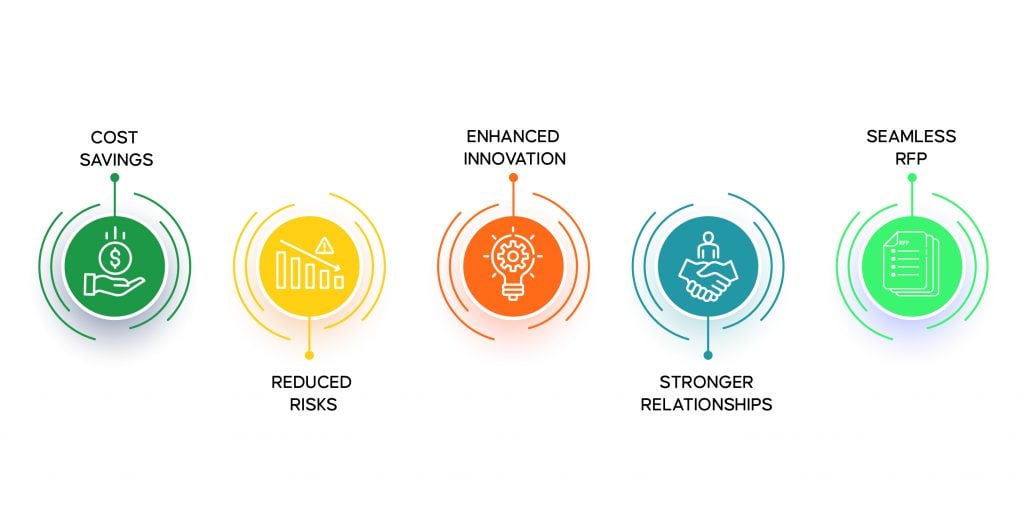 1. Enable organizations to define requirements
The RFP creation process is an internal exercise and discipline for your company to define your systems requirements and needs in detail. It is also the best way for you to get on the same page and get buy-in between departments in your company. A proper RFP creation process helps align the right stakeholders to define the right criteria for their needs and choose the appropriate vendors for the organization.
2. Help vendor shortlisting
In analyzing vendor responses, the questions and responses from RFPs become the basis for detailed comparison in terms of functions, detailed investment, vendor implementation methodology, quality, etc. In addition, organizations should prepare standardized templates for specific departments or buying categories (IT Hardware, Services, Facilities, etc).
The team can prepare templates for each category and store the template in a centralized repository for strategic sourcing. Business teams or departments can choose templates based on their needs, fill data in templates, and send them to the sourcing team to invite suppliers.
During the RFP evaluation process, weighted scoring methods can help organizations make the best decision based on objective input without any biased opinion or favoritism. RFP solution will collate the quantitative score across stakeholders based on the weightage assigned in the Questionnaire stage.
3. Help introspect about Return on Investment
Analyzing one vendor's functional differences and advantages to another should also get you thinking about how the proposed solution will have a return on investment. ROI is often difficult for many companies – vendors or buyers – to show savings. We can always demonstrate a long list of intangible benefits. For example, what reduction in costs, increase in productivity or improved customer service can we "take to the organization"?
With RFPs, organizations can focus on the Total Cost of Ownership and analyze all hidden costs across spending. Sourcing Managers can achieve faster efficiency and prepare a better business case across all spending categories
4. Produces an organized selection methodology
An organized methodology and RFP process helps you track and compare your observations, questions, and conclusions regarding each vendor. Using an RFP and selection process will help you make the "right" application decision for your company. We all know that no system can answer all the functionality needed in complex businesses. But the RFP and the analysis are critical to understanding the fit.
RFP helps organizations prioritize the right needs and assign weightage across all requirements. Each organization has certain processes where each step in the value chain may vary. Similarly, organizations can focus on top criteria and be flexible in low-priority requirements.
5. Innovation and Supplier base rationalization
As an organization grows and scales, requirements change with each financial year. Here sourcing managers need to be innovative in keeping organizations agile. And with RFP, sourcing managers can add criteria to help organizations stay nimble.
Smaller vendors are quick and innovate faster comparatively. With the addition of such vendors, sourcing managers bring in new thought processes and may even add those suppliers as future/ potential vendors
Moreover, sourcing managers need to ensure the organization remains large and can act nimbly. By inviting a broad set of suppliers in the RFP process, sourcing managers can rationalize the supplier base.
The future with Aavenir RFPflow
Based on the above points, we can conclude that RFPs are critical cogs in any organization to achieve strategic objectives of savings, efficiency, and innovation. A correctly prepared RFP solution can help to streamline the RFP process.
1. Source Smarter and Strategically


Embrace e-procurement and enable procurement milestones to launch RFx events and templates quickly. Moreover, suppliers can use Microsoft Word to respond and manage RFPs/ RFQs/ RFIs.

2. Collaborative RFP Template Hub


Employees can collaborate and create knowledge databases (organizational needs) to develop the right evaluation criteria for vendors.>



3. Automated Configurable Workflow


On creating the RFP Management team, all alerts and notifications can be enabled for triggering RFP milestones.

4. Build & Reuse RFPs, RFQs, RFIs


Create a knowledge base. Prepare RFPs using existing templates and improve RFx-to-award approval time.



5. Comparative Supplier Evaluation


Experience an intuitive UI for comparing supplier responses to provide faster decisions.

6. Sourcing Management with Mathematical Rigour


RFP evaluation criteria can apply quantitative rigor in the RFP awarding process.
Are you looking for reliable ways to source smarter with a strategic ServiceNow-based solution? Talk to our product experts to explore opportunities for your Sourcing business and collaborate seamlessly with automated digital workflows that help you make impactful data-driven decisions for your business.