Unless you are living under a rock, you would have noticed that the adoption of Contract Management Software (CLM) is gaining considerable momentum across many industries. As per Gartner, 90% of multinational global enterprises and 50% of midsize organizations will have CLM solutions in place by 2023. This is primarily legal ops, as they are always pressured by the business to speed up contract creation and execution. Without a good CLM solution, contract negotiators struggle to execute contracts within the expectations of the business. Moreover, regulatory audits also make a strong reason for more and more enterprises are looking for CLM software.

But what it takes to onboard a good, enterprise-class CLM software? Here are the basic questions that you should ask yourself while doing CLM software comparison:
1. Does the solution offer easy and secure access to all the contracts?​
This is the first and most basic CLM need is a secure, scalable, and easily accessible centralized storage of all contracts across business departments. The entire organization should be able to easily search, including full-text search (aka Google search), and report on enterprise contracts - but depending on roles and privileges. For example, the procurement team member should be able to see only procurement contracts, not sales contracts.
---
2. Can the CLM solution provide powerful reporting and analytics?​
CLM tools go far beyond finding all contracts with a specific customer or supplier, all contracts expiring in January 2019 (for example), or contracts missing key terms or conditions. Next-gen CLM solutions provide insight into potential bottlenecks, risks across contracts, entitlements with financial benefits, obligations with financial costs, and the effect of new laws or regulations on these factors.
---
3. Does the solution offer self-service to employees?​
With an increasing load on the legal team, the employees should be able to create and manage simple non-commercial contracts – using pre-defined language. This reduces the load on the legal team significantly, allowing them to focus more on strategic and high-value contracts. If the contract language needs to be changed, the system should automatically involve a legal group for review and approval.
---
4. Can the organization standardize contract language and processes using this tool?​
Standardizing the contract language would smoothen the processes and reduce the contract risks significantly. The CLM software should not only offer the ability to manage clause library, template library, but also the ability to suggest multiple versions of the same clauses, i.e. primary clause, alternate clause, and fall-back clause. This would give flexibility during the negotiation process, reducing the contract cycle time.
---
5. Does the solution offer powerful workflow and approvals?​
Each organization has unique, and usually complex, review and approval rules for legal documents. For example, if a contract is created by a procurement team member from the plant AND the vendor is from Europe, send it to Lisa (from Legal), but if she is on vacation, the contract should be automatically delegated to Gary! And this is relatively a simple workflow example. The solution should offer an easily customizable workflow engine with drag-and-drop features to define approval processes for different contract types.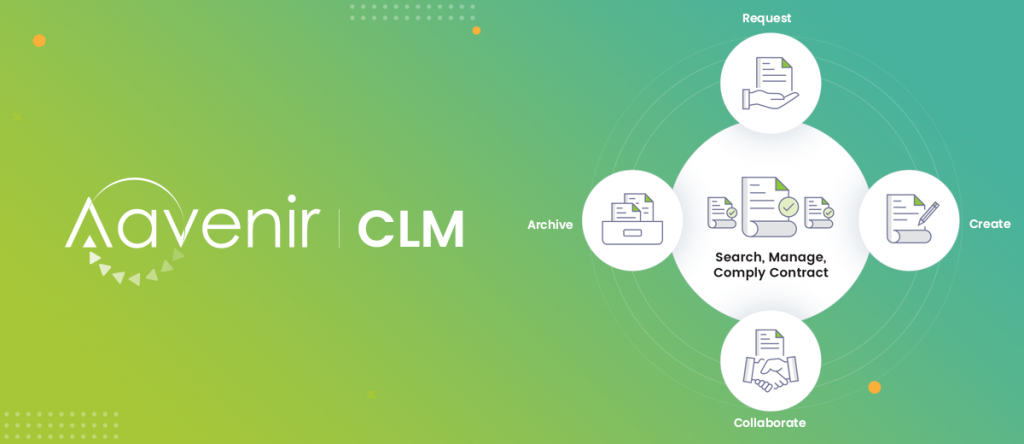 ---
6. Can the solution support all contract types - buy-side, sell-side and corporate?​
Most organizations have multiple contract repositories - one for sales contracts, procurement, HR and so on. As a result, there is no central location to see all contracts and corresponding risks. This is a major audit risk! Your solution MUST support all contract types but also allow you to set different processes for each.
---
7. Does the solution offer MS-Word, email and virtual agent integration to accelerate contract authoring and negotiating?​
The legal team loves MS-Word and negotiating over long email chains. By providing tight integration to MS-Word, if legal can review, edit and negotiate contracts using MS-Word, the tool adoption would be a breeze!
---
8. Can the solution integrate contract data into purchasing, order management, and invoicing systems?​
It can push and pull the contract price and offering terms to enterprise transaction systems for purchasing on the buy side, order management on the sell side, and invoice systems on both sides. That will drive automated contract compliance.
---
9. Can the solution support e-signature integrations and real-time status tracking?​
Accelerating time-to signature is one of the key factors for closing the deal faster. In most organizations, it takes weeks to get signatures on verbally approved contract terms. Isn't it too slow? Having an e-signature option makes it easier for all stakeholders. Some of the latest solution not offer e-signatures, but also generates follow-up alerts for requesting due signatures with real-time status tracking.
---
10. What about AI?​
Well, this question must be asked before looking for any software solution! More on this in our next blog. Watch this space.