What is cooking the books?
The term "cooking the books" is associated when financial statements are falsified to make a business seem better than the reality. There exist accounting rules and principles that all companies must follow globally. If these rules are bent or broken, then the "cooking of books" can occur.
Typically, cooking the books involves manipulating financial data to inflate a company's revenue and deflate its expenses to pump up its earnings or profit. Some common ways to cook the books include:
1. Off-Balance-Sheet Items
Companies separate their subsidiaries to house liabilities or incur expenses that cannot be disclosed. These subsidiaries are separate legal entities that the parent company does not wholly own to hide from investors.
2. Accelerating Pre-Merger Expenses
It might seem irrational, yet before a merger is finished, the acquired company will pay—conceivably prepay—however many expenses as would be prudent. Then, after the consolidation, the combined entity's profit per share (EPS) development rate will seem higher than in past quarters. Moreover, the organization will have effectively reserved the expenses in the past period.
3. Inflating Revenues
One approach to inflate income is to book lump-sum amounts in a single year when service revenues are distributed over several years. For instance, a specialist software organization may get a forthright installment for a four-year administration contract yet record the full installment as deals for the period that brought the installment. The right, more exact way is to amortize the income over the existence of the contract.
Top Three Accounting Scandals in the Past Decades
Each organization controls its monetary numbers somewhat to ensure financial plans balance, executives score rewards, and financial investors continue to offer up funding. Such creative accounting is nothing new. However, greed, desperation, immorality, and impaired judgment can cause some executives to cross the line into outright corporate fraud.
The risks of cooking the books are not news to the world. Few organizations like Enron, Adelphia Communications, and Worldcom—fallen titans whose corporate wrongdoings crushed lives, sent executives to jail, made far-reaching monetary ruin for financial investors, and made the actual organizations collapse.
Few companies are extreme examples who cooked the books claiming billions in assets that didn't exist:
1. Enron Scandal 2001
Industries: Energy Company
Founders: Kenneth Lay
What was the scandal about?
The Enron corporation and its management resorted to an unethical scheme and malpractice of off-balance-sheet mechanism. It created a special economic vehicle to hide the massive debt from its external stakeholders, namely creditors and investors. The special purpose vehicle was utilized for concealing realities of accounting rather than focussing on the operating results.
Key Takeaway:
Enron's leadership fooled regulators with fake holdings and off-the-books accounting practices.
Enron used special purpose vehicles (SPVs) or purposes entities (SPEs) to hide its mountains of debt and toxic assets from investors and creditors.
The price of Enron's shares went from $90.75 at its peak to $0.26 at bankruptcy.
The company paid its creditors more than $21.7 billion from 2004 to 2011.
Impact of scandal:
Due to the bankruptcy of Eron, employees lost several perks and pension benefits. Many came on the verge of the financial crisis. The crisis was so deep that the shareholders of the business lost an estimated value of $74 billion.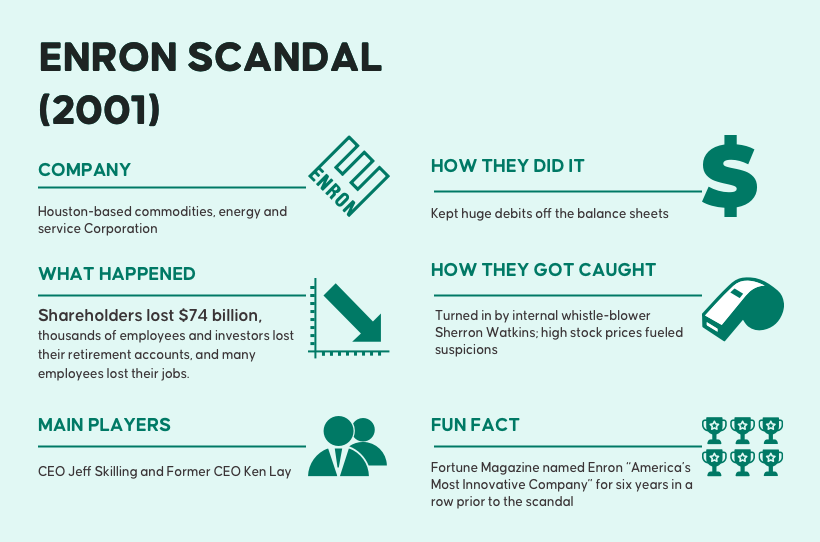 Source: Blogspot
2. The WorldCom Scandal of 2002
Industries: Telecommunications
Founders: Bernard John Ebbers
What was the scandal about?
WorldCom, to make illegal and illicit profits in the business, used strategies of the accounting system.
They recorded 3.8 billion dollars of capital expenditure. This disguised the actual profits earned and net losses incurred by the company for five quarters.
The books of accounts depicted that the company was growing each quarter and was in a robust financial position.
Key Takeaway:
The WorldCom Scandal was a major accounting scandal that came to light in the summer of 2002
From 1999 to 2002, senior executives and the founder orchestrated a scheme to inflate earnings to maintain WorldCom's stock price.
The fraud was uncovered in June 2002 when the company's internal audit unit, led by vice president Cynthia Cooper, discovered over $3.8 billion of fraudulent balance sheet entries.
Eventually, WorldCom was forced to admit that it had overstated its assets by over $11 billion. At the time, it was the largest accounting fraud in American history.
Impact of scandal:
The most significant effect was on the investors of the company. After this scandal,
Congress quickly passed the Sarbanes Oxley Act on 30th July 2002
Strengthen the principles of corporate governance to prevent such fraud
The board of directors was changed
A new independent auditor and a new ethical program were implemented.
Seventeen thousand employees were let go.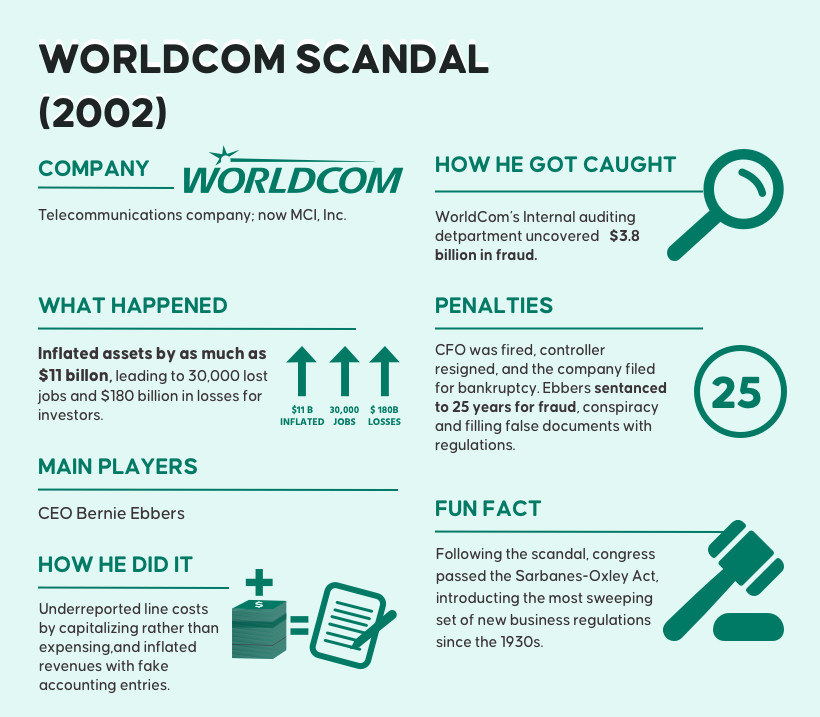 Source: Blogspot
3. The Lehman Brothers Scandal 2008
Industries: Investment banking
Founders: Henry Lehman
What was the scandal about?
Lehman Brothers was deeply invested in mortgage-backed securities (MBSs) by the time the mid-2000s rolled around.
The housing boom led to an overabundance of both MBSs and collateral debt obligations (CDOs) being created and, by 2007, Lehman was the largest holder of MBS.
Their huge investments in MBS, many of which were teeming with subprime mortgage loans, is what caused the demise of Lehman Brothers.
Key Takeaway:
In January 2008, Lehman Brothers were the fourth-largest investment bank in the U.S.
By the end of 2008, Lehman Brothers Holdings Inc. had vanished from the investment banking landscape, the largest corporate bankruptcy filing (with $619 billion in debt) in U.S. history.
The key players were Lehman executives and auditors, Ernst & Young
Allegedly sold toxic assets to Cayman Island Banks with the understanding that they would repurchase them eventually
Thus, creating an impression that Lehman had $50 million more cash and $50 million less in toxic assets than it did
Impact of scandal:
After Lehman Brothers declared bankruptcy in September 2008, approximately twenty-six thousand of the firm's employees worldwide lost their jobs, and investors suffered immense losses, fueling the country's greatest economic downturn since the crash of 1929.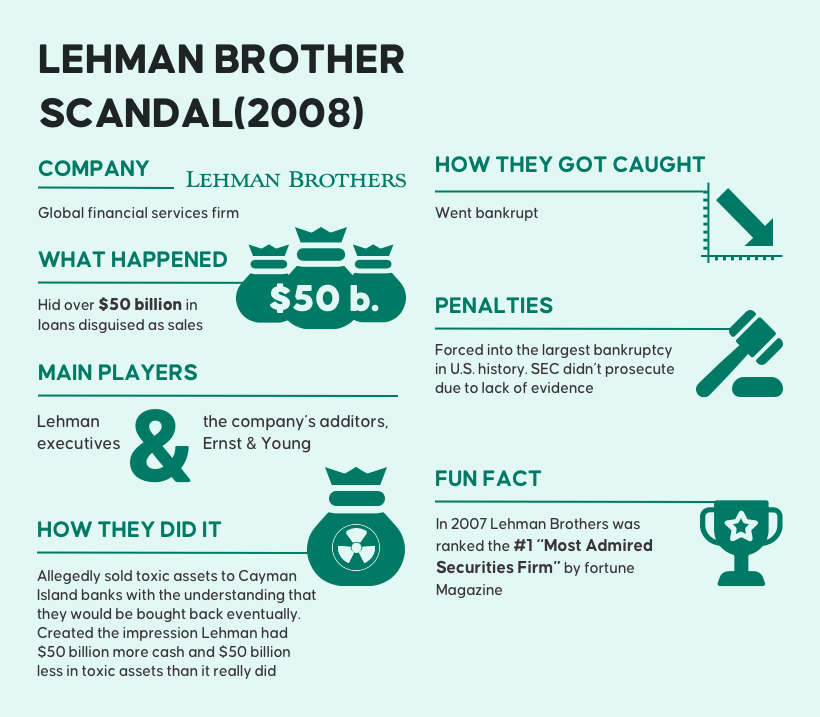 Source: S.Wsj
Keeping Your Books Compliant, Not Cooked
Keeping corporate fraud and other creative accounting problems at bay can be challenging, especially if your current business processes are too opaque and manual to spot the warning signs. But with thorough checking of financial records, most companies can detect anomalies via proper auditing processes, risk models, and AI technology solutions.
One must invest in a comprehensive Source to Pay solution. Connecting procurement and accounting, as well as centralizing the collection, management, and analysis of all financial records makes it much easier to notice potential issues before they turn into disasters.
You can create a secured environment where all purchases are routed through the system using process automation and restricted access to data. Create a system wherein the entire payments, expenditures are not only recorded but also tracked in real-time. Dashboards that provide on-demand financial reporting help in making better analyses.
Built-in compliance controls include automated three-way matching limiting account access to important financial data, as well as audit trails. Advanced approval workflow process management ensures that your financial documents are comprehensive, compliant, and accurate.