« Back to Glossary Index
What is Vendor Contract Management?
Vendor Contract management is the process of managing vendor contract creation, execution, and analysis to maximize operational and financial performance at an organization, all while reducing financial risk. Organizations encounter an ever-increasing amount of pressure to reduce costs and improve company performance.
1. Understanding Vendor Contract Management
Vendor Contract management is a discipline that enables organizations to control costs, drive service excellence and mitigate risks to gain increased value from their vendors throughout the deal life cycle.
Vendor Contract management helps clients select the right vendors; categorize vendors to ensure the right contract, metrics and relationship; determine the ideal number of vendors; mitigate risk when using vendors; and establish a vendor management organization that best fits the enterprise.
This enables organizations to optimally develop, manage and control vendor contracts, relationships and performance for the efficient delivery of contracted products and services. This can help clients meet business objectives, minimize potential business disruption, avoid deal and delivery failure, and ensure more-sustainable multisourcing, while driving the most value from their vendors.
Vendor Contract Management Automation: By automating your vendor contract management and compliance with a contract tracking system, organizations can ensure every step of the contract lifecycle happens automatically, based on a predefined process. This will ultimately shorten the time between different milestones and tasks.
2. Key Points to consider for Effective Vendor Contract Management
Have a clear planning process
Firstly, the more knowledge you have of the market and existing offerings and the more time you have to consider the performance of past vendor agreements that are similar, the better you can gauge the value of a vendor contract in terms of both costs and deliverables. You can also reduce risks such as conflicts of interest and establish methods for spotting providers who may not be able to follow through as promised. Planning means you also have plenty of time to determine compliance requirements and any other specifications that may affect your choice of a vendor.
This should include checking any state or federal rules, industry-specific regulatory bodies and any internal requirements. Having a planning process in place also allows you to establish any other evaluation criteria up front so that you have a clear method for assessing and comparing providers.
Get it in writing
Once you've evaluated candidates and found the right fit, it's important to get your agreement down on paper in the form of a contract and/or statement of work. A contract describes the duties and obligations you and your vendor have towards each other under your working agreement.
Why is it important to get it all in legal document form? Because in order for all parties to deliver as expected, there needs to be a concrete outline of what each party needs to do to satisfy their side of the deal. In addition to the deliverables and costs, a contract might also include terms about confidentiality, competitive work, and other matters.
Vendor contracts don't only have to deal with worst-case scenarios: you might want to consider using incentives for finishing early or other desirable outcomes or ask your vendor for a discount should you increase your order or be able to meet shorter payment terms.
Explore Additional Resources to Know More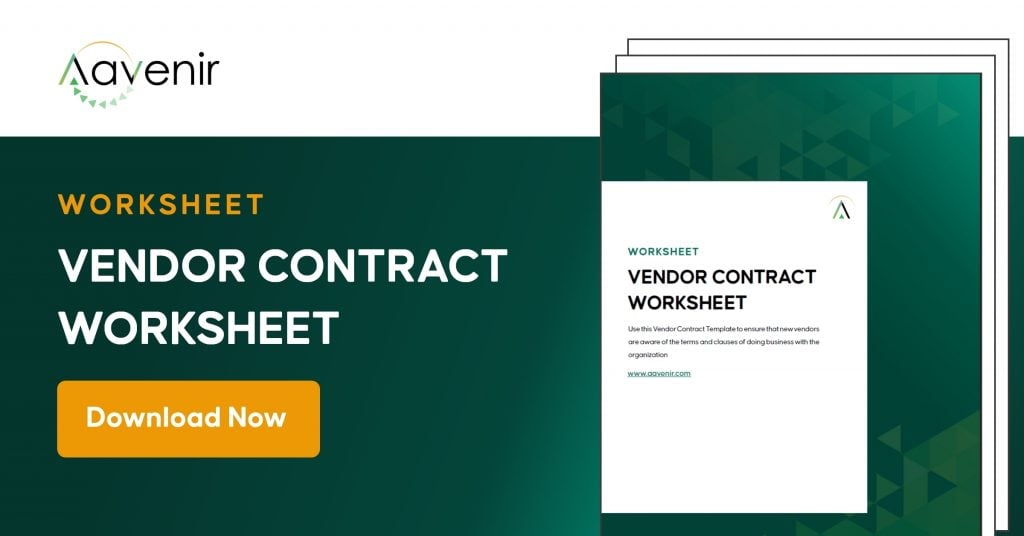 « Back to Glossary Index