Fraud is on the rise, with 74% of organizations being targets of a Payments Fraud Attack in 2020.
With the slight decline of accounts payments fraud in 2020, it is evident that 74 percent of companies continue to have fallen victim to such attacks. As the entire world began to grapple with the COVID-19 pandemic in 2020. The potential for increased occurrences of payments frauds was certainly on the radar for treasury and finance professionals. They were busy organizing how their staff could continue to function as seamlessly as possible as they worked "from home" without adversely impacting the organization's operations.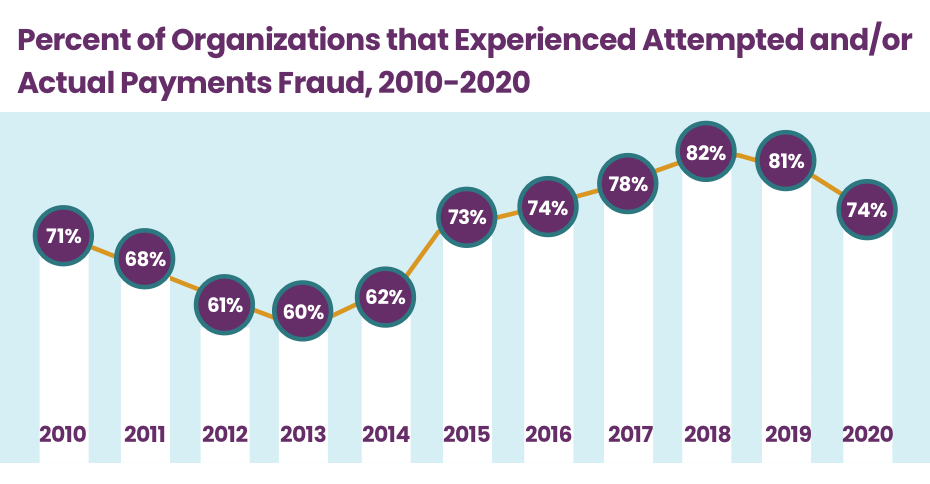 Three Biggest Accounts Payable Risks to look out for
1. Missed Invoice Due Dates
One of the never-ending risks that accounts payable departments face is that of organization and maintenance of a sound payables process. Late payments on invoices due to missed dates can make a big difference in the company's cash flow, affecting the budget and even daily operations. Due dates are a big part of the Accounts Payable process of getting invoices paid on time.
Penalty late fees are also added to the invoice after the due date in order to encourage the payment to be made quickly. The late fee will then be added to the total of the original invoice, so the company will be required to pay the former total as well as the late fee on top.
2. Identifying Mal-Practices
Fraud Suppliers & Invoices (External Party)
Duplicate payments: This has been identified as one of the top payment pain points for companies. Suppliers can be paid more than once due to receiving the same invoice in different formats, or because of employee error.
Unapproved Suppliers: This happens when a payment is made to a fictitious or unauthorized supplier for non-existing or fraudulent goods and services.
Raising Concern over Fraudulent Invoices (Internal Party)
False billing: This occurs when false invoices are created for self-payments. In this type of fraud, we generally see an employee working independently, or in collusion with an external party.
Fraudulent payments: An employee can make unauthorized payments, usually via check or automated clearing house (ACH). Businesses should regularly audit rapid or unusual changes in financial reports.
Tampering with financial reporting: Takes place when an employee makes unapproved changes to financial data after payments have been processed.
3. Invoice Payment Visibility
Invoice visibility continues to be a common pain point, due to widespread manual account payable processes. Manually-driven invoice processes lead to errors, rework, late fees, and missed savings that eat up AP team's day while negatively impacting the bottom line. This lack of visibility into invoice payment status can cause problems across the organization, such as:
Increasing AP resources needed to respond to supplier queries
Impairing ability to forecast
Issues in identifying liabilities and closing the books
Best Practices to Mitigate Accounts Payable Risks
Organizations can take the following steps to improve their Accounts Payable risk management and avoid fraud:
Conclusion
With globalization and technology transforming markets, supply chains, and business operations, AP departments should think proactively about risk and fraud management, as well as more strategically overall. Adding transparency and tighter control throughout the financial process will strengthen organizations against risk and loss, and prepare them for an increasingly diverse and digital business world.
Aavenir's Invoiceflow Solution is looking to improve organizations' management of accounts payable risk and fraud prevention through the steps listed above.